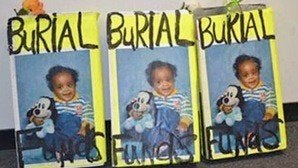 Three Southern California women who were raising money for a baby's funeral are behind bars after authorities discovered that the toddler in their posters is alive and well.
Marsha Wetherford of Norwalk and Dareolyn Patterson and Jarilyn Holified of Perris were arrested and booked for grand theft for allegedly running a baby funeral scam, reports KTLA.
The three women were asking for donations on a street corner in Lancaster when they attracted the attention of some nearby deputies. As the police officers began pooling their own money to make a donation, they started asking questions about the boy in the poster, reports ABC7. They got suspicious when the women's stories didn't line up.
Under questioning, the women admitted that it was all a scam, reports KTLA. Wetherford also admitted that the boy in the poster was her own nephew, who is still living.
Multiple reports of dead baby scams around Southern California have cropped up in recent months. In August of this year, authorities warned the public about two women who had been spotted around San Diego collecting donations for an infant's funeral. A spokesman for the San Diego sheriff's department explained that the child in their posters is a picture from the internet, reports CBS2.
In October, four people were arrested in Fontana after carrying on a panhandling scam that brought in up to $1,400 a day, reports CBS2. The group had been able to carry out the operation in both Southern California and Arizona.
Related
Popular in the Community