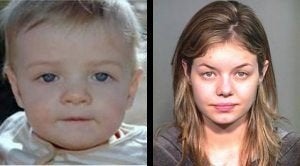 Jury selection began Wednesday in the case of Elizabeth Johnson, the Arizona mother accused of kidnapping her 8-month-old son, Gabriel, then bragging to the boy's father about his murder.
"I suffocated him. I suffocated him, and he turned blue, and I put him in his diaper bag and put him in the trash can," Johnson allegedly said in a 2009 telephone conversation with the baby's father, Logan McQueary. The recording was released to the public by police.
Johnson, 26, is being tried on charges of kidnapping and conspiracy to commit custodial interference. The Tempe woman has been behind bars since January 2010, after she was found mentally unfit to stand trial. The court has since found her to be competent, according to Phoenix court officials.
Police said the telephone conversation between Johnson and McQueary was Dec. 27, 2009, the day after Gabriel was last seen alive. In it, Johnson allegedly told McQueary, her ex-boyfriend, that she killed their child out of revenge because she believed he was involved with other women.
"You want to talk to girls, that's the price you pay," Johnson said, according to police.
Johnson and McQueary had joint custody of Gabriel, but on the day McQueary was supposed to pick up his son, he told police, he received an ominous text message from Johnson telling him their baby was dead.
"You will never see Gabriel again," the text allegedly read. "I made sure of that. And you can spend the rest of your pathetic life wondering about him. You will never find me. I'm already boarding a plane out of the country. When I'm safe, I'll e-mail you the exact location of dead Gabriel's little blue body, if the garbage don't come first. This is what liars like you deserve."
The phone call between the couple occurred later that same day. In addition to accusing McQueary of being unfaithful, Johnson told him he destroyed her life, according to an audio recording.
McQueary responded, "I haven't destroyed anything."
Johnson, according to police, replied, "Yes, you have, Logan. You made me kill my baby boy ... So find some new girl to make your new baby."
The message and phone recording prompted a massive search of local landfills by police, but they were unable to find the child.
In the days following her arrest, Johnson changed her story, telling police she gave Gabriel away to strangers in San Antonio, where her car was later found. Witnesses have placed Johnson and the baby in the San Antonia area between Dec. 20 and 27, 2009, but she was alone when she was found and taken into custody in Florida on Dec. 27.
Gabriel's mother also implicated an Arizona woman named Tammi Smith, claiming she helped set up the meeting with the San Antonio couple.
Smith, 38, allegedly wanted to adopt Gabriel herself, according to media reports. Smith was later arrested and charged with conspiracy to commit custodial interference after authorities said she offered money to Johnson and forged court documents, police said.
In May, Smith was found guilty of forgery and conspiracy to interfere with Gabriel's custody. Maricopa County Superior Court Judge Joseph Kreamer sentenced her to probation and 30 days in jail. During her July sentencing hearing, Smith apologized for any "pain and suffering" that helping Johnson may have caused.
"I never intended to hurt anybody ... I pray every day that Gabriel is alive and that he is found," Smith said.
Gabriel's whereabouts are still unknown. Jury selection is expected to take two weeks; opening statements are scheduled to begin Sept. 19.
Calling all HuffPost superfans!
Sign up for membership to become a founding member and help shape HuffPost's next chapter
BEFORE YOU GO
PHOTO GALLERY
Missing Children