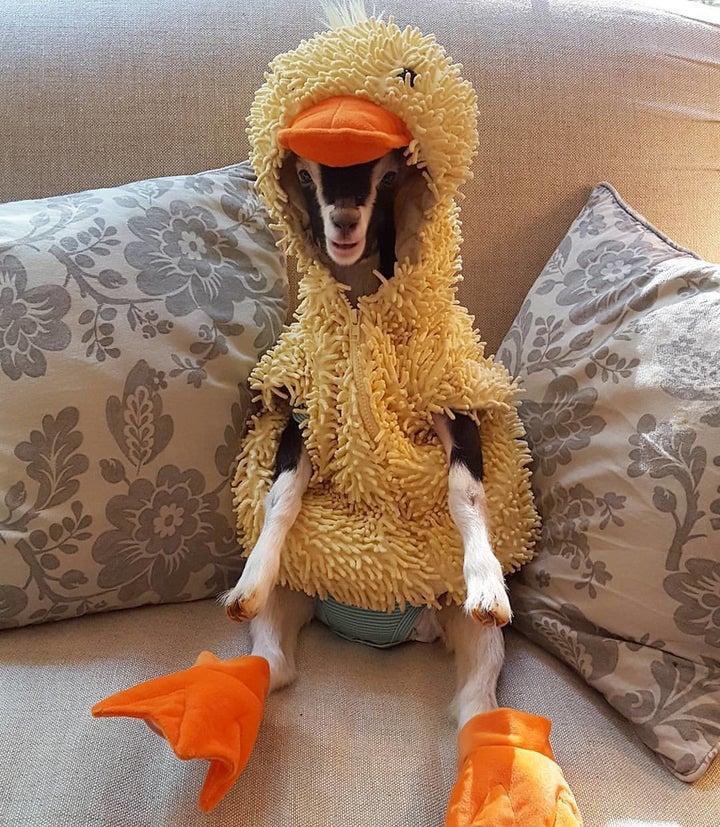 She's not kidding around.
Polly, a 6-month-old goat in Annandale, New Jersey, is blind and experiences anxiety. But put her in a duck costume and she's feeling just ducky.
Polly came to the Goats Of Anarchy animal sanctuary four months ago with some very serious problems, according to manager Leanne Lauricella.
"When she was born, she was tiny and blind and couldn't nurse," Lauricella told The Huffington Post. "Her owners worked away from home and didn't have time to bottle-feed her."
Lauricella soon discovered that Polly had many issues, including severe anxiety and repetitive behaviors.
"Since she was unable to feed herself, she lives inside my house with a diaper and a baby onesie," she said. "We noticed that she felt comforted when she was swaddled."
Lauricella found an unorthodox treatment for Polly's anxiety issues last month while shopping at Marshalls: a duck costume.
"I put these photos of the goats up on Instagram and it seems to make people happy," she said. "So when I saw the duck costume, I had to have it."
The costume was designed for small kids of the human variety, not the goat variety, but Lauricella put it on Polly.
Immediately, something strange happened.
"She fell asleep ― like she had a blanket," Lauricella said. "It was lights out!"
Lauricella had previously tried dog undershirts that are designed to ease anxiety, but they didn't work as well as the duck costume.
She tried other costumes, including a pig and a fox, but they didn't have the same effect either.
Although the photos of Polly in her duck costume have been very popular online, it gets Lauricella's goat when people accuse her of animal abuse.
"I only get negative attention from people who don't know Polly's story," Lauricella said. "They think I'm abusing her or using her, but this is the only thing that has worked."
Things may be changing, though. In the next couple of months, Polly is scheduled to meet with a neurological expert in Philadelphia to see if he can offer solutions for when she gets too big for the duck costume.
Help may have also arrived in the form of a male rescue goat named Pocket, who was born with undersized rear legs.
Lauricella's sanctuary currently holds 26 special needs goats, including three in her house. She hopes to expand her capacity with the help of a GoFundMe campaign.
Related
Before You Go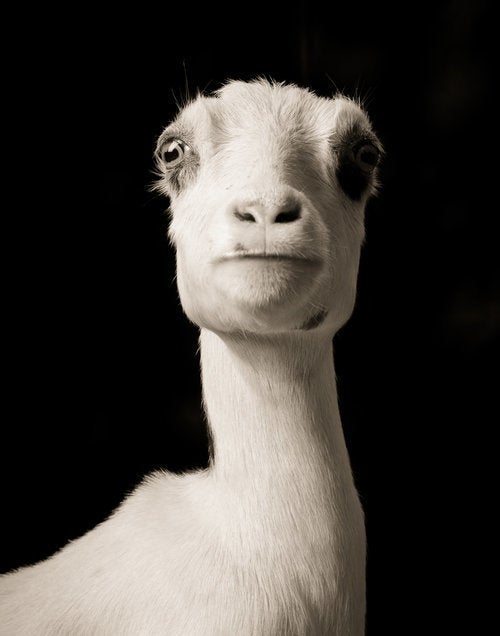 Goat Portraits
Popular in the Community