When he was 8 months old, Jonathan Breaux took the Internet by storm. In a viral video posted in April 2008, Jonathan can be seen smiling widely when he hears his mother's voice for the first time, thanks to a cochlear implant.
Since then, many have pressed for an update on his progress. Today, he's a 5-year-old kindergarten student who can hear and is slowly working on his speech.
"He's a flirt," Mark Breaux, 36, added. "He was chasing girls around the playground when Brigette went to see him for his class party. He's a handful."
Story continues after photo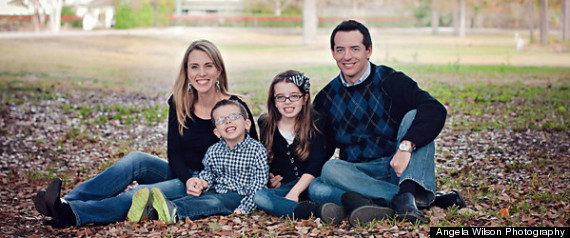 The family began their emotional journey on Christmas Eve 2007, when Jonathan, 4 months old at the time, fell ill with bacterial meningitis, which infects the membranes of the brain and spine and can result in death.
Thankfully, he recovered, but was left with the equivalent of cerebral palsy, Mark said. He was also deaf, and due to the meningitis, the decision of whether to undergo a controversial surgery came with a tight deadline.
"We only had a couple of weeks to decide if we were going to do the cochlear implant," Mark told NBC.com. "The cochlea was hardening because of the meningitis. We had a limited window to make a decision and if we didn't make it, it would completely ossify and we would never be able to do the implant in the future."
The device is made up of internal and external components, according to NBC.com. The person wears something resembling a hearing aid with a microphone and processor attached. It doesn't facilitate hearing to the level of someone who isn't deaf, but it helps significantly.
"I want to say that it sounds like a robot but not necessarily a monotone robot," Dr. Jerry Lin, a pediatric otolaryngologist at Texas Children's Hospital, told the news source. "You can detect changes in intonation, but it sounds electronic."
Some in the deaf community view them as unnecessary, preferring to use American Sign Language to communicate. But the Breaux parents said that after a lot of praying, they decided to give it a try. Now, about four years later, the boy combines signing and speech as his vocabulary and enunciation skills grow.
Another result of the surgery, of course, was their heartwarming video recorded just after the implant was activated. In it, his mother says "Hi, Jonathan!", and in return the baby flashes a huge smile.
Read the full story on TODAY Health here. Watch the original video above and check out the slideshow of Jonathan with his family below.
CLARIFICATION: Language has been updated to better describe how a cochlear implant is worn.
Calling all HuffPost superfans!
Sign up for membership to become a founding member and help shape HuffPost's next chapter
BEFORE YOU GO
PHOTO GALLERY
Cochlear Implant Baby Update: Jonathan Breaux Makes Progress