A baby kangaroo who was found sitting near his dead mother's body this week is getting lots of care -- and lots of cuddles -- after being taken in by Australian wildlife rescuers.
The joey was discovered on Monday, in the Melbourne suburb of Wollert.
"A lovely man named Ken found this little one standing next to his deceased mum in his paddock just off of a main road," says Heidi Still, who volunteers with the group Wildlife Rescuers.
Still tells The Huffington Post that the mother was most likely hit by a car, an all-too-common fate for adult kangaroos.
It's also not unusual, she says, for the joeys to linger near their dead mothers, especially if they are still small enough to climb inside her pouch.
"All they know is that mum will protect them, so they stay safe," she says.
In this case, foxes had already started eating the mother's body before wildlife rescuers arrived, but "luckily, this little joey was hiding in a nearby bush" by the time they got there.
The wee one was so dehydrated in the beginning that rescuers at first misidentified his sex.
"There was no sign of testicles at first, as they had shriveled up due to dehydration, but now he is becoming rehydrated they have appeared," says Still.
The baby, who weighs about 11 pounds, is now "settling into care" with an experienced wildlife rehabilitator, she says. He's being bottle fed with a special kangaroo formula, and "has warm snuggly fabric pouches to sleep in, which is a comfort for them when they are orphaned. He will also get lots of cuddles from his human foster mum while in the fabric pouch, to reassure him that he is safe."
Once he is big enough, the joey will be released back into the wild, along with a group of other rehabilitated kangaroos that are now under care.
In the meantime, Still says, he's "settled into foster care beautifully. He is quite calm and is getting to know the other joeys."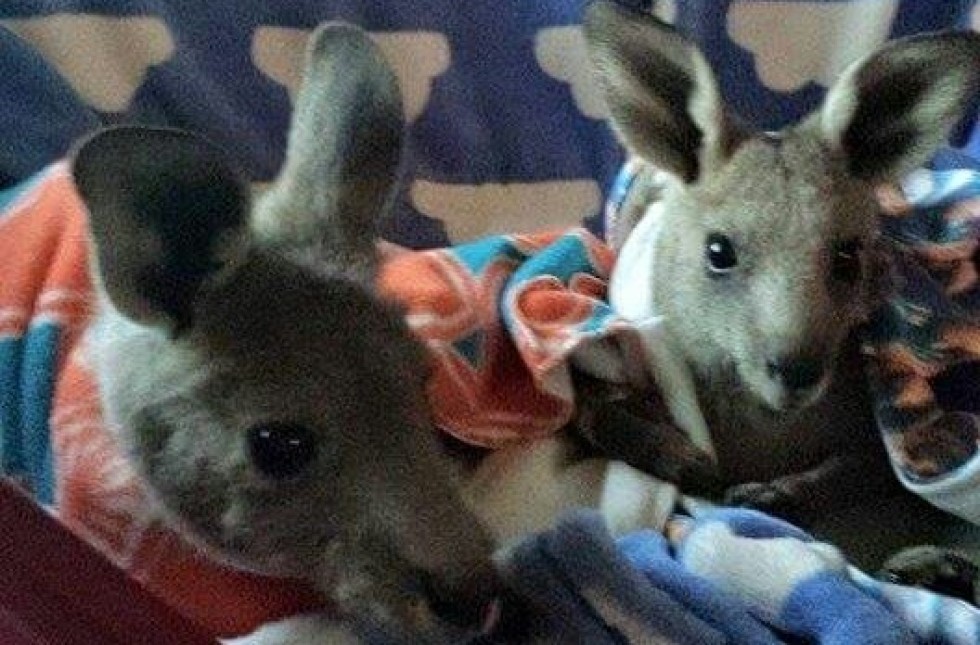 The joey can be seen on the right, hanging out with one of the other baby kangaroos now being cared for by Wildlife Rescuers. (Wildlife Rescuers)
Get in touch at arin.greenwood@huffingtonpost.com if you have an animal story to share!

REAL LIFE. REAL NEWS. REAL VOICES.
Help us tell more of the stories that matter from voices that too often remain unheard.
BEFORE YOU GO
PHOTO GALLERY
Baby Animals