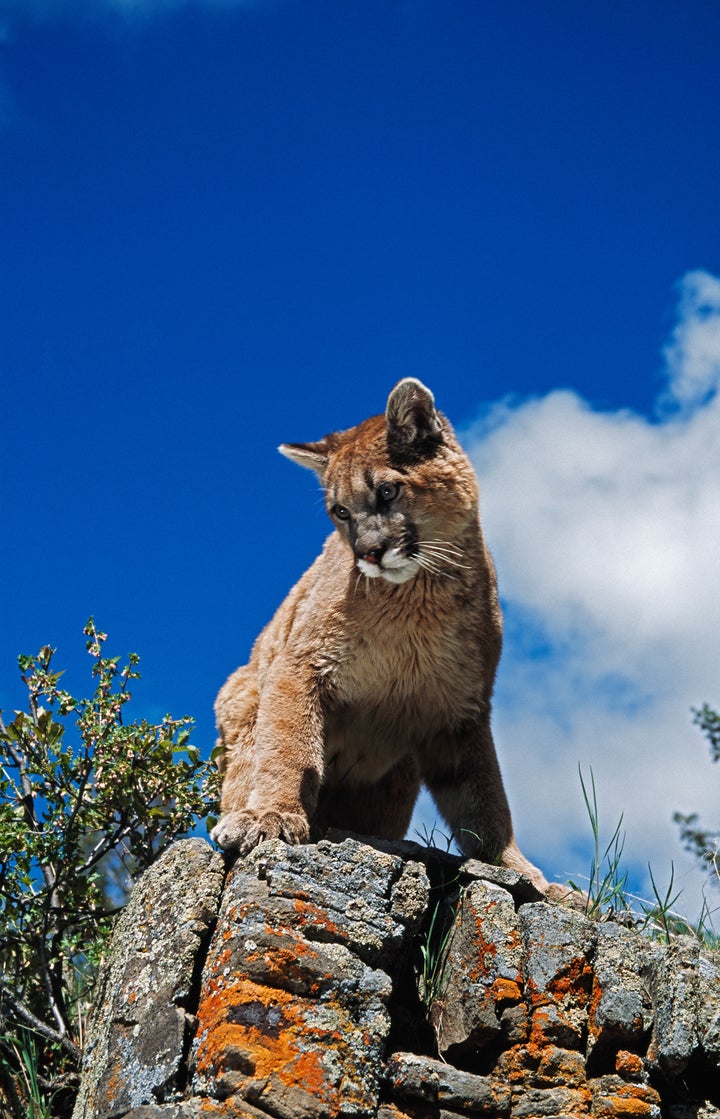 Downtown Santa Monica looked a lot wilder than usual this morning thanks to the appearance of a little mountain lion.
The beast was spotted by a janitor in a Santa Monica office building around 6 a.m. and "contained" in an office courtyard at 1227 2nd Street, but it would not stay put long enough for authorities to tranquilize and relocate the animal.
Authorities ended up euthanizing the beast after unsuccessful attempts to subdue it with tranquilizers, water hoses from the fire department and non-lethal pepper ball rounds, said Santa Monica Police spokesperson Lauralee Asch to The Huffington Post.
The mountain lion's proximity to a highly congested area in Santa Monica, in addition to the fact that it kept trying to escape the courtyard, led authorities to conclude euthanization was the safest course of action, said Asch.
Santa Monica police made the call and pulled the trigger, but California's Department of Fish and Game stands by the SMPD's decision. Andrew Hughan, department spokesperson, said euthanizing the mountain lion was the safest thing to do for the public.
"Nobody in Fish & Game wanted to destroy an animal, and we're sad about this too," said Hughan. "But there's no telling what an animal's going to do once it's been tranquilized; it's not like in the movies or on TV. The drugs can take 10-15 minutes to take effect, and what you have in the meantime is an angry, upset, disoriented lion with teeth and claws."
The mountain lion was a three-year-old juvenile male and weighed 80-90 pounds. Developmentally, said Hughan, the lion was in its "teenager" stage of growth.
Local authorities could hardly believe their eyes at the sight. "With the Santa Monica Mountains nearby, we see all kinds of critters," said Santa Monica Police Department's Lt. Calisse Lindsey Santa to NBC LA. "Raccoons, deer -- it's amazing what I've seen in last few years. It happens, but never a mountain lion in a building."
2nd Street between Wilshire Boulevard and Arizona street was briefly closed to the public as authorities tried to contain the animal.
It's believed that there are anywhere between 4,000 and 6,000 mountain lions statewide, and it's extremely rare for them to attack human beings. In California, there have only been 16 verified mountain lion attacks on humans since 1890, and the last one occurred in 2007 in Humboldt County, according to the Department of Fish and Game.
Mountain lions tend to avoid people. But if you encounter one, don't run. The best thing to do is to face the animal, wave your hands in the air and shout in order to appear bigger. If there are small children with you, pick them up.
CORRECTION: A previous version of this story referred to the mountain lion as a "baby." In fact, the animal was a three-year-old juvenile male. We regret the error.
Calling all HuffPost superfans!
Sign up for membership to become a founding member and help shape HuffPost's next chapter