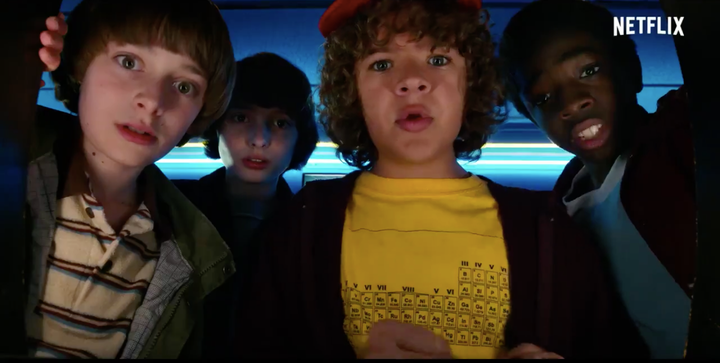 The Netflix series "Stranger Things" became an instant pop culture phenomenon when it debuted last year, charming both critics and viewers. A Sci-Fi-fantasy-horror homage created by the Duffer brothers, it won Screen Actors Guild Awards and received 18 Primetime Emmy nominations, including Outstanding Drama Series. Its second season, which takes place one year after the first, debuted on Oct. 27.
Set in the fictional town of Hawkins, Indiana, "Stranger Things" presents a supernatural world, complete with a monster-inhabited alternate dimension known as the Upside Down.
Nameberry sees it, too, as a source of highly unusual names, not only for its characters, but, interestingly, also for the actors who play them. Set in the early 1980s, many of the characters have era-appropriate monikers ― Winona Ryder's mom character is Joyce, and there are also Carol, Mike, Jim, Jonathan, Steve, Becky, Barb, Karen, Nancy, Billy and Holly ― names that could come straight out of a 1980s (or earlier) sitcom.
But here are some names of the mostly young cast and a couple of characters that you wouldn't find there.
Anniston
Little Anniston Price shares the role of toddler Holly Wheeler with her sister Tinsley. Anniston was a surprise entrant into the Top 1000 in 2014, perhaps as a result of all those Jennifer Anison magazine covers, nostalgia for "Friends", or similarity to Addison. Actors Chyler Leigh and Nathan West chose the name for their daughter in 2009.
Cade
Cade Jones plays the recurring character of James, a school bully. Cade entered the popularity lists in the late 80s, peaking at number 201 in 2001; it's now at 408, accompanied by cousins Caden and Cale. There was a Cade in Gone With the Wind and there's even one in "Star Wars."
Dacre
Dacre Montgomery plays the charismatic but unpredictable character Billy. His rare name, pronounced DAY-ker, originated as a surname first recorded in the 13 century and survives in the descendants of Dracula author Bram Stoker.
Eleven
She's a mysterious young girl with psychokinetic abilities and a limited vocab, who was born Jane Ives before she was experimented on in Hawkins Lab? Not many, but a few parents are playing the numbers game for their kids; Erykah Badu has a son named Seven, and on TV we've seen Six on "Blossom," and Seven on "Married with Children" and "Seinfeld."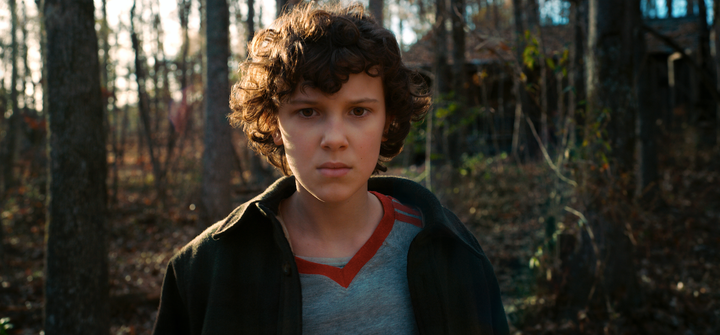 Finn
Young actor and breakout star Finn Wolfhard plays the intelligent and studious Mike Wheeler. The name Finn is a gigantic hit, now at number 175, helped by a starring role on "Glee," and by starbabies parented by Owen Wilson, Autumn Reeser, Tori Spelling, Ed Burns and Christy Turlington, and several others.
Gaten
Curly-haired 15-year-old Gaten Matarazzo plays Dustin Henderson; they share the condition of cleidocranial dysplasia, which is incorporated into the storyline and has raised awareness of it. Not sure about Gaten ― could it have derived from the Italian Gaetano?
Glennellen
Glennellen Anderson plays the character of Nicole. I think her unusual smoosh name really works, with its combo of male and female elements. Though it does sound a little like a brand of booze.
Linnea
Linnea Berthelsen plays Roman. Linnea is a lovely Swedish nature name inspired by the renowned botanist Carl Linnaeus. It's mega popular in Scandinavia, recently number one in Norway ― an just waiting to happen here.
Max
Played by Sadie Sink, Max is one of the key kids in the show. Max has lately been joining the category of boy nicknames for girls along with Sam, Charlie and Frankie.
Millie Bobby
Young British actress Millie Bobby Brown earned an Outstanding Supporting Actress Emmy nomination for her key role as Eleven. Her double-nickname name feels more currently U.K. than U.S. Millie alone is number 10 in Scotland, 26 in England and Wales, and number 436 on the Social Security list.
Roman
Roman was the initial name of the character Kali, played by Linnea Berthelsen. Roman is currently a Top 100 name for boys; could it join Rowan ― and Rory, Remy and Romy ― as user-friendly for either gender?
Sadie
Sadie Sink plays the complicated tomboy character of Max. Sadie has really come back with a bang, now a Top 60 name. Adam Sandler and Christina Applegate are just two of several celebs who chose Sadie for their daughters
Salem
Salem Murphy has the minor role of the high school principal, but I just couldn't resist this one. A particularly haunting unisex place name with some dark associations with the witchcraft trials and the eponymous supernatural TV series.
Tinsley
Young Tinsley Price shares the role of Holly Wheeler with sister Anniston. Tinkley Tinsley, a British surname name, entered the Top 1000 last year.
Winona
Winona Ryder plays the mom figure Joyce Byers. Born Winona Horowitz, she was named after the city in Minnesota near which she was born. Winona is a Sioux Indian name name meaning firstborn daughter and has been heard on television on "Justified," "Seinfeld" and "Star Trek" (as Captain Kirk's mother). There are many spelling variations.