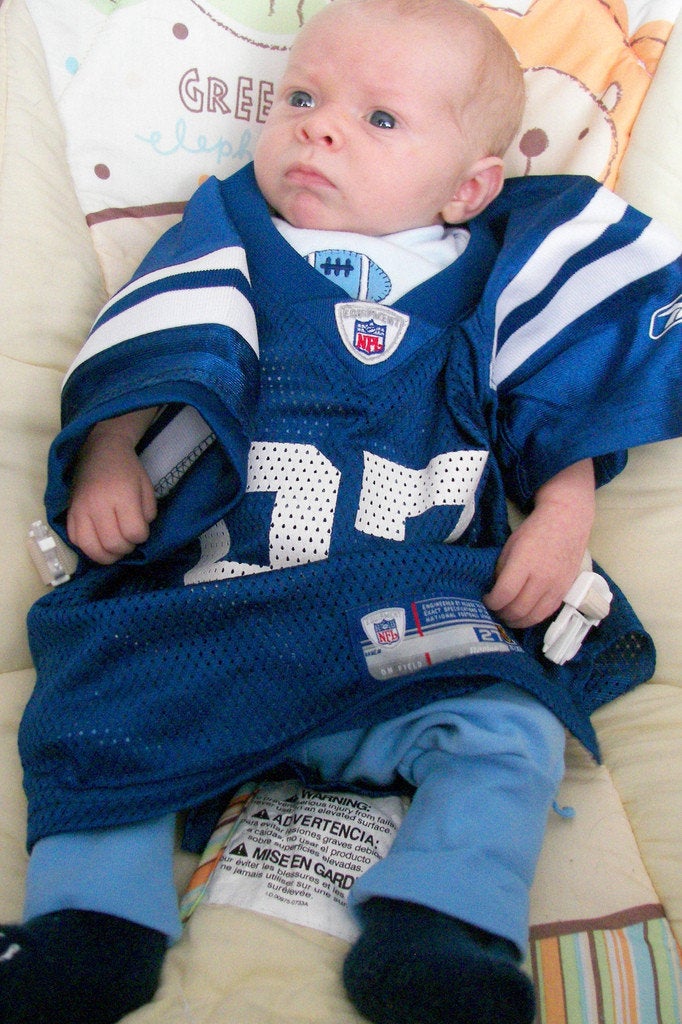 Babies are named after all different kinds of people and things: ancestors, celebrities, fruit, even boroughs. And in Nebraska, you can add college football stars to that list.
The name Rex, although not widely popular yet, is also newly on Nebraska's baby-naming radar, and the Huskers have a running back named Rex Burkhead. Staff members of Alegent Health hospitals told KETV that they've seen seven boys named Rex in the last year, up from five in 2010. The name has seen a bump nationally, too: It was the 914th most popular for boys in 2003 and climbed to 707th in 2010.
Naming babies after athletes is nothing new, of course, but typically they're athletes with more national recognition. Yankees shortstop Derek Jeter, for example, saw his surname grow in popularity from just five babies in 1997 to 47 in 2009, according to The New York Times.
The names of NBA stars are even more popular, with the name Shaquille having a particularly interesting trajectory. Shaquille O'Neal was college basketball's player of the year in 1991, when his name made the top 1,000 list of baby names at number 719, according to Sports Illustrated. After his rookie NBA season in 1993, it jumped all the way to 181. But by 1997, the name had lost its appeal, and it's no longer in the top 1,000.
Sports Illustrated pointed out that Shaq's former teammate, Lakers shooting guard Kobe Bryant, has fared better in terms of sustained name popularity. Kobe made the Social Security Administration's list of top 1,000 baby names for boys at 553rd in 1997. It has fluctuated in popularity since then, but never dropped any lower.
In a post for Nameberry.com, sports writer Josh Tinley noted that professional football stars get their share of respect in the delivery room, too. In 2007, the name Peyton hit its all-time popularity high following the Indianapolis Colts' Super Bowl victory, led by Peyton Manning. His younger brother's name followed suit the next year, when Eli Manning led the New York Giants to a Super Bowl championship.
Speaking of Cleveland, the city's fans are willing to go a step beyond just naming their kids after beloved sports stars: In a form of revenge, they've threatened to name babies after athletes who defeated the athletes who offended them. This past summer, a Cleveland radio host vowed to name her child Dirk Nowitzki in honor of the man who helped take down LeBron James and the Miami Heat in the NBA finals last season.
"When you want someone to beat LeBron so badly, you will do anything," Cherise Navidad told the New York Daily News.
Like Taylor, some names inspired by male athletes are nationally more common as girls' names -- like Peyton, for example. But others are unique to the female set. The popularity of Mia increased steadily over the course of soccer star Mia Hamm's career, although it's grown even more common since her retirement. And the rise in the number of Danicas is definitely driven by race car driver Danica Patrick. Her name sped from the 611th most popular girls' name in 2005 to 307th two years later.
Now, as blogger Nancy Man smartly pointed out, there is some risk to naming your child after a sports star. Athletes fall in and out of favor very quickly. Her laundry list of athletes you might have regretted naming your child after includes O.J. Simpson, Tiger Woods and Michael Vick.
Naming a baby after a sports network is one way to get around this issue, while still paying homage to athletics. In 2004, at least the third American child was named ESPN. It's pronounced Espen.

Related