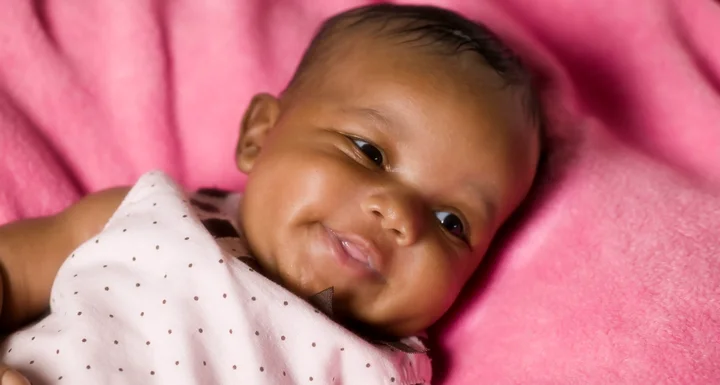 There are many ways to gauge a baby name's popularity. Nameberry maintains the Nameberry Top 1000 Names list, based on the individual name pages that receive the most visitors.
Our top 1000 list may resemble the U.S. Social Security Administration's top 1000 names list ― everybody loves Charlotte ― but a number of the most popular names on Nameberry will surely surprise. Especially the ones that don't even crack the U.S. top 1000.
What names do Nameberry fans love right now? Here are 30 examples for baby name inspiration:
1. Amara
Amara means "grace" in Igbo, though it also has meaning in Sanskrit, Mongolian, Italian, and even Esperanto. It's a multicultural name that would wear well almost anywhere in the world. It's catching on in the U.K.
2. Zara
Zara feels like a just-add-Z twist on Sara, but it likely has Arabic roots, as well as ties to literature and a Gilbert and Sullivan operetta. It's a modern name that doesn't stray too far from traditional picks like Emma and Clara.
3. Mabel
The name just chosen by Russell Brand for his first child, Mabel is a vintage name enjoying a revival. It's recently re-entered the U.S. top 1000 and shows no signs of slowing down.
4. Juliet
In the U.S., Juliette is slightly more popular than the -et ending. And yet, Juliet is the top 100 favorite on Nameberry, comfortably ahead of both spellings on the U.S. charts.
5. Cecilia
Parents often look for similar-but-different names to replace the most popular choices. Cecilia is poised to replace current chart-toppers like Sophia and Amelia.
6. Freya
This Norse goddess name has been big in the U.K. for years. Lately, it has crossed the Atlantic to catch on in the U.S, too.
7. Florence
Love traditional names, but worry that they're too common? Florence is one of several classic names American parents completely overlook. The name is a favorite in England.
8. Felicity
With an uplifting meaning ― "luck" or "happiness" ― the name Felicity has appeared in popular culture through an early American Girl doll, a 90s television character, and rising actress Felicity Jones, set to star in the upcoming "Rogue One: A Star Wars Story." No surprise it's trending in the U.S.
9. Tallulah
We love 'lu' names like Lucy and Luna, and now Louisa is back in the U.S. top 1000. Why not Tallulah, made famous by show biz legend Tallulah Bankhead. Patrick Dempsey named his daughter Tallula in 2002.
10. Fiona
Scottish import Fiona shares sounds with stylish Sophia and Josephine, but remains less popular in the U.S. ― but not on Nameberry!
11. Amelie
Cousin to Amelia and successor to Emily, Amelie was boosted by a 2001 French film by the name. Now it is sometimes heard in the U.S., and even more popular on Nameberry.
12. Edith
"Downton Abbey" names like Cora and Daisy have fared well. Could middle daughter Edith be next? With built-in nickname Edie and a nearly top 100 Nameberry rank, we say yes.
13. Calla
Take the flower power of Lily, factor in our affection for Ella, Stella, and Bella, and Calla ought to be catching on. For now, the Greek name meaning "beauty" remains rare.
14. Emmeline
Emma and her fellow Em- names have had a great run in recent years. Emmeline, as in British suffragette Pankhurst, fits right in and yet feels distinctively different, too.
15. Millie
Move over, Molly! The even more vintage Millie is catching on. Young actress Millie Bobby Brown, of "Stranger Things" fame, helps.
16. Louise
After years of languishing in obscurity, Louisa is back in the U.S. top 1000. Can Louise be far behind? Worn by 1920s icon Louise Brooks, and BFF to Thelma in the 1991 movie classic, this name defines the "classic but seldom heard" category.
17. Anais
This French name can trip up some parents: it's an-nah-EES, emphasis on the third syllable. With literary ties and classic roots, this could make a bold but wearable choice for a daughter in the U.S.
18. Adira
A Hebrew name meaning "strong," Adira could substitute for more popular picks like Ariana and Adelaide. Sixty-one girls were given the name last year ― a new high.
19. Calliope
Take Zoe, Chloe, and Penelope, add in a dash of Cadence and Harmony, and you'll have Calliope – beautiful voice. One of the nine muses in Greek mythology, the name later referred to a type of steam organ.
20. Saoirse
Oscar-nominated actress Saoirse Ronan helps make this Irish name more accessible. It means liberty, and in Ireland, it's as ordinary as Grace is in the U.S.
21. Octavia
Derived from the Latin word for the number eight, Octavia has long been a name nerd favorite. A possible substitute for Olivia, the name's profile is raised by Oscar-winning actress Octavia Spencer.
22. Elaine
The 1940s favorite Elaine seems like it might be stuck in style limbo ― except that it fits right in with current choices like Elena and Eloise, making it seem fresh and interesting sooner than you might expect.
23. Mavis
The name of the adorable teenage vampire from the "Hotel Transylvania" series, voiced by Selena Gomez, is just one reason this vintage name is on the rise. It also combines the sounds of Mae, Ava, and Alice and carries a great nature name meaning ― it's a type of songbird.
24. Persephone
Persephone is a long-neglected Greek goddess name with ties to the seasons and the natural world. It's no harder to wear than popular Penelope, and has gained in use in recent years, but remains outside the U.S. top 1000.
25. Cleo
Once in steady use in the U.S., vintage Cleo has become rare in the US. But if Willow, Margot, and Harlow are stylish, why not Cleo?
26. Hermione
Like Persephone and Calliope, Hermione is another Greek name seldom heard in recent years. And yet, this is also the name of whip-smart Harry Potter heroine, Hermione Granger. It's every bit as wearable as fellow wizarding world name Luna, but much rarer.
27. Isadora
Isadora is often suggested as a substitute for Isabella. Famous bearer and legendary dancer Isadora Duncan gives the name an artistic vibe. It also fits right in with Nora and Cora, though for now, it's seldom heard.
28. Lux
The Latin word for light makes a spare, straightforward – and surprising - choice for a child's name. It would well for a son or a daughter, a first or a middle.
29. Edie
Maybe Edie will replace Sadie. Another vintage nickname name, Edie is short for rising favorite Edith, also on this list. It's also the name of Keira Knightley's baby daughter.
30. Aveline
Nameberry fans excel at discovering names that could be the next big thing. Aveline means "hazelnut" in French, though it actually has Germanic roots. Style-wise, Aveline gracefully mixes Ava and Adeline, with a touch of Evelyn, too.