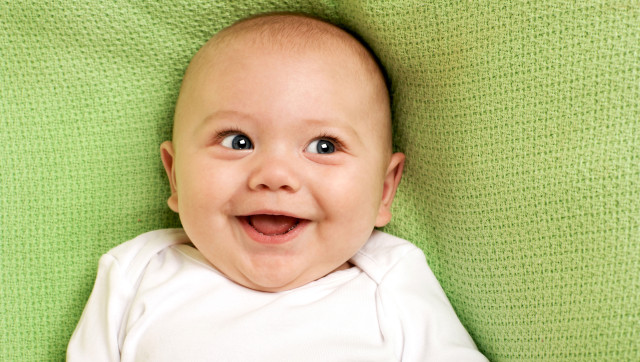 Remember the days when people would name their babies after, say, their great-grandmother? Well, consider Kourtney Kardashian the great-grandmother of our nation. A list of the most popular baby names state-by-state put out by the Social Security Administration proves that people are watching the Kardashians.
The most popular boy's name in 22 states ranging from Wisconsin to Kansas to Alaska is... Scott Disick! Haha. No, of course not. It's Mason. And the trend took off in 2009 when Kourtney gave birth. (Watch for Penelope to rank in a couple of years.)
If parents weren't naming their baby boys Mason, then they went for William, which ranked tops in 13 states like Virginia, Georgia and Arkansas.
For girls, Emma or Sophia took top honors for most states. Then there's Olivia, Isabella and Ava, which took top honors for the leftover states. In fact, in every single state except two, the most popular girl's name ended in "a." The only exception was Mississippi and South Carolina, where the most popular girl's name was Madison. Which, conversely, was the most popular boy's name in West Virginia.
I can just imagine little Madison (girl) from Mississippi meeting little Madison (boy) from West Virginia and being all, "Hey, you have a girl's name," and he's all, "Nuh-uh! You have a boy's name!"
The award for most original name choice goes to Iowa for Carter, that state's most popular boy's name. Other states that may have been influenced by celebrity moms are Florida with Jayden (Britney Spears) and Colorado and Vermont with Liam (Tori Spelling). The vast majority of popular boy's names end in either "m" or "n."
The biblical (or Twilight?!) name Jacob makes an appearance in four states, and the other biblical name, Noah, in one state, Hawaii. Surprisingly, New York is the only place where Michael is still tops. Maybe after Bloomberg? Haha. Yeah, not.
Do you notice the popularity of these names in your state? Is your kid's name Mason??
More from The Stir:
25 Glamorous Baby Names Inspired by Old Time Hollywood
52 Wackiest Celeb Baby Names of All Time
Calling all HuffPost superfans!
Sign up for membership to become a founding member and help shape HuffPost's next chapter