In the midst of a C-section delivery, baby Nevaeh Atkins reached out of her mother's womb and grabbed the doctor's finger.
Father Randy Atkins' quick camera work gave birth to a now-viral picture that Nevaeh's mom, Alicia, called "truly amazing" on Facebook. "I am in awe of this photo," wrote Alicia, who is the professional photographer in the family.
Alicia posted the image 10 weeks after the October delivery in a Phoenix-area hospital. "Dr. Sawyer broke my water and my daughter reached up out of my stomach and grabbed the Dr.'s finger and my hubby caught this special moment," she wrote.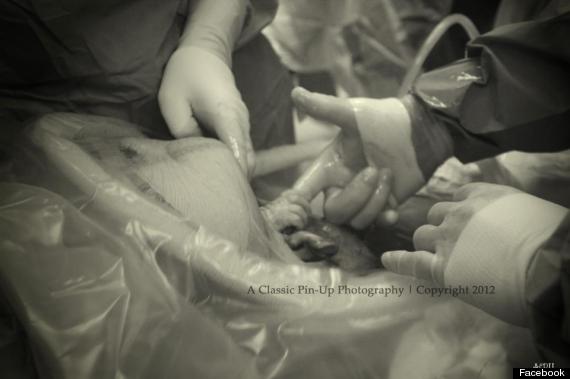 Randy Atkins told Azfamily.com that the surgeon called him over to seize the chance as the baby took his hand. The father said he was nervous about botching the shot.
If authentic, the picture is a stunning example of what opportunity and timing can conceive. Alicia Atkins made a canvas print of the photo as a gift for the doctor, according to outlets. In addition to the thousands of "likes" the image has collected on Facebook, she said the family has received offers to purchase the photo, WTVR reports.
According to outlets, Alicia feared that many would see the picture as disgusting. As it turned out, it was "priceless," she said.
In 2003, a somewhat similar photo surfaced. The image showed an unborn 21-week-old baby with spina bifida appearing to grab the hand of a surgeon during a 1999 procedure. But as Snopes.com reported, a physician later confirmed that the baby did not reach out and was in fact fully anesthetized; the hand merely "flopped out" as the surgeon closed an incision.
Popular in the Community