As a seafloor volcano continues to erupt in a remote part of the Pacific Ocean, a newborn island has swallowed its neighbor whole, images from space show.
In November 2013, a baby volcanic island rose from the sea out of a volcanic blast in the Bonin Islands about 620 miles (1,000 kilometers) south of Tokyo, on the western edge of the Pacific "Ring of Fire," a hotbed of seismic activity. Named Niijima, the newcomer boiled the sea and spewed steam, ash and lava fragments into the air.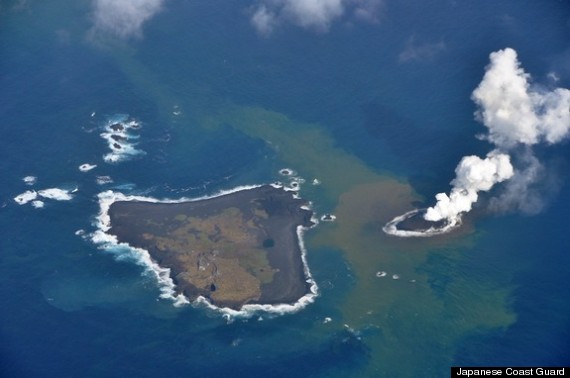 A new volcanic island, called Niijima, emerged from the ocean on Nov. 20, 2013.
Now a satellite image taken March 30, 2014, by the Operational Land Imager on Landsat 8 shows that Niijima has actually overtaken Nishino-shima.
Together, the conjoined islands measure about 3,280 feet (1,000 meters) across, officials with NASA's Earth Observatory said. The landmass has also tripled in height since December, now rising more than 196 feet (60 m) above sea level.
The smashed-together islands mark the top of a giant submarine volcano that had not erupted since a major outpouring in 1973 to 1974, according to the Japanese Coast Guard. Lava flows are now most active in the southern portion of the new landmass, and plumes of ash continue to rise, with tiny particles seeding a stream of white cloud puffs overhead.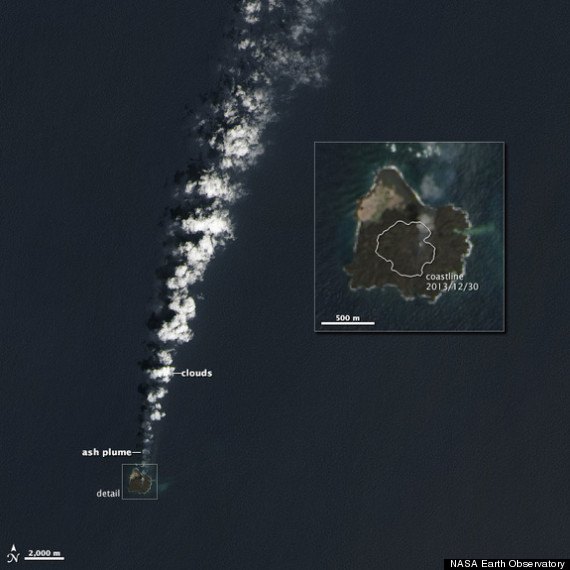 Landsat 8 snapped this image of Niijima and Nishino-shima, now one island, on March 30, 2014.
"The intermittent, pulsing shape of the cloud stream might be a reflection of the volcanic eruption itself," officials with NASA's Earth Observatory wrote. "Strombolian explosions are essentially bubbles of lava and gas rising from Earth's interior in pulses. Underwater, sediment appears to be stirred up in a green plume that stretches eastward from the island."
Copyright 2014 LiveScience, a TechMediaNetwork company. All rights reserved. This material may not be published, broadcast, rewritten or redistributed. ]]>
Calling all HuffPost superfans!
Sign up for membership to become a founding member and help shape HuffPost's next chapter