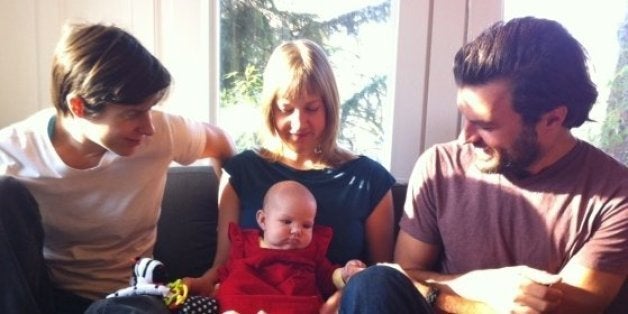 A Vancouver newborn has become the first child in British Columbia, Canada, to have three parents listed on an official birth certificate.
Della Wolf Kangro Wiley Richards is the 3-month-old daughter of a married lesbian couple and their male friend. British Columbia's Family Law Act, which went into effect in March 2013, makes their unique situation possible. The measure allows a child to have three or more legal parents, as long as such a situation is in the best interest of the child.
The three parents finalized baby Della's birth certificate last week, making them the first family to go through the process required by the new law.
"We wanted our kids to know where they came from biologically and actually liked the idea of having an extended family," Richards told Canada's National Post. "It didn't threaten us to have another person's involvement so long as it was the right person."
The couple approached Richards' longtime friend, Shawn Kangro, who agreed to not only be their donor but also a father figure to the child.
Before Della was conceived, the three drafted a contract outlining how they wanted their family to work. (According to the Family Law Act, such written contracts must be drawn up before conception.) They agreed that Wiley and Richards would have custody of the child and would be financially responsible for him or her. Kangro would be a legal guardian with rights to access.
After they had hammered out all the finer details, Wiley became pregnant. Speaking to the CBC, she said they used the "homestyle" method of conception.
"The really big shift in the Family Law Act in terms of parents, is how you decide who's a parent," writes self-proclaimed "queer feminist" lawyer barbara findlay, who spells her name without capital letters. "In old days, we looked at biology and genetic connections. And that's no longer true. We now look at the intention of the parties who are contributing to the creation of the child, and intend to raise the child. And that's a really, really big shift."
Related