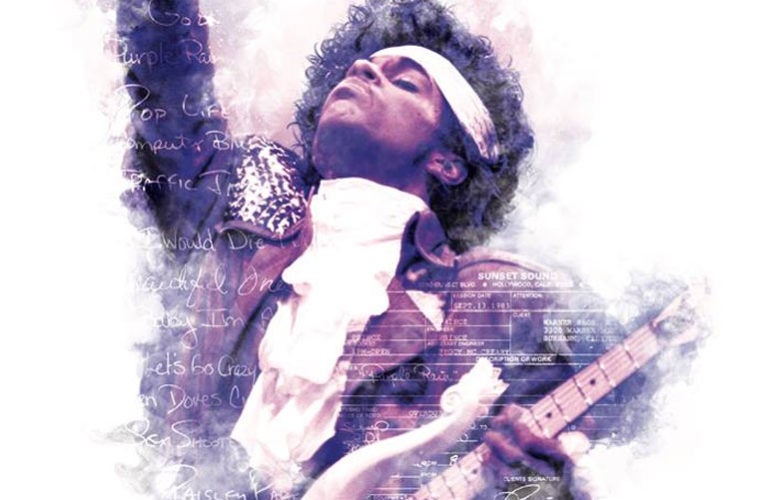 Prince Rogers Nelson was an enigma like no other, so trying to figure him out is pointless. Like having a puzzle without all the pieces, you will never get the full picture. But that doesn't stop people from trying.
In a new book that thoroughly examines Prince in the era of Purple Rain, historian and documentary director whose work has been featured on The History Channel, CBS, GTV, Fox, Discovery, Pax, The Gospel Music Channel, the Food Channel, Tru-TV and HGTV, Duane Tudahl offers one piece of the puzzle. His book, Prince and the Purple Rain Era Studio Sessions, 1983 and 1984 , with foreword by Ahmir "Questlove" Thompson (The Roots, The Tonight Show with Jimmy Falon) hopes to put that puzzle in context.
Die-hards and casual Prince fans, alike, will find the book to be a worthy contribution to an already vast body of knowledge. Tudahl hopes this book is the first in a series that explores, in depth, each album in Prince's extensive repertoire.
"When you work on something for 20 years, you do it in a bubble. I didn't just write a book for the sake of writing a book. I wrote it because it was something I wanted to read. You write what's close to your heart."
Tudahl has been writing about Prince for over 25 years, contributing to numerous publications. With this book, he's hoping readers get the message he's trying to convey and "read the stories" former friends, colleagues, collaborators, lovers and others shared because, as life-long Prince fans, "our job right now is to extend and protect his legacy."
When you read this book, you realize that Prince gave everyone a piece of the puzzle; no one person knew everything about him, though some knew more than others.
"I didn't want to tell the story. I wanted the other people to tell the story. I went to everyone who was there, The Time, The Revolution, the members of Vanity/Apollonia 6, Jill Jones, the engineers--- all the people I could--- to tell their story," which ultimately is his story, "and I let them provide the narrative."
Tudahl learned that Prince was complicated, if not difficult. He had a penchant for telling one person "A" and the telling another "B," confident that they would never swap stories. Yet, if they did, he would remove himself from the equation completely and "let them hash it out. He didn't want people meeting up on the way out," so there was always this element of organized confusion that kept his inner circle guessing and wondering exactly where in the puzzle they fit.
When it came to choosing who and what stories to include, Tudahl, again, deferred to Prince's 1983 and 1984 inner circle. "I wanted to make sure I gave a voice to everyone possible."
Tudahl was very realistic about the contradictions, diversity of interpretations and experiences that would surface as everyone's memory of signature events would be different. Taking into account the fact these memories were more than 30 years old, Tudahl knew there was never going to be a consensus on how each individual he spoke with would view this era. He conceded to the idea that "the stories would be told by all different sides; how they witnessed it." He acknowledged that there were going to be times when one person remembers something so specific and another would have no such memory."
About Prince, Tudahl says, "he was a master at making people people work for it. I think he enjoyed the chaos. When there's a little dissent in the ranks, he could see how dedicated everyone was to him and to the end game. Look, Prince called the shots, he was the captain. They all knew at the end of the day, regardless of what they contributed--- vocals or certain riffs--- in the end, he would make it what he wanted."
As for writing the book and seeing its completion, Tudahl says, "I think there's a certain joy in creating a project like this; there's magic in the beginning, just like there is when you start a new relationship. I went into this whole thing as a fan. Prince's diversity in his musical styles has created a diversity of fans. I find that people I should have nothing in common with, because of Prince, we have everything in common. Everything is connected."
It should be noted that Tudahl's book is not one of those projects you invariably expect to surface just because Prince died and there is a market of fans to appeal to. While this is something that has and will continue to happen, Tudahl's book was already completed by the time Prince passed away and a November 15, 2017 release date scheduled later that year.
After Prince died, Tudahl had to go back and change his narrative to the past tense, but decided to remain true to what he was told, leaving the quotes by those who knew him in the present-tense, untouched, because he wanted to capture that moment in time as it was.
"I finished the book in March of 2016, it was just waiting for a publisher to pick it up. Then, he died. After, there was this question, 'Do I move forward put out this book?' It was already completed at this point and I was uncertain as to how to proceed. But the fans— the fans told me to keep going. So, I did. But I found myself doing something I never thought I'd be doing--- not now--- which was to talk about Prince in the past tense."
"You know, Prince was Santa Claus. The guy always had the promise of Christmas, like when you were a little kid and each package, before you unwrapped it, you wondered what was inside and there was that rush of excitement about what the next gift was. But he's gone and now there's no promise of what he's going to do next; there's no next Christmas. The finality of it and the knowing that he's never, ever going to be that to us again was hard to reconcile. He's gone and we are left to reflect on the meaning of it all."
There will always be the question of why Tudahl began with Purple Rain, which seems like a safe choice. Everyone knows Purple Rain, the album, the movie, and the song. This is really a no-brainer, but how does one tell a story it seems has been told over and over again and an era that has been covered extensively?
When asked about this, Alan Leeds, former tour manager, President of Paisley Park Records and author of The Hits 1 &2/The B-sides liner notes, explained to me the era at the heart of Tudahl's book as "Prince's most prolific period in which he put the punctuation mark on the Minneapolis Sound and forever changed the sound of America," just as Berry Gordy had created The Sound of Young America in the 1960's and 1970's with Motown.
If Purple Rain is the apex of Prince's career, then the two albums before it--- Controversy and 1999--- were the building blocks upon which it was built. Controversy introduced the Minneapolis Sound, 1999 solidified it, and Purple Rain transcended it by giving America and the world a broader view what black music was and could be.
"He [Prince] so was important, vital, a game changer. In everything he did, he was original and changed the rules as they suited him and whatever his needs were artistically at the time. And that's the important part to remember when looking at the studio sessions just after 1999 and leading up to the release of Purple Rain and its aftermath. From ownership, to live performances, to fashion, music and movies Prince didn't follow trends, he set them, and the success of Purple Rain is the reason why he was able to do that. It opened doors that were otherwise closed to someone like him who began with little influence in the business of music."
"We don't think about people [celebrities] being human. It all makes sense in retrospect. He had to do X-Y-Z to get to the next stage; it was his journey. You could hear the difference. Take away his generosity, giving to charitable causes, music and money. Take away his humor and you have this guy who was driven. If you are going to make music, you rehearse it, you do it, you find your voice. I don't think his first few albums had his voice. After Dirty Mind, you can see this upward trajectory of this person growing, learning, and expanding. How much went into making this look effortless? A lot! It's effortless because he worked on it every single day. That's what you do to get to that point. He worked this and was always practicing; and when he wasn't practicing, he watched people practice and then worked on himself, again. I hope people see he was a good person at times and a frustrating person at other times. He's got a beautiful story here where he said, 'I'm going to use my voice to make a change.' And that's a great thing. There are all these different elements about him that are important. I was blessed just to come up at a time when his story as being revealed, year by year by year."
"I really sought to put this era in the context of his life, relationships, love, and career. There's an actual story here. For me, to hear what was involved [in making the music], I wanted to know what was happening [in his life]. That makes the music better, in y opinion. I put the music in order by date of recording, not release. The book has a beginning, middle and conclusion. Hopefully, it helps future generations to understand how incredibly important he was."
"This book is a little piece of the puzzle. I was able to fill in some of the spaces through interviews and anecdotes from the people who lived this history right along with him, but I was cognizant of the fact that I would never have the full puzzle."
"What I was able to capture is what went into being him, into being 'Prince.' You watch tapes of the Purple Rain Tour and see the command he had over every aspect of his live show, and regardless what it was, we accepted it all because he set us up to accept it. A lot of people envied that control he had over his music, his image and as a bandleader. I don't want to say it was arrogance, but there was definitely a certain charm and confidence he possessed to be able to do that. Only Prince could say, with confidence, 'I'm going to wear my hair like Liza Minelli for a few days, do it, and then dare anyone to say something to him about it; he was just that bold." Now that he's gone, we will always be faced with trying to answer the question of "Who was Prince?"
Leeds says, "he could be viewed in many ways and everyone who knew him was tempted to think they knew someone different than [how] he was described by others. But we were all correct. For better--- or sometimes worse--- he was always genuine. He analyzed what each person brought into his life, be it personal or business related, and he developed his relationships accordingly. It was always coming from a real part of him. It could be manipulative at times, but it was always honest."
It was always honest and it was always Prince.
In the end, there is no single definitive expert on Prince and no one person's ego should be so great as to think there is. The stories shared by those whom Tudahl interviewed is a testament to this fact.
He could be kind, and he could be frustrating; you could love him one day and hate him the next. Still, he gave everyone a piece of the puzzle that was his wonderfully insane and creatively complex life. Their challenge is to come together now and figure out how to make each of the pieces fit into the larger story as they knew it. For everyone, that story was different.
Also, as the ones he left behind, our challenge is figuring out how to understand it and to make sense of the senselessness of his absence. No matter how we come to explain this idea of Prince as an artist and as a man, and how those who knew him define their experiences with him, the puzzle will never be complete. And no one person should flatter themselves to think that it will and that they hold the missing pieces--- because to an extent, we all do.
As Jimmy Jam of The Time says in the book, "He's a very complex guy with a lot of different sides, as many people are. But I think that he's able to express that through his music, and that's the one thing he's always been able to do."
It truly seems that was his way from the beginning, back when he was writing these songs in the basement studio of a purple house in a Minneapolis suburb, and later when he put his masterpiece on tape at Sunset Sound Studios. Somehow, it was all a tiny part of a larger picture; a vision that sustained him, solidified his place in the annals of modern music history, and ripped through the constraints that narrowly defined what Black music and Black artists could accomplish.
In reading Tudahl's book, it is clear the Purple Rain Era Studio Sessions of 1983 and 1984 started with love. It is also painfully clear that the story we attempt to understand ended the same way--- with love and a tinge of sadness--- on April 21, 2016.
Everything in between was just part of a journey, something we "will never comprehend," and a riddle we will never solve.
Would love ever have been enough to save him? The answer to that question is one we will never know; for even with his death, we are still left guessing "who was Prince, where did he come from, and how did he do what he did?"
A question to which the answer will remain all too elusive.
No matter how many books are written, and stories told, we will still be left trying to figure him and his genius out 30 years from now; and that's what you take from this book, from the stories, and from the puzzle that was Prince. Tudahl gives you a piece, maybe seven, but not the whole puzzle; that you must seek on your own by listening to the message in the music and the music in the message. And even then, you will never be quite sure his meaning; you will never know all the answers or all the sides to him.
Perhaps, the not knowing is exactly what he wanted for us, after all.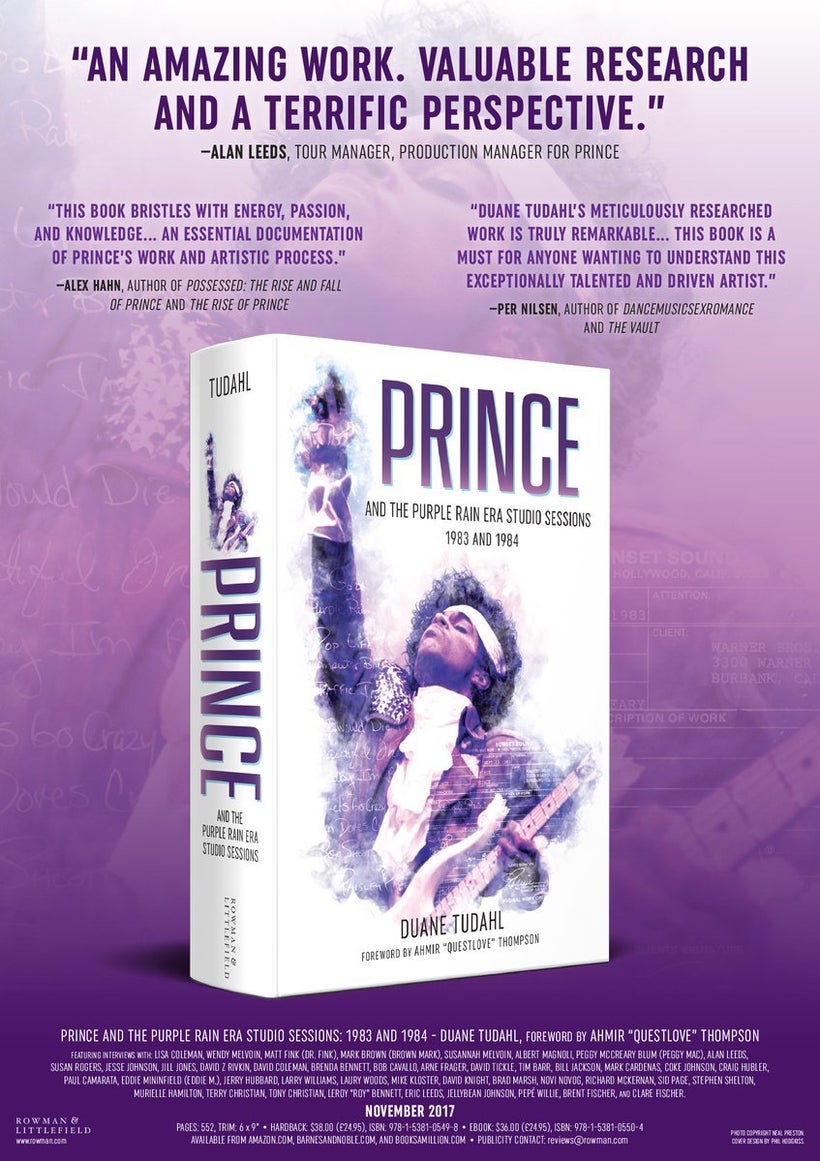 Prince and the Purple Rain Era Studio Sessions 1983 and 1984 by Duane Tudahl with Foreword by Ahmi "Questlove" Thompson is available for purchase. You can join the conversation on Facebook in Tudahl's group, Prince: The Complete Studio Sessions Book Series. One lucky fan will be eligible to win a free copy of Tudahl's book by tweeting my post about this piece on Twitter with the hashtag #PurpleRainSessions between November 17-25, 2017. The winner will be selected at random and announced on my Twitter account @AishaStaggers and on Tudahl's Facebook group page, Prince: The Complete Studio Sessions Book Series. Giveaway open to U.S. residents, 18 and over, only.
Listen to Duane Tudahl's interview with Michael Dean on Podcast Juice:
REAL LIFE. REAL NEWS. REAL VOICES.
Help us tell more of the stories that matter from voices that too often remain unheard.
This post was published on the now-closed HuffPost Contributor platform. Contributors control their own work and posted freely to our site. If you need to flag this entry as abusive,
send us an email
.