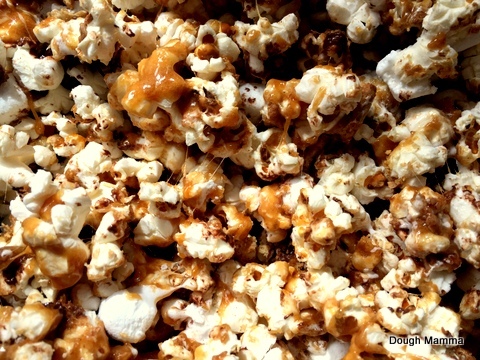 This delicious s'mores popcorn is sweet, salty, crunchy and chewy all at once. With mini marshmallows, chocolate chips, crushed graham crackers and of course popcorn, this sweet treat is sure to please kids, adults and everyone in between.
This popcorn does come with a warning however, it is addictive and requires one to lick their fingers afterwards. Just as messy as an actual s'mores, chocolate may end up in some surprising places. Once I finished my man-sized serving, I happened to glance in the mirror and noticed how lovely I looked with chocolate drizzled on my chin, my hair in disarray and nursing pads peeking out of my shirt. One hot mess indeed. Next time I will be sure to lock myself in the bathroom (the only room with privacy) and eat this treat unapologetically.
I renamed this s'mores popcorn "babysitter popcorn," because only those who get paid to watch children should have to endure the sugar rush that will most likely ensue. I made the mistake of sending my son on a play date with this popcorn before realizing the sugar may not have been appreciated by my lovely friends. Though I didn't receive any negative reports, I can only imagine what may have transpired. I'm picturing the scene from Lord of the Flies, in which the kids are dancing around the bonfire in their underwear and throwing death spears at one another. Lets just say you have been fairly warned.
Title: Babysitter Popcorn
Author: Adapted from pixel-whisk.com
Prep time: 7 mins
Cook time: 7 mins
Total time: 14 mins
Serves: 5
Notes: As long as you keep the popcorn and caramel proportions the same, you can play around with different toppings. The next time I make sweet popcorn, I am planning on throwing in some pretzels, chocolate chips and chex cereal.
Ingredients
1 cup of popcorn kernels (I use Eden organic)
3 Tbsp of canola oil
½ cup of brown sugar packed
4 Tbsp of butter
¼ cup corn syrup
½ tsp baking soda
1-1¼ cups of mini marshmallows
4 graham cracker sheets, broken into small pieces
1 cup of semi-sweet chocolate chips
Instructions
Using a heavy bottom stockpot, heat your kernels and oil on high heat with a tight fitting lid. As you hear the kernels popping, carefully shake your pot every so often. As soon as you hear the popping starting to slow down, remove your pot from heat and allow to rest with the lid on.
Pour your popcorn into a baking pan of standard size. Add your marshmallows, chocolate chips and crushed graham crackers. Mix to evenly distribute.
Combine the brown sugar, butter and corn syrup in a medium saucepan and cook on medium-high heat until boiling (about 5 minutes). Remove from heat and stir in your baking soda.