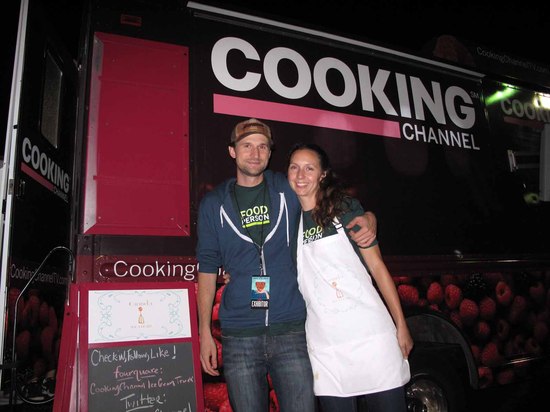 Zach and Jessica Cox, owners of Carmela ice cream which was being served from the Cooking Channel Truck

What a weekend. If only my liver was trained to eat and imbibe like I did this weekend at Food & Wine's The Taste of Beverly Hills. Had Jack Nicholson's Col. Nathan R. Jessep (from A Few Good Men) seen me Saturday, Sunday or Monday morning, he would have shouted: "You can't handle the Food and the alcohol" -- but I had fun trying. And now I may not need to eat before December.
Unlike other Food & Wine events where guests must reach into their wallet or purse every five minutes to buy another taste of food or wine, The Taste of Beverly Hills decided to create an all-inclusive admission for $159.95 for adults and $84.95 for teens (13-20) with free admission for kids 12 and under. Although I initially thought this seemed pricey and a bad idea, I could not have been more wrong. The all-inclusive nature made all the guests feel like VIPs and lines moved quickly for food and drink because no cash or tickets had to be exchanged. And guests not only tasted Beverly Hills; there was cuisine from Westwood, Hollywood, East LA (fabulous tacos), Eagle Rock, Pasadena and more. Each night 40+ restaurants served up treats.
Tables were set up at a slew of locations and provided an opportunity to meet people. On Friday night, I met a couple from the Inland Empire who frequently drive to Los Angeles or Beverly Hills for the phenomenal cuisine. They recommended the Inland Empire to me for "hole in the wall" Mexican restaurants.
Along with "melt in your mouth" food and beverage offerings from 40+ restaurants, there were cooking and cocktail mixing demonstrations featuring many culinary stars. I caught a wee portion of Chef Ludo Lefebvre's cooking demo on Saturday night, and I loved his description of how to choose an onion. I was drinking so will not quote him -- but the gist was that a cook should carefully select an onion just as a Frenchman selects a woman. The moderator asked: "Are you comparing women to onions?" I thought it was a great analogy -- we both have layers to peel away and have been known to make men cry.
Sadly, I didn't improve my culinary skills this weekend because, over three evenings, I was too entranced by Umami's burgers (I fell hard for the truffle burger), Chaya Brasserie's Kobe Beef Skewers, WP24's pork belly in a dimsum roll, Church & State's Pork belly delight, Sushi Roku and Katana's tuna and vegetarian handrolls, Father's Office burger (designed to compliment beer -- not the other way around), Sunnin Lebanese Cafe's grilled chicken and hummus, Auntie Em's Kitchen's mac 'n cheese, the Raymond's grilled baby octopus and The Bazaar by Jose Andres at SLS' mouthwatering frozen (nitro) margarita (like alcoholic sorbet) and so much more. I ran out of room before trying Soi 56's Thai food, but I saw people drooling over their Thai beef skewers. I indulged my palate and challenged my liver (with wine and other libations) and neglected my culinary intellect (which is already kitchen-challenged).
I did learn a bit about Spanish cuisine while enjoying The Blvd's linguine in squid ink. I was intrigued by the enormous wok the chef was using to cook. I learned it wasn't a wok but rather a Spanish Paella pan that a family can use on a table, each dividing a section of the pan for their own dish. The Blvd Restaurant is located in the Beverly Wilshire Hotel.
I also enjoyed Carmela's ice cream from the Cooking Channel's food truck. Aida Mollenkamp of "FoodCrafters" and "Ask Aida" gave me a very generous scoop of strawberry buttermilk ice cream. (Highlights of my interview with Aida Mollenkamp will be posted in a separate piece later this week.)
On Friday night, I was smitten by a Jim Beam bourbon, which I never dreamed would have been possible. But Red Stag bourbon is sweet like a liquor and perfect for alcohol wimps like me. My taste buds can't handle scotch on the rocks. Victor Komlos of Palm Bay International introduced me to my favorite drink of the night -- a Spritzer made with Aperol, an Italian liquor infused with sweet and bitter oranges. The Aperol Spritz (Aperol mixed with Prosecco) is heaven in a glass.
I also learned about Névé, luxury ice that melts slower than regular ice, so you get a cocktail made the way it was intended rather than a watered down slushy. Névé is practically Don Draper's co-star on the TV show "Mad Men." Several fine restaurants and bars in Los Angeles use this ice, and a few stores carry it if you want to improve your home cocktails.
Beyond the food, drink and cooking and cocktail demos, guests attending the evening events at The Taste of Beverly Hills were treated to a musical concert each night, and the music was fabulous. I fell hard for the star musical attraction on Saturday night, Fitz and The Tantrums. You can't help but move and groove to their music (of course, I do go weak at the knees for songs seasoned by a saxophone).
The Taste of Beverly Hills was so well organized that I kept asking people whether they were certain this was the inaugural event. If the organizers of The Taste of Beverly Hills ran our government, it would be far more streamlined and efficient. (I bet they could do a great job organizing my desk or apartment -- kudos to the team at Food & Wine who organized this event.)
The charitable beneficiary of a portion of the proceeds from The Taste of Beverly Hills is the Beverly Hills Education Foundation which was founded in 1978 to supplement public funding for the five public schools in Beverly Hills to ensure kids get a first class education.
To see what I learned about Aperol, Jim Beam Red Stag and Umami burgers first hand, check out this interview compilation:
All photos not otherwise credited were taken by Terry Gardner.
Support HuffPost
A No-B.S. Guide To Life
Related
Popular in the Community