It's 9:30 p.m. on a frigid NYC Valentine's Day, and JJ Lane, recent alum of "The Bachelorette" and "Bachelor in Paradise," is standing on a banquette at The Ainsworth in Chelsea, hollering insults at former co-star Joshua Albers.
The target of Lane's playful wrath continues to smile gamely through selfies with eager young women, all dressed in their rose ceremony best (lace bodycon dresses, teetering heels, sequins), as Lane gives Albers the finger. The semicircle of ladies gathered around Lane, in as many tight rows as an onion has layers, grows fidgety. "JJ, get down here," one yells, grabbing at him.
The "Bachelor" fans are here for charity, and they need their selfies.
A few weeks ago, I thought I'd spend Valentine's Day the normal way -- on the couch, ordering calorie-dense takeout and scrolling through the on-demand options for a few hours with my fiancé. Sometimes, though, duty calls. Duty doesn't care about your brick oven pizza plans. When I heard tell of a New York City-area charity auction and watch party for the 20th anniversary "Bachelor" special hosted by Ashley Iaconetti (she of the teary lashes), I knew my night would be spent marinating in a -- er -- different kind of romantic atmosphere. Emma Gray, who co-hosts HuffPost's "Bachelor" podcast "Here to Make Friends" with me, would be on a well-deserved vacation, so I would be repping the podcast alone, and I was ready.
Without doubt, it would be the most fan-favorite-filled night in "Bachelor" history. Aside from Iaconetti, "Bachelorette" icons including Nick Viall, Jared Haibon, JJ Lane and Ben Zorn would be auctioning off a precious hour of their time to benefit THON, all while the year's most adorable reality TV couple, Jade Roper and Tanner Tolbert, tied the knot on approximately 47 hi-def TVs all around the venue.
I bought a ticket -- $65, to benefit charity. Cocktail attire was requested, perhaps in order to create a natural habitat for our "Bachelor" stars. I curled my hair and eyelashes and put on a dress I would describe as "from Urban Outfitters." I also put on a coat I would describe as "enormous," because it was 2 degrees out, and sallied forth. I had lip gloss in my purse. My heart was open. My "please come on HuffPost's reality TV podcast" pitch was ready. "Can I steal you for a second?" hung on the tip of my tongue. This journey was just beginning.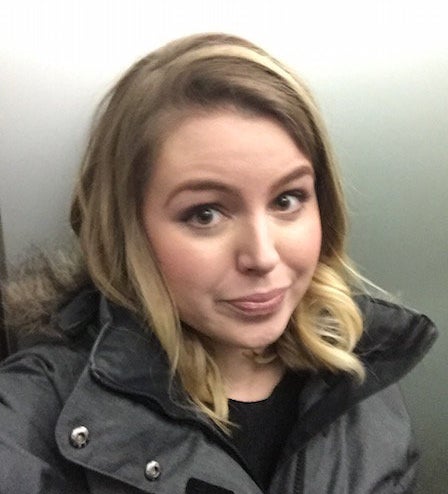 When I arrived, the first thing I noticed was the coat check. Several minutes later, I noticed the line for the coat check, which was not where I thought it was. The 45 minutes I ultimately spent in this line, while frustrating, especially as I did not arrive with a buddy to send off to the bar for coat check line drinks, did at least provide me with ample opportunity to scope out the crowd.
It was very, very female. I saw a couple of men, who were pretty clearly attentive significant others or the advertised "Bachelorette" stars. But that's hardly a surprise, given that the show is coded so female -- most women showed up in pairs or small gaggles, while it may be more embarrassing for even men who enjoy the show to admit to friends they'd like to go. Besides, Iaconetti was the only advertised gal on the auction block.  At the event, she herself told Heather Cocks and Jessica Morgan, the fashion bloggers known as the Fug Girls, that male fans often seem to watch the show along with their wives or girlfriends and approach her simply to say hi, not hit on her. 
For the Nicks and Joshes in the club, the fan attention leaned more carnal. A handful of the endless waves of women in attendance seemed like sweet, eager fans, fresh-faced in flat shoes and everyday hair, just looking for a moment with their favorites; the majority looked ready to volunteer for a sudden opening in one of the "Bachelor" limos. Professional blowouts and barrel curls bristled in every direction. The eyeliner game on display made me ashamed of my own half-hearted smoky eye. Dresses had been chosen to flaunt curves; heels for their pencil-slim height. Manicured hands clutched at rose-hued cocktails as necks craned searchingly, seeking any nearby "Bachelorette" heartthrob.
When the "Bachelor" bachelor auction started, this attention became more focused, as all the semi-celebs were pulled up to the auction block. Nick Viall was entrusted with auctioning off his compatriots, starting with Ben Zorn, a clumsily hunky fan favorite who quickly sold for around $1,200, despite some confusion amongst the auctioneers about who was actually bidding and who was just being effusive. (This would be a problem throughout the night.) A lull followed, as Albers, Lane and Josh Murray went for prices in the high hundreds. Jared Haibon, the sweet bartender adored by viewers -- and Ashley Iaconetti -- modestly cracked a thousand. Michael Garofola, an NYC-based attorney, leveraged his purportedly cute new puppy to sell himself for over $5,000, as Iaconetti and Viall clearly began to feel a bit intimidated by the realness of the money being pledged. Iaconetti went up for auction, though I didn't spot a single unattached man present except for those onstage. Her friend Haibon gallantly snatched her up for around $700, then stepped up to shill the inimitable Viall himself, a two-time "Bachelorette" runner-up, to the crowd. Not much shilling was needed, and the frenzied bidding war ultimately carried the prices up to an all-night high of $5,600. (I mean, he is a pretty decent conversationalist.)
As the auction ended, the stars dutifully spread through the club, circulating among the non-auction winners for selfies (in her pre-event message, Iaconetti requested "as few retakes as possible"). Almost immediately, each man found himself the sun at the center of a tightly swirling solar system of squealing, iPhone-wielding women. A couple rows back, the ladies were more calm and calculated, scanning the room for a better Bachelor, or a Bachelor with a smaller crowd around him to penetrate, or just casually judging ("Ugh, I just don't get it," you'd hear in passing as a small gaggle of girls swept disdainfully past Haibon as he held court).
In my personal life, I have a deeply socialized desire not to seem pushy or demanding that overcomes me at events like this. It's partly why the aggressiveness of the other female fans present awes me. How did these women escape the near-universal messaging that men hate forwardness, that acting semi-predatory will seem grotesque and unladylike? Lane himself told me later that he actually relishes rejecting women who approach him, a satisfying reversal of the mating role he's used to. Is the fandom of Bachelor Nation's women stronger than their socialization? Are they refusing to let their fears hold them back from what they want? Is society truly getting more equal? I put this complex anthropological question aside as I elbowed through a tight knot of women to introduce myself successively to Lane, Albers, Iaconetti, and Haibon. I was there to make professional contact. But also, I felt a little flutter of excitement in my stomach. I was actually seeing these people in real life.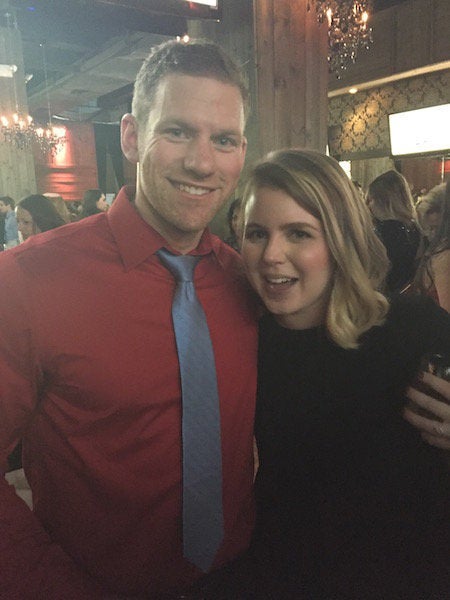 Soon, the night started to wind down. The "Bachelor" alumni were scheduled to end the evening with 45 minutes of one-on-one time with their winning bidders in the VIP area at the back of the club, and the rest of us filtered out.
Well, most of us. Viall told me the next day, as he and Lane joined me on the podcast, that his second-place bidder hung around meaningfully, waiting for him to finish his bought-and-paid-for date so she could whisk him away herself, despite the numerous requests to leave.  
And it wasn't just during the auction date -- watching "The Bachelor" had seemingly induced some bad habits all around. "Some women would come up," Viall said, wincing, "and be like, 'Hey, can I steal you…' and I'd be like, 'I can't really leave.'" The ladies of NYC were there for their romantic meet-cute, one worthy of the show itself. (Actually, he emphasized, the vast majority of them were very nice and appreciative of their selfie moment and brief chat. For the record.) "Our lives suck," joked Lane, who seemed simultaneously exhilarated and exhausted by the avalanche of female scrutiny and desire.
Ah, to both long for and fear the demands of romantic attention from the opposite sex -- what's that's like? "The Bachelor" dudes might just be experiencing what it's like to be the hot girl at the bar, but more so, and as we all know, that's a position that's fraught with both benefits and serious drawbacks. But for Lane, Viall and co., there isn't much time to ponder this: They've got selfies to take.
For more, check out Nick Viall and J.J. Lane on HuffPost's "Here to Make Friends," along with a recap of this week's episode of "The Bachelor":
PHOTO GALLERY
Tweets About "The Bachelor" Season 20, Episode 7
Calling all HuffPost superfans!
Sign up for membership to become a founding member and help shape HuffPost's next chapter