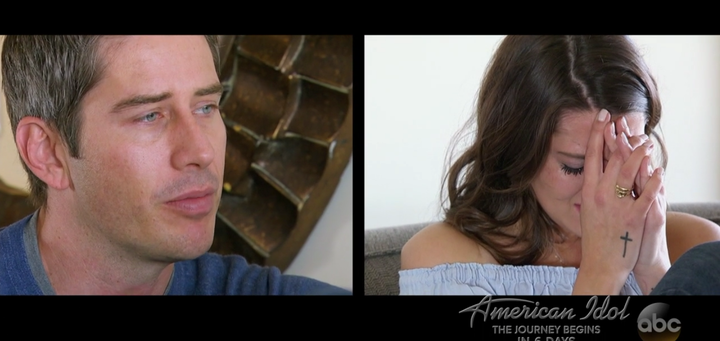 "Fair warning: It might just be the most emotional scene ever," said "Bachelor" host Chris Harrison to a live audience. And so began 60 minutes of the most brutal and compelling television "The Bachelor"franchise has ever brought to the masses.
On Monday night, the fairytale ending "The Bachelor" normally delivers took a dark and twisty turn. Arie Luyendyk Jr., former race car driver and human incarnation of "meh," followed the script of "Bachelor" love and proposed to Becca Kufrin at the show's conclusion. But at some point between mid-November and mid-January, he had a change of heart and decided to end his engagement to Becca to pursue runner-up Lauren Burnham.
Just as Arie and Becca's love story would play out on national television, so, inevitably, would its demise. "Bachelor" producers filmed the post-season breakup, and we, the viewers, ended up in a room we otherwise never would (and perhaps never should) have had access to.
The cameras captured every uncomfortable drawn-out pause, every stomach-churning moment of realization as it dawned on Becca that she was being left for a woman she'd said had absolutely nothing in common with her. There was no music, no editing, none of the overly produced artifice we've come to expect from the franchise. Just two people going through an excruciating breakup ― one that would be broadcast to millions.
The cameras continued to follow Becca post-breakup. Viewers saw her looking downtrodden as she wheeled her luggage out of Los Angeles, her plane ride back to Minneapolis (in a middle seat!) and her teary-eyed perusal of old photos and videos of her and Arie.
This is the kind of television that draws us in even as it repels us, and the ratings bear that conclusion out. Arie's season has been, by all accounts, a snoozefest. As BuzzFeed reported, the season's average viewership was 6.2 million viewers, with a 1.7 rating among 18 to 49-year-olds. But on Monday night, those numbers shot up ― 7.8 million people tuned in, earning the "The Bachelor" a 2.2 rating for that same valuable demographic.
And people weren't just watching the show; they were talking about it. A Twitter spokesperson told HuffPost that there were more than 530,000 tweets about "The Bachelor" finale, making it the third-most-tweeted-about episode ever. In weeks prior, the number of "Bachelor"-related tweets had lingered around 100,000.
We might hate ourselves for not having the strength or desire to look away from that brutal breakup scene. We might tweet angrily at ABC for putting Becca in such a cruel position in the first place. We might call it emotional torture porn. We might feel ill. But we still watch.
In the moment, it feels almost impossible to wrench our eyes from the screen, or to still our fingers from tweeting about it. The finale was so compelling, its appeal felt like dark magic. By intruding so completely on this intimate moment ― a couple's heart-wrenching breakup, shown in real time, unedited ― the show made viewers feel as if we were standing, helplessly, just a few feet away from the long gray couch as Becca attempted to wrap her mind around being dumped.
We watch "The Bachelor," at least in part, because it taps into themes that are largely universal: love, desire, heartbreak. Many of us spend years grappling with what love should look like or whether the love we've found is the right one or whether we'll ever find it at all.
We have our hearts stomped on, we break up with people we once adored, and we ruminate on the feelings those experiences leave with us for years to come. But aside from watching a Tinder date at a bar or eavesdropping on a public breakup, we rarely get to witness those experiences from the outside. To do so feels wrong ― we certainly wouldn't want our break-ups to be closely observed in this way. And yet simultaneously, it's deeply satisfying, almost cathartic, to watch. We can't separate the hypnotic attraction of Monday's breakup scene from the queasy sense that it's invasive, voyeuristic, not for our eyes.
This is the kind of television that draws us in even as it repels us, and the ratings bear that conclusion out.
"The Bachelor" encapsulates the appeal of this genre of TV: It's somehow both durable and unsustainable. The show garners healthy ratings year after year after year ― it's been on the air, along with various spin-offs, since 2002 ― but there's indisputably an arms race within the show itself. "The Bachelor" needs to continually top its own past dramatics. If one Bachelor asks a woman to keep dating him, the next needs to propose on TV. Once all the leads are proposing on TV, we need a live wedding special.
The same is true of emotional torment. Arie wasn't the first lead to flip-flop after the finale, ditching his chosen bride for the runner-up ― that honor goes to Jason Mesnick, Bachelor No. 13. (Mesnick ditched his first choice, Melissa Rycroft, and married the runner-up, Molly Malaney. The couple have a family together.) The Mesnick switch-up was luridly exploited for ratings as well; Jason sat Melissa down in a studio with Chris Harrison to explain that he wanted to pursue Molly instead. But the pomp and circumstance of this meeting would have tipped off even a clueless Melissa ― and, in fact, Jason later stated that the couple had separated before their interview taped, though she did not yet know of his feelings for Molly.
If Arie was going to follow in Jason's footsteps, the show couldn't just play out the same predictable beats. "The Bachelor" needed to top itself again. Producers needed to capture, on camera, the moment that an unsuspecting Becca first heard that her engagement with Arie was coming to an end. They needed to make it feel as real, as unrehearsed, as unfiltered as possible. And they did.
Even this season's cast seemed ambivalent about whether privacy or entertainment value should have come first. Caroline Lunny, a contestant who befriended Becca on the show, told Harrison on Tuesday night's "After the Final Rose" special, "I think we all kind of needed to see it, I guess ... but I just don't think it's something we actually should have seen." Exactly.
But if "The Bachelor" and its history have taught us anything, it should be this: We haven't reached the limit. There is always some greater betrayal of the contestants' privacy, some deeper level of invasiveness to plumb, all done in the name of ratings. And "The Bachelor" will keep pushing further, because we will never be equally compelled by this level of voyeurism again. To replicate this phenomenon, the show will have to dissolve the boundaries between TV and life even further.
We have our hearts stomped on, we break up with people we once adored, and we ruminate on the feelings those experiences leave with us for years to come. But we rarely get to witness those experiences from the outside. To do so feels wrong. And yet simultaneously, it's deeply satisfying.
Where, then, is the limit? The limit is what the market will bear. "The Bachelor" will stop exploiting its contestants' heartbreak for ratings when the ratings disappear. Based on the reaction to this week's finale, we're nowhere close to hitting that limit.
That's the true love story being enacted annually on "The Bachelor": the one between real life and TV artifice. There's an undeniable pull between them, one that's electrifying and yet disturbing to watch. The more entwined they become, the more they're both weakened.
For Becca, the blurring of real life and TV life continues. Deprived of the fairytale ending she was supposed to receive, "The Bachelor" offered her another option: Wrest control over her tragic narrative and become the center of a new one. She may or may not find lasting happiness among the 30 chiseled men the casting department has surely already selected to woo her, but at least it will make for great television. 
To hear more about the most dramatic finale in "Bachelor" history, listen to the full podcast:
Do people love "The Bachelor," "The Bachelorette" and "Bachelor in Paradise," or do they love to hate these shows? It's unclear. But at "Here to Make Friends," we both love and love to hate them — and we love to snarkily dissect each episode in vivid detail. Podcast edited by Nick Offenberg.
Calling all HuffPost superfans!
Sign up for membership to become a founding member and help shape HuffPost's next chapter