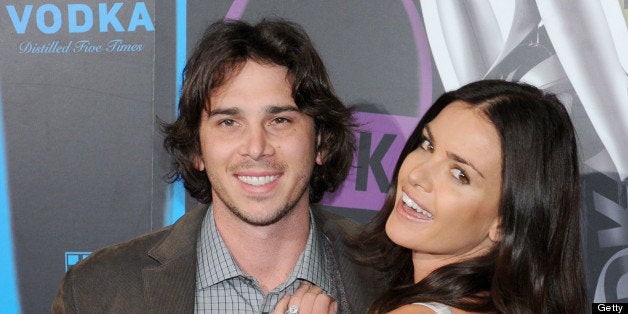 The two-hour finale of "The Bachelor" is tonight, and as the show's 8 or so million viewers know, the only thing interesting about this season has been the vilification of contestant Courtney Robertson. From her baby voice to her creepy-cute "winning" braggery, creative barbs and even more creative ways to get naked with "Bachelor" Ben Flajnik, the 27-year-old model has shocked and awed her peers to the point that last week's episode was a smackdown sesh held in effigy of her.
"She was one way around us, and one way around Ben," charged good girl Kacie B., after host Chris Harrison showed a best-of-Courtney highlights reel.
"She tells Ben, 'I've tried so hard with the girls!' No. She hasn't tried anything," accused another contestant, Nicki.
And when Courtney walked out to confront the chorus of finger-pointing girls, one voice rose loud and clear, that of Emily: "It was hard for every one of us, and did we all react by making these jabs? No. Guess what we did? We made friendships to support one another ... So if you want to sit here and say, like, 'I did this because I was insecure,' guess what? All of us were insecure!"
Much of what angers the women on "The Bachelor" about Courtney is a sense of brutal injustice, one that transcends the high school cliquey-ness and leads to direct sabotage disguised as genuine concern for Ben ("Not the right reasons! Not the right reasons!"). Even truth-sayer Emily admitted that her chances with Ben cut to zero after such a confrontation: "I felt like he saw me as an antagonist to Courtney," she told Harrison. Still, the girls are driven to act because Courtney offends them at the core. If Courtney breaks all of the rules, brings wine and a suggestion of skinny dipping, sunbathes topless and drops off her room number like it ain't no thang, why should she be bequeathed rose after rose when she's displayed such blatant disrespect for her peers -- and the entire "Bachelor" institution?
Good behavior is a condition the American public is trained to believe will yield good results. Those sentenced to prison can expect a dramatic reduction in time served for good behavior, and those who punch in early and punch out late at the workplace can enjoy a steady climb up the corporate ladder in exchange for their diligence (granted, actual working must be involved at one point, too). Any perceived shortcut -- nepotism, schmoozing -- is a cause for outrage, while any failure to follow through -- the longtime employee who gets sacked after 16 years of service -- is an unconscionable betrayal.
But what these girls fail to realize is that the rules that govern them on "The Bachelor" are as arbitrary as Ben's middle-part haircut. No common sense can be made of the decision to organize three single dates and one group session in one day, or the rule that only four girls get to parade their potential beau in their hometown, and why the heck does the rose-giving ceremony always go for so long? The notion behind "The Bachelor" is so ridiculous -- that true love could be found during the six weeks or so of taping -- that any rules that buttress it are an extension of that absurdity; still, a mini-society within it is bound to form. In the end, the rules the contestants so desperately abide by can drive them to lose more. For 24-year-old Kacie B., who honestly believed she was on the show to fall in love but was unceremoniously booted after Ben discovered Daddy wasn't a boozer (kidding!), the joke ended up being on her.
Pro-Courtney and anti-Courtney viewers could thusly be divided into two camps: those who follow the rules, and those who believe that rules are made to be broken. However even Ben, a laid-back dude who's half on the show to flaunt his floppy haircut, half on the show to promote his winery, might have forgotten the only rule that counts: the rule of ratings.

Related
Popular in the Community