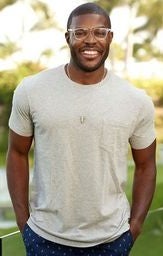 ABC's Bachelor in Paradise is a hot mess of a show, with the uncertain ultimate goal of being the last couple standing - in a relationship that is - and smacking of desperation as contestants knock themselves out to form love connections. So much for the organic evolution of love when it comes to the entire umbrella franchise of The Bachelor. Last season's The Bachelorette turned into For Love or Proposal for those watching every moment of Rachel Lindsay's televised journey sure of the spark between her and runner-up Peter. Of course, these are all my own opinions, and realize dear readers, I keep tuning in when new seasons start. In terms of Bachelor in Paradise, I, along with many viewers, thought the franchise was kaput after this past summer's scandal surrounding the show. http://www.eonline.com/news/860463/bachelor-in-paradise-shocking-scandal-everything-we-know
I caught up with Kenneth Moreland, AKA "Diggy", a Chicago-based Groupon executive who was on Rachel's season. Intelligent, observant and having a keen sense of humor about himself and my thoughts on the show, Diggy answered some questions for The Huffington Post.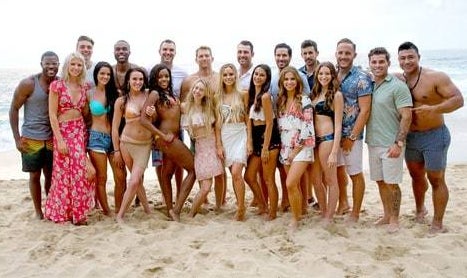 Did you and the other contestants expect to be called back to Bachelor In Paradise or did you think (during the hiatus) that production was quashed due to the controversy?
I honestly didn't think we would come back! I returned to Chicago and I just knew that the show was over. I was even at work somewhat sad and pissed that something so great was pretty much over.
How did everybody feel when going back? Did you discuss with the other contestants any concerns? Did you have any personal reservations?
I know everyone was excited to go back. We all knew that BIP is a show that's loved by many, and were definitely excited to be a part of it. On the flip side, I definitely thought to myself: 'The ratings for this show are gonna go through the roof.....so I gotta make sure I look FLY!'
Lacey seems to bounce around between love interests. First it was Iggy, then you, now Daniel... Did you feel a genuine interest from her or was she just trying to play the game and try to be part of the 'last couple standing'?
Look, the name of the game is essentially 'Survive and Advance.' You have to be able to stick around to increase your chance of finding love. A little birdie had already alerted me to the fact that Lacey came to paradise STRICTLY to meet Daniel, which the viewers obviously had no clue. But hey, we're young, we're dating, we're having fun
Don't take this too personally, but I regard every reality show with a great degree of cynicism, especially The Bachelor franchise. Do you feel the Bachelor in Paradise setup, with producers egging contestants on, is conducive to finding you real and lasting love?
I do feel like you can find real love on Paradise. At the end of the day, we're all adults. The producers can suggest what they want, but just know if I don't want to do or say something that may be suggested, I won't be doing it.
Matt had a wild ride with Jasmine. Is there anything about that dynamic that we didn't see on TV that we may have greatly missed out on?
Yeah. You missed Matt sleeping on Jasmine. Literally. The dude slept a TON. Hands down the most well rested dude in Paradise.
You were on Rachel's season. Do you think Rachel buckled to the pressure of an engagement at the end versus true love with Peter? I'm sure you've been aware of the blogs and viewer reaction.
I honestly don't know. I feel like Brian got the 'first impression rose' for a reason. He caught her eye, made his intentions known from the beginning, so I can't say I'm surprised that they're together now.
Christen gets called 'Scallop Fingers' and is made fun of by Jasmine for being a virgin. It seemed very 'mean girls' but then Scallop Fingers was also written on her title card. What did you make of all of that? Was it something producers kept bringing up to you guys so people would discuss it? Somehow I expected better of this group. I mean, college level antics would have been OK, but this was seventh grade level taunting.
Haha! I learned about 'scallop fingers' and thought it was hilarious. The story behind it is funny for sure. The teasing for being a virgin is old, especially since she isn't the first to be on the franchise as a virgin. Nothing wrong with waiting, at all.
What did you make of the Dean-Kristina dynamic? The love triangle between Dean, Kristina and D-Lo?
Get your popcorn ready! It was very interesting to watch. I think Dean really had good intentions, but it just sucks to have it played out in front of 10 million people. They're two different amazing people, and he had a tough decision to make.
I'm really curious if politics came up at all, at any time, between contestants while you were there. We do hear Kristina say that she likes Putin, but I think she's adorable anyway.
Of course Kristina is adorable, probably one of my favorite people in Paradise. Politics were discussed at a minimum, especially since we didn't have our phones and weren't aware of current events.
Do you think everybody in the house is ready for a serious long term relationship or marriage?
I don't think everyone is ready for a serious long term relationship, but I do think you come out of these experiences learning more about yourself and others and you know what you want in the long run!
Calling all HuffPost superfans!
Sign up for membership to become a founding member and help shape HuffPost's next chapter
This post was published on the now-closed HuffPost Contributor platform. Contributors control their own work and posted freely to our site. If you need to flag this entry as abusive,
send us an email
.