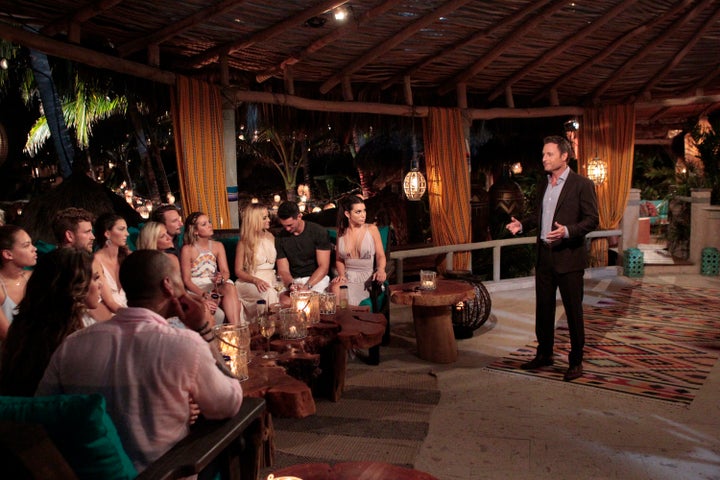 The "Bachelor" franchise's longtime problems with race have been cast into a harsh spotlight in the past couple of weeks. With rumors swirling over alleged on-set sexual misconduct between a black male and a white woman, both members of the summer spin-off "Bachelor in Paradise" cast, many viewers have been left unsettled by dueling narratives that play into the most damaging stereotypes about black men and about women.
Warner Bros., which produces the series, put out a statement this week saying that the investigation had been concluded and no evidence of misconduct had been found. Though no charges were filed against the man in question and the show has now resumed filming, the event left a trail of news articles about the man's purported misconduct and about the woman's speculated sexual promiscuity. 
While, in recent years, the problems with slut-shaming and victim-blaming of alleged assault victims have drawn attention from mainstream media outlets, audiences like the predominantly white Bachelor Nation have less frequently been asked to confront how race plays a role in how we react to allegations of rape.
Historically speaking...when accusations have been made against black men for the rape of white women, and these panics and fears ensue, there's very often no correlation between the actual incidence of rape and the hysteria around it.

Carina Ray, Professor of African and Afro-American Studies
To get some historical perspective on the particular issues raised by sexual assault cases involving black men and white women, HuffPost's "Here to Make Friends" podcast chatted with Carina Ray, an Associate Professor of African and Afro-American Studies at Brandeis University, and author of Crossing the Color Line: Race, Sex, and the Contested Politics of Colonialism in Ghana.
"Historically speaking [...] when accusations have been made against black men for the rape of white women, and these panics and fears ensue, there's very often no correlation between the actual incidence of rape and the hysteria around it," Ray said, pointing to the notorious case of Emmett Till, a black boy who was brutally murdered after he was alleged to have whistled at a white woman. "There's this huge gap between reality and perception that has historically contextualized this question." 
Black men have, in many historical and contemporary contexts, been falsely depicted or assumed to be sexual threats to white female virtue ― a racist perception that has endangered the lives of black men. Conversely, she added, white men have long enjoyed relative impunity for sexual aggression, especially when women of color, and black women in particular, are the victims. 
In an email, Ray elaborated on the point, saying, "We also need to interrogate the presumptions that underline how victimhood is defined and assessed. It's quite telling that we proceed under the assumption that she is the victim and he's the perpetrator," she wrote. "But if we understand the history we must also understand that black men have often been the victim in these rape allegation cases. That is to say that it's not a question of being cleared, but rather of the very real and often heinous consequences that the accusation itself results in. That might be something that the show's producers need to think about ― the disparate outcomes that black and white men will face when something like this occurs." 
On the podcast, Ray also emphasized that placing the event in context does not mean we can extrapolate exactly what happened in a given incident ― what's more important, she explained, is understanding the prejudices and baggage that may be influencing our perception and working to counteract them.
Ray encouraged listeners to "try to move beyond a question of [whether the historical context] actually say[s] something definitive about what happened in this case. Instead of doing that, just say, how has that history influenced how people view this particular case?"
To hear more of the conversation, and an interview on the legal aspects of the case with civil rights attorney Lisa Bloom, check out the latest episode of "Here to Make Friends":
Do people love "The Bachelor," "The Bachelorette" and "Bachelor in Paradise," or do they love to hate these shows? It's unclear. But here at "Here to Make Friends," we both love and love to hate them — and we love to snarkily dissect each episode in vivid detail. Podcast edited by Nick Offenberg.
Want more "Bachelor" stories in your life? Sign up for HuffPost's Entertainment email for extra hot goss about The Bachelor, his 30 bachelorettes, and the most dramatic rose ceremonies ever. The newsletter will also serve you up some juicy celeb news, hilarious late-night bits, awards coverage and more. Sign up for the newsletter here.
REAL LIFE. REAL NEWS. REAL VOICES.
Help us tell more of the stories that matter from voices that too often remain unheard.
BEFORE YOU GO
PHOTO GALLERY
Tweets About "The Bachelorette" Season 13, Episode 4