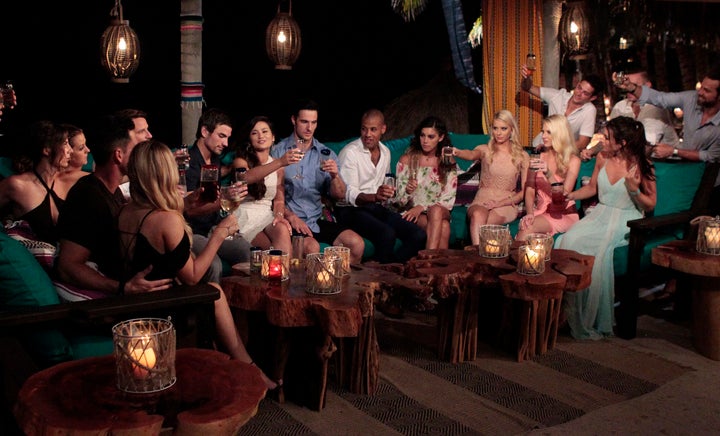 Just one week into production of the fourth season of "Bachelor in Paradise," it all appears to be over.
"We are conducting a thorough investigation of these allegations," the production company said. "Once the investigation is complete, we will take appropriate responsive action."
Where did it all go so wrong for a campy dating show that has spawned goofy GIFs galore, an alarmingly high rate of engagements and a still more alarming rate of broken engagements?
With an internal investigation still underway and most news about the situation coming to the public through anonymously sourced TMZ articles, it's far too soon to diagnose exactly where this aborted season went off the rails. It may be weeks, even months, before the public gets any clarity about what happened in Paradise. Of course, that hasn't stopped many from jumping onto Twitter or Instagram to confidently speculate about which contestants are to blame, or to make racist, sexist insinuations about them.  
Though it's shocking, in another sense it's unsurprising that the fun-in-the-sun ethos of "Paradise" has taken such a dark turn. Though this scandal may have been the first to halt production of the show, it's not the first sign that the crew has been putting juicy plotlines ahead of the well-being, and even the safety, of its cast.
"Bachelor in Paradise," like all the "Bachelor" shows, harvests entertainment from the irresistible human drama of gorgeous people competing for each other's romantic attention. It doesn't maintain its top spot in the reality dating pantheon by just "letting it happen," though; the show's producers notoriously coach contestants to make proclamations or romantic overtures that will actually sink their chances, but might make for more titillating TV. On the current season of "The Bachelorette," the show brought on two unpleasant young men with a pre-existing rivalry from another, lesser-known reality show to milk their bad blood for ratings.
So far, so whatever ― these days, if you admit that you didn't realize every confrontation and kiss on the show is likely producer-instigated, you'll be called naive by members of Bachelor Nation. BUT that doesn't mean we should be blasé about producers standing by during, and possibly even encouraging, dangerous situations.
The particular setup of "The Bachelor" and "The Bachelorette" typically keeps a lid on overt misconduct. With just one man or woman dating over 20 people, the jealousy between rivals is almost too spread out to explode. The lead's desirability is too valuable to the franchise for encouraging criminal misbehavior to be a good business decision, and there's no one else for contestants to get messy with in the corners (except, on one or two notable occasions, the crew themselves).
Nonetheless, the drama can get out of hand if producers allow feuds to escalate or fail to respond to red flags from certain cast members, and recent seasons have raised questions of how the show is protecting itself from liability. On Season 12 of "The Bachelorette," several of the men became alarmed by Chad Johnson's belligerent behavior, physical aggression and colorful threats ("I'm gonna cut everyone here's legs off and arms off and there's gonna be torsos and I'm going to throw them in the pool," he exploded at one point), but he remained in the mansion until star JoJo Fletcher eliminated him from the competition ― albeit with the showy addition of an on-camera security guard to oversee peace in the house.
"Bachelor in Paradise," with its unstructured setting and roughly equal groups of men and women from the show, takes more after "The Bachelor" franchise's rowdier, gender-balanced cousins ― think MTV's "Are You The One," featuring 20-plus men and women living together and dating each other for several weeks. ("AYTO" has seen physical altercations and raunchy sexual encounters more than once.)
"Paradise" is known as the silly, chill member of the "Bachelor" family, but the combustible mix of partner-switching couples and lax oversight seems destined to have blown up sooner or later.
It was Johnson, brought back to the franchise after his unsettling turn on "The Bachelorette," who exposed flaws in the "Paradise" safety measures last summer. On the first night of the third season, Johnson and fellow contestant Lace Morris became very drunk, flirted heavily and began making out amid the partying. Fairly standard "Paradise" stuff, except that an intoxicated Johnson began manhandling Morris, sparking an escalating physical and verbal altercation in and around the pool. Despite this, both contestants were allowed to stay as their teary, semi-violent fight continued into the night. At one point, Johnson threw an ableist slur at another cast member, Sarah Herron, who was born with only the upper part of one arm.
Not until the next morning, after Johnson's unpredictable drunken rampage had petered out, was he removed from the situation; even so, his dismissal from the show by Chris Harrison was filmed in front of the entire cast, squeezing a bit more great TV from the situation. The cast, by the time he left, seemed genuinely rattled by how far things had been allowed to go. Sure, they'd signed up to be on a hookup-fueled reality show packed with tears and drama, but they hadn't signed away their basic human rights, nor did they come with the expectation of being verbally and even physically abused.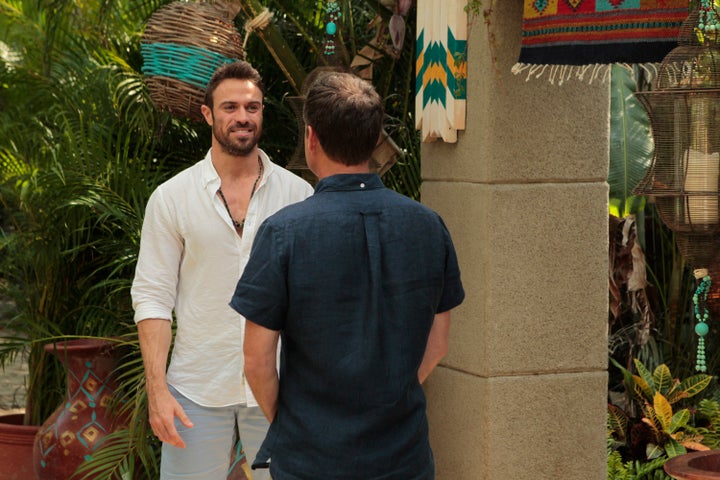 With the night on the verge of a real catastrophe, viewers wondered, why didn't production step in until it had calmed down? Were they gambling that things would go no further? After years of successfully producing the "Bachelor" shows, were they not even thinking of their liability? Are their contracts ironclad? Were they willing to risk a lawsuit for the sake of the juicy footage?
Meanwhile, contradictory reports on the recent scandal continue to filter through to the media. Reality Steve's latest update reveals that his sources perceived the encounter as consensual and that Corinne was the instigator, while a Daily Mail interview with an anonymous crew member paints a disturbing picture of producers allowing cameras to roll while a borderline unconscious Corinne was assaulted, then put to bed without any medical care. Which, if any, account is true? It's unclear. But most reports suggest that producers, as the ostensible adults in the room during a booze-fueled tropical speed dating zone, allowed a situation to escalate to the point that a credible complaint of misconduct could be made against the show.
The contestants, many happily point out, are adults and are not forced to drink or do anything; nonetheless, they've signed over a great deal of control in their life to a production team with the understandable expectation that those in charge won't let anything genuinely dangerous happen to them. After this incident, in combination with past kerfuffles on the show, that expectation appears misguided, but it is a very human one. A production also needs to be prepared to take responsibility for setting up volatile situations and continuing to point cameras at them even after contestants have begun to act harmfully toward themselves or others. Regardless of the severity of what went wrong on set, public sex between drunk cast members arguably falls into that category. 
Fans of the show may be understandably disappointed that this season, and very likely any planned future seasons, will never air. (Though the show has not officially been canceled, all contestants were flown home, filming does not seem set to resume and the original premiere date is rapidly approaching, making it extremely likely that a formal cancellation is coming.) But the disappointment can, and should, be an opportunity for the show itself and for the audience to think carefully about how much messy drama we expect from our reality shows, and what risks cast members may assume in order to meet those expectations. In Johnson's appearances, for example, production didn't step in even when overt threats were made or he became drunk to the point of being out of control; fortunately, things didn't go any further, but they easily could have. 
This season, the outcome was still worse ― and the questions about whether the "Bachelor" shows do enough to protect their contestants have only grown more difficult to ignore.
For more on the "Bachelor in Paradise" scandal, listen to this week's episode of "Here to Make Friends," featuring Reality Steve and former cast member Michael Garofola:

You can be highbrow. You can be lowbrow. But can you ever just be brow? Welcome to Middlebrow, a weekly examination of pop culture. Read more here.
Calling all HuffPost superfans!
Sign up for membership to become a founding member and help shape HuffPost's next chapter
BEFORE YOU GO
PHOTO GALLERY
Tweets About "Bachelor In Paradise" Season 3, Episode 1