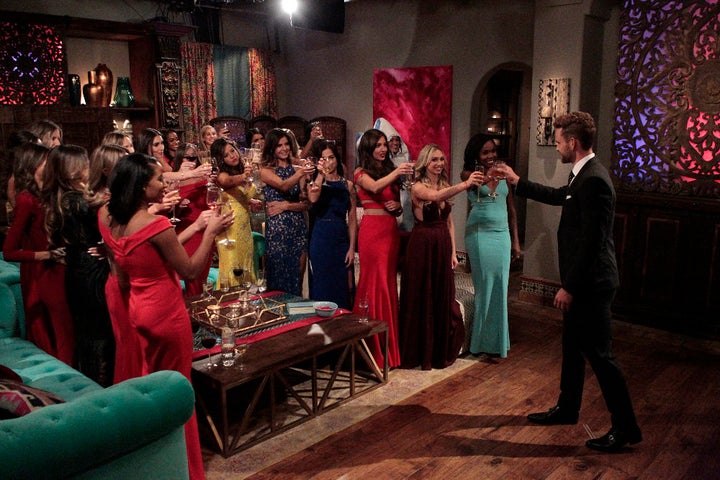 Certain places exist where one simply shouldn't go to fulfill one's yen for egalitarian, socially conscious television.
For example, "The Bachelor." Yet on Monday night's episode of Nick Viall's season, telltale signs emerged that the franchise has been infected by something antithetical to its very nature: feminism.
For 21 seasons, the entire concept of the show has been to exploit women's social conditioning to compete with each other for male approval and attention, translating the resulting tension into high ratings. At the end, an appropriately feminine, beautiful, and (ideally) demure lady wins the man's hand in marriage. (Sure, "The Bachelorette" exists, and flipping the roles is great, but it simply doesn't play off the same long-entrenched gender scripts that the original show does.)
Many feminist viewers, including myself, have argued that this rigidly traditional lens is part of the allure of the show: It allows us to critique real gender norms and dating-world absurdities in a comically overblown setting. Though we critique the show's sexist flaws, I, at least, have never dreamed of a feminist "Bachelor." By its very nature, the show is anti-feminist; it's coded into the franchise DNA. A feminist "Bachelor" would be no "Bachelor" at all. (Maybe it would be "Coupled.")
The men and women who compete on the show, however, can change with the times. Last season on "The Bachelorette," contestant Derek Peth chided villain Chad Johnson for his "misogynistic comments" ― using a word almost unheard-of on the franchise, though the concept is everywhere in evidence. Even this season on "The Bachelor," usually the format wherein producers are best able to play women against each other for male approval and TV gold, the women have been fairly supportive of each other.
Of course, there's the necessary villain. Corinne, the 24-year-old self-described business owner with a nanny, has carved out a classic arc as the "slutty" femme fatale who demands all of Nick's attention at the expense of the other women. The first couple of episodes, her tactics ― making out with him during their first conversation, taking her top off during a photo shoot with Nick ― drew some dismissive and slut-shaming comments from other contestants. Corinne, for her part, has plenty of misogynistic comments for other women in the house, and even herself. (It was pretty sad, for me, to hear how convinced she is that approaching a man naked with whipped cream on her breasts is the only way she could truly capture his attention.)
During the third episode, however, the contestants mostly chose to handle the kerfuffle surrounding this storyline with female solidarity. Jasmine watched the younger woman pout through a date featuring the Backstreet Boys, then learned she has a nanny named Raquel who makes her bed and prepares her lunches. Finally, Jasmine announced to the camera that she'd slap Nick if he gave Corinne a rose after how she'd behaved. Violence isn't the most enlightened response (for the record, no such slap occurred), but it's somewhat heartening to see the women question their potential partner's behavior and dating preferences rather than directly turning on their so-called competition. 
Later, Corinne and Nick hooked up in a bouncy castle (really) while the other women were nearby enjoying a pool party, and his antics became known. A bouncy castle isn't exactly a private spot. The tipping point had been reached, and one by one, women began initiating confrontations ― not with Corinne, as often happens with "Bachelor" villains, but with Nick. Vanessa made the issue most explicit, telling him, "I'm not judging Corinne. I'm judging your actions." It had left her questioning whether he just wanted to fool around, and she put that on him, not on another woman. It sounds simple, but it's deeply ingrained in women to blame other women, not men, for their infidelity or wandering eyes. 
While we've seen bromances before on "The Bachelorette," and a few close female friendships, the general atmosphere in Nick's house of bachelorettes seems unusually and admirably supportive. Aside from Corinne, the women appear to get along ― they even appear to be pleasant to Corinne. On the second episode, she attempts to goad 23-year-old mental health counselor Taylor into a spat over time spent with Nick on a group date, but Taylor calmly refuses to get upset. (In previews, we see that this will start to devolve, but a gallant effort at staying friendly was made.) 
On Episode 3, Dominique realizes she's failed to garner much attention from the Bachelor, and on her group date, she becomes emotional. Rachel, a frontrunner, pulls her aside and comforts her, giving her solid advice on calming down and making the most of her time with the man they're supposedly competing for. Dominique then stumbles upon Rachel making out with Nick ― and despite her clearly rampant insecurity and envy, she doesn't succumb to an impulse to trash her rival. Instead, she says that it's hard to see, but she's happy for Rachel.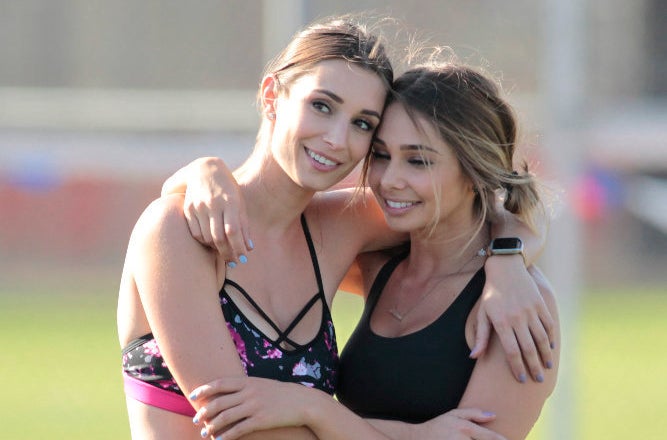 At least part of this is likely just the individual crop of women. It's a kind, classy bunch! But in Vanessa's pointed remark that she's not judging Corinne, but is looking to see whether Nick wants the same things she does, there's a clear consciousness of what female solidarity means.
The mutually supportive, empowering spirit among the women remaining in the house (well, most of them) suggests she's not alone. Whether these bachelorettes came here to make friends or not, they're not here to hurt other women. That's pretty refreshing.
For more on "The Bachelor," listen to HuffPost's podcast "Here to Make Friends" below:
Do people love "The Bachelor," "The Bachelorette" and "Bachelor in Paradise," or do they love to hate these shows? It's unclear. But here at "Here to Make Friends," we both love and love to hate them — and we love to snarkily dissect each episode in vivid detail. Podcast edited by Nick Offenberg.
Want more "Bachelor" stories in your life? Sign up for HuffPost's Entertainment email for extra hot goss about The Bachelor, his 30 bachelorettes, and the most dramatic rose ceremonies ever. The newsletter will also serve you up some juicy celeb news, hilarious late-night bits, awards coverage and more. Sign up for the newsletter here.
Calling all HuffPost superfans!
Sign up for membership to become a founding member and help shape HuffPost's next chapter
BEFORE YOU GO
PHOTO GALLERY
'The Bachelor' House