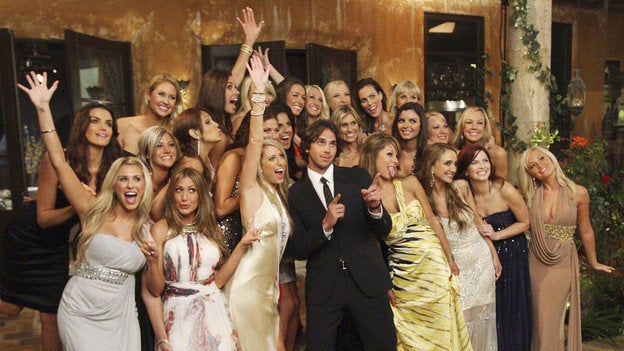 I know I'm not supposed to, but I can't help loving "The Bachelor." Yes, it's packaging of women as hot messes desperately clawing each other for the attention of one mediocre man is shocking in its use of blatant stereotypes and endless back-stabbing. Yes, the "twists" and "unscripted reality" are contrived efforts for television rating numbers. But as HuffPost's Emma Gray outlined, it provides those of us who watch it with a fat-free, spray-tanned, mindless guilty pleasure to hash out with friends on a Monday night.
This season of "The Bachelor" is already proving to be "one of the most _______ EVER," as host Chris Harrison constantly reminds us. And if you're going down the rabbit hole, you might as well go with your friends and host a weekly support group -- I mean viewing party. Next week, why not take it up a few notches from your wine and cheese plates and try some of these party ideas on for size?
How To Throw The Ultimate "Bachelor" Viewing Party
1. Send invitations. Make them cheeky and adorable just like the ones Ben gives to candidates to ask them out on one-on-one dates. Don't forget to include a riddle.
2. Suggest costumes. Have your friends choose from dresses reminiscent of the limo introductions or have them pick out what they would have worn for that terrible "skiing on the streets of San Francisco" date. Have a contest for best/worst dressed.
4. Hold a mini rose ceremony. If anyone has to leave your party early, hold a mini rose ceremony and force them to give awkward goodbyes.
5. Create cheat sheets to track candidates. Print out these cheat sheets to help your guests take notes and track who's scoring dates and who is likely to be sent home. This will help you remember the real names of people I've been calling "horse girl," "I'm a Model" girl, and "girl who talked about babies." Added bonus: You get to see how many ways you can spell names "Kacie/Casey/Casie" and "Lindsey/Lindzi/Lindsay."
6. Trivia. As you get further into the season, look up contestant trivia online and have your guests answer your resulting trivia questions during commercials.
7. Make brackets and bet on who will go home each episode. I happen to know people who have won big bucks this way, but if you're not into putting money on the line, I suggest giving whoever wins the bracket each week a single rose to take home.
9. Play Bachelor Bingo.This is by far my favorite Bachelor-related activity. I selected the terms below myself, but feel free to add your own.
Before the show begins, hand out a piece of paper with a five-by-five bingo square, replacing the traditional "free space" box in the middle with "true love." Then ask your guests to randomly fill in the following terms in the empty boxes:
Wearing shorts with boots
"Cheers"
"Intense"
"Journey"
"I love this"
"I just want to go home"
"I didn't think it would be this hard/like this."
Crying
"Learn about you/myself"
Talking about bad past relationships
Revealing a fear
"Steal you for a second"
"Say your goodbyes"
Limo
Talking about parents
Wearing jewelry in a hot tub
Make out scene
Bleeped out words
Cat-fight
"Falling for Ben"
"Here for the right reasons"
Watching a sunrise or a sunset
Ocean/pool scene
Ben stares into the distance with a voiceover about his feelings
Whenever a phrase above is uttered or one of the activities described takes place, have the guest cover that square on her board. Five squares across or diagonal, and you get to come back next week for more.

Related
Popular in the Community