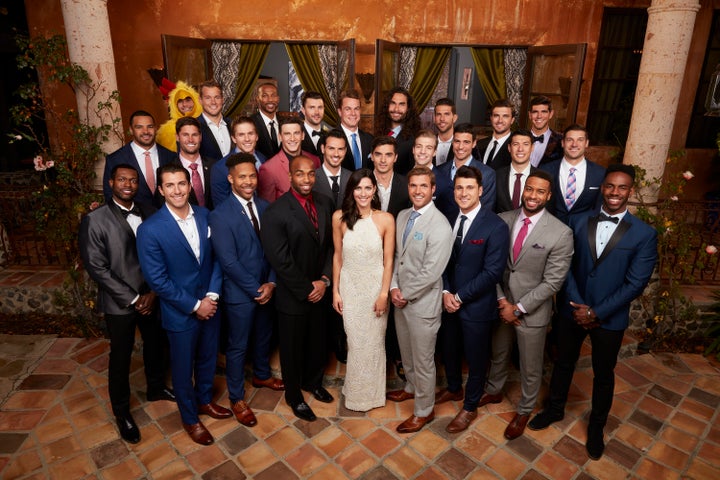 Becca "Do the Damn Thing" Kufrin's season of "The Bachelorette" is a mere 10 days away from premiering, and thus we finally get to meet the ex-football players, models and banjoists who will be wooing her.
We use "meet" loosely, because for some ungodly reason, ABC has decided to do away with the questionnaire-style bios "The Bachelorette" bros usually are forced to fill out and instead gave fans bland, pun-laden paragraphs about the contestants. You would not believe how many of these bros love fitness and spending time with their families!
"Here to Make Friends" podcast hosts Claire Fallon and Emma Gray got deep into their feelings on this one.
Emma Gray: Let's do the damn thing!
Claire Fallon: Ugh, Emma. Not off to a good start.
EG: You know what else isn't off to a good start? The way they redid the cast bios this year.
CF: It feels personal. It feels directed at us.
EG: "You had so much fun making fun of all the dumb answers these guys put on their insane questionnaires, we're going to take that away from you."
CF: It's not enough that they have Chris Harrison announce the contestants and make little cracks about their bios ― which is what we do, Chris. Stay in your lane.
EG: Chris needs a new job now that he's down to only, like, one minute of airtime per episode.
CF: Doesn't he also do Miss America and … something else?
EG: He does. OK, fine, he has other things to do besides "The Bachelor."
CF: He just flies from set to set around the world and pops in for, like, 30 seconds, waves at the camera and leaves. It's hard to keep up with that kind of lifestyle.
EG: I don't know, it sounds like a good life.
CF: He seems happy. Good for him.
EG: Do we have any initial trends that have jumped out at us from this crop of poorly posed gentlemen?
CF: Yes. First of all, instead of little fun facts, they're all just bios. Once you do that, they all start to seem more similar. Because it really highlights that, yeah, this is a guy, he's from a place and he likes to do his job in an office and then go to the beach on the weekends. And that's, like, all of them.
CF: Yeah. And they're all "self-proclaimed" something. Someone wrote these for them, because some are very similar. It's like, "He's a self-proclaimed weekend warrior." What does that mean?
EG: I think what happened is that they still had them fill out that questionnaire, and it was things like, "Are you a weekend warrior or a weekday —"
EG: "— warrior?" I don't know. And then they tasked some intern with turning a few pieces of each questionnaire into coherent sentences, which is just a waste of everyone's time.
CF: Yeah, this is not better. Some other trends we noticed ― and this is, again, maybe something that would be true in the past, but it's highlighted by this format ― is that a lot of them work in finance, and several of them are pro athletes.
EG: It feels like almost more pro athletes than usual.
CF: I do think there are more pro athletes than usual, but also sometimes [in the past] the profession might be obscured because they would get a fun profession, like "chicken enthusiast," and then it doesn't tell you what they actually do in the bio.
EG: Or … "former competitive swimmer," like with [Season 12's] Robby, because he swam in college.
CF: And then has done nothing else since then. Whereas here we get "social media participant," and it's like, that's a wacky job title. But then in the bio you find out he's a model or whatever, and the jig's up. There's no mystery. So we know exactly how many of them are models. Several — I didn't actually count them.
EG: There seems to be an OK amount of racial diversity. [Note: Based on headshots and bios, at least nine men of color appear to be among the 28 suitors.]
CF: And several people who immigrated either at very young ages or later in childhood to the U.S.
EG: Or are first generation. I found that interesting that they chose to really highlight that, because that's often not something that we see focused on. I'm sure there have been men and women on the show who are children of immigrants or are immigrants themselves, but we rarely see that played up, especially when there are only three sentences to sell you on something.
CF: I'm thinking of Jubilee and Kristina, and I can't really, off the top of my head, think of —
EG: And those are both really traumatic stories of immigration.
CF: I am wondering — I feel like they're tipping their hand to some things that in the past might have been hidden until they were on a one-on-one date, and then they'd be like, "Well, actually, my family is from Haiti, and here's how that went down." We didn't find out that much about people's deep backstories in the old bios. If you can't tell, we are not fans of the new bios.
EG: I don't even know what to talk about. They're all blending together into a Ken doll of different shades. 
CF: We also have to talk about the ―
CF: I mean, everything about the headshots. I know we always say they're too Photoshopped, but seriously, some of them look CGI. 
But we're going to get into that. We're going to go —
CF: — one by one, and we're going to see what we can find out about these guys.
For a deep dive on the cast bios, check out the full episode of "Here to Make Friends":
Do people love "The Bachelor," "The Bachelorette" and "Bachelor in Paradise," or do they love to hate these shows? It's unclear. But at "Here to Make Friends," we both love and love to hate them — and we love to snarkily dissect each episode in vivid detail. Podcast edited by Nick Offenberg.
REAL LIFE. REAL NEWS. REAL VOICES.
Help us tell more of the stories that matter from voices that too often remain unheard.