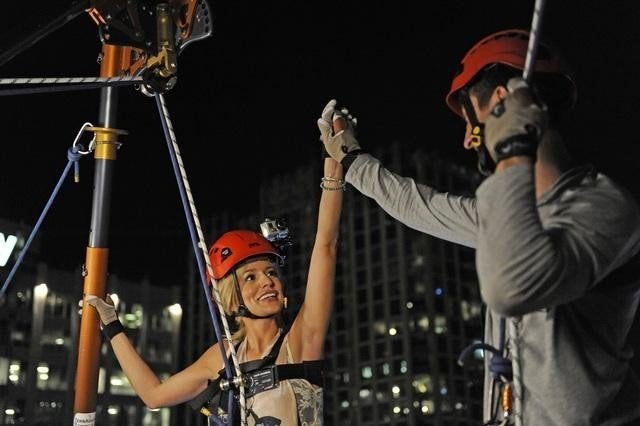 This week's "Bachelorette" included a surprise visit from Dolly Parton, some excellent reminders that we're still in Charlotte, North Carolina, and proved once and for all that reality television involving children is a lot less fun to guilty-pleasure watch. All that being said, episode three proved to be the least cringe-worthy yet.
Some Dudes Really Like A Lady In A Harness
After we see Emily being brought breakfast in bed by her mom (awwww!) and Chris Harrison corrals her suitors by the fountain at their mansion, Chris, the 25-year-old corporate sales director gets the first one-on-one date. The pair have to scale the wall of a tall building to get to their romantic dinner because we needed to hear some metaphors about how climbing to the top of a building is JUST like finding true love. It also gives us the chance to learn that Chris thinks Emily "looks unbelievable in a harness." Once they reach the top, instead of giving Emily a kiss, Chris opts for an awkwardly-timed high-five. (Wrong move, Dude.) During dinner we mostly learn that Em and Chris find each other really, really, ridiculously good-looking: "He's just a manly man." "[Emily] is perfect from head to toe."
We also learn that until ¾ of the way through dinner, Emily had no idea that Chris was 25, which raises a "red flag" for her. But the manly attractive man promises that he's sooooo ready to be a husband and father, because (unlike every other person in the country who has a late birthday?) he went away to college at 17 and thus has a lot of life experience. This little speech earns Chris the rose. Then -- since we're in North Carolina and Emily is such a country girl -- the couple gets treated to an outdoor concert by Luke Bryan (who?), and Chris finally grows a pair and kisses Emily (only after asking permission, though). He also declares this to be "the top moment of my life," which only confirms that he's had a lot less life experience than he claims.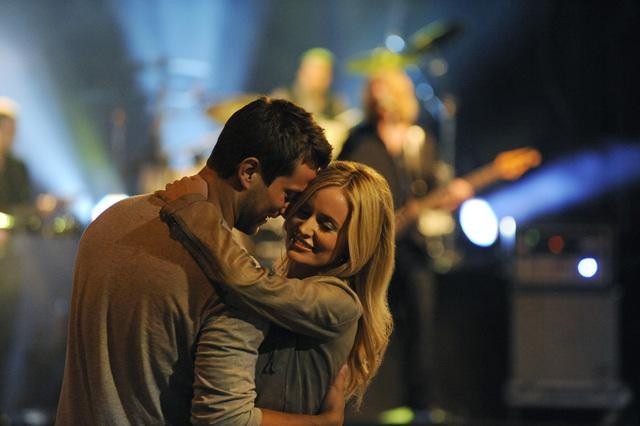 (Photo Credit: ABC)
The Guys Get "Grilled"
This week's group date includes most of the dudes, many of whom I still can't really tell apart. After Emily randomly walks away while they're all in a park playing with footballs and soccer balls and other manly, sporty things, we discover that the date isn't a picnic in the park -- it's a chance for Emily's four best mom friends to "grill" the guys. Even though Em's BFFs all seemed at least a decade older than her, it's nice to see that Emily hangs out with women besides her mom and daughter. The posse of four women also make the overly-muscular men visibly fearful. Apparently nothing is more terrifying than being asked questions by the playground social set.
After the friend-interviews wrap up (with Doug and Sean crowned the friend-approved winners), Emily takes out a whistle and uses her mommy super powers to summon a frighteningly large group of screaming children into the park to hang out with the men. This leaves us with the biggest question of the day -- WHO ARE THESE CHILDREN? (And where are their parents?)
Some highlights from this grilling sesh/gigantic playdate:
--Mushroom farmer Alejandro still exists. Given how little air time he's received, I would never have known.
--Em's friends see Stevie, and yell "Here comes Jersey!" They also make him dance.
--They make Tony dance, too ... apparently this is a prerequisite for fatherhood.
--Emily's "spicy" friend Wendy calls Sean "a genetic gift to the world," then proceeds to shamelessly hit on him and sit on his back while he does push-ups.
--MEN AND BABIES.
--Doug the Dad is really good with kids. He totally impresses Emily's friends.
--One F Jef and long-haired Michael fit in a little too well on the playground. They look more like children than would-be fathers.
--Ryan tells Emily (who's standing with her friends) that if she got fat, he wouldn't "love on her" as much. He also officially becomes the worst person ever.
Afterward, Emily takes the guys to a nice dinner. She bonds with Sean, who talks about his family and his faith, and Doug, who opens up about his childhood in foster care. Tony -- the other single dad of the bunch -- loses it and starts crying in the hallway because he misses his 5-year-old son. This makes Emily jump into mom/therapist mode and try to console Tony, which brings the audience at least ten minutes of highly uncomfortable television. After he starts crying alone for a second time, Emily is clearly "just not that into him" and sends sweater-clad Tony packing, back to his child. Once Em informs the guys that Tony's out of the running, she gives the rose to faith-filled, All-American looking Sean.
Maybe Emily Should Just Marry Dolly Parton
After Arie gets the second one-on-one date, he tells us that because he's a race car driver (terrible metaphor alert!), he is "used to things moving really fast" and really "looking forward to revving things up" with Emily. Groan. Meanwhile, Kalon is sulking in the corner because he didn't get a date.
Emily takes Arie to Dollywood, the Dolly Parton-helmed and -themed amusement park in Tennessee (which, by the way, isn't in Charlotte, North Carolina). They ride a roller coaster, win Ricki a stuffed animal and then head to Dolly's performance space. Lo and behold, Dolly herself shows up -- clad in an all white, glitter-covered outfit -- and Emily seriously loses it. (I lost count of how many times she said "I could die" during this portion of the episode.) Em admires Dolly because "she speaks her mind and wears costumes," both of which seem like pretty solid qualities to me. After Arie looks adoringly at Emily as they slow dance to a song that Dolly Parton wrote just for them, the race car driver quickly becomes a "Bachelorette" frontrunner. He really seals the deal when he tells Em that he used to date a woman with kids, and he still really misses the kids. The pair rides a merry-go-round, and we're forced to watch them make out in super slow motion.
Alessandro And The Ostrich Egg Say Goodbye
During the cocktail party we learn that men attempting to woo a single mom probably shouldn't say that having a wife and kids is a "compromise" that would force them to change their "gypsy king" free-spirited lifestyle. Brazilian "There Is No Language Barrier" Alessandro gets himself booted on the spot for confessing these feelings to Emily.
Other key moments:
--Kalon is trying to be "mentally strong." (Oy.) He also -- after droning on about how he's never had to share anything in his overprivileged life -- interrupts Emily telling her: "I love it when you talk, but I wish you'd let me finish."
--In response, Em says she likes "tall, skinny and funny" but dislikes "tall, skinny and condescending."
--Travis decides that it's time to end the life of his ostrich egg, aka Shelly. Emily smashes the egg outside the house to cheers from all the dudes. I suspect that the "Bachelorette" crew was less amused when they had to clean up the egg's shockingly large yoke off the front steps.
--Emily and Arie smooch. Ryan is shocked that he has to compete with a guy like Arie and refers to him as a "dainty man," thereby revealing a medium amount of latent homophobia. Remember that this is also the man who liked Emily best in the kitchen last week. (Is Ryan going to be our new villain now that Kalon is officially a whiny baby?)
Chris Harrison Counts To 10 ... Roses
Chris, Sean and Arie are already safe. Uber-blonde Sean and race car driving Arie have clearly become two of Emily's -- and the audience's -- favorites. Most of the remaining guys have hardly gotten any screen time, so it's hard to care who gets sent home at this point.
SAFE: Jef, Charlie, Doug, Michael, Travis, Alejandro, Ryan, John "Wolf," Kalon and Nate (all he did this episode was wear a pink shirt).
ELIMINATED: Jersey-accented MC Stevie. I guess the producers decided that they've stirred up enough drama elsewhere and no longer need his dancing or sparring with Kalon. Sayonara, Stevie! With any luck you'll get a few more Bar Mitzvah and wedding gigs out of this little reality TV stint.
What To Look Forward To Next Week:
Cliff jumping! Boats! Travis singing about Bermuda! Jef and Emily wrapped in an odd furry white garment! More boats! Chris and Dough face off! Ryan is still the worst!
LOOK: The Best "Bachelorette" Tweets This Week
REAL LIFE. REAL NEWS. REAL VOICES.
Help us tell more of the stories that matter from voices that too often remain unheard.