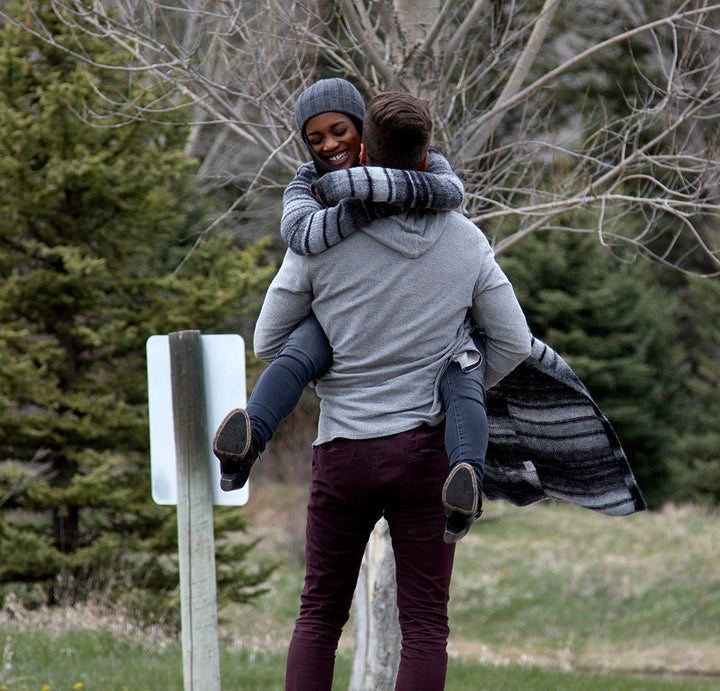 After traveling to four men's hometowns during Monday's episode of "The Bachelorette," Rachel Lindsay had a tough choice to make.
She sent home Dean Unglert, her youngest remaining bachelor at 26, after a painful hometown date in Aspen, Colorado, with his estranged family ― and fans were very in their feelings about it.
The rose ceremony took place after Lindsay met Unglert's family, an event that he warned would be emotionally challenging. His mother died when he was 15 after a battle with breast cancer, and following her death his family drifted apart. Unglert admitted that he still had bitter feelings toward his dad, Paramroop Singh Khalsa, for failing to step up as a nurturing parental figure during their time of bereavement. Prior to the hometown date with Lindsay, Unglert said he hadn't spoken to his father in two years. 
Lindsay encouraged him to be honest with his dad about his feelings ― but when Unglert brought up his issues, his father reacted poorly. 
At first, the gathering seemed to be going well: Khalsa, his wife Sotantar Kaur Khalsa, and Unglert's siblings were welcoming. Khalsa even choked up with emotion as he offered a symbolic gift of feathers in memory of his late wife. But when he spoke one-on-one with his son, things took a turn: Unglert tried to address his longstanding issues with their relationship, but his father wasn't interested. "You don't understand why I was angry with you in those times?" Unglert asked. "No," his dad responded. Finally, frustrated, Khalsa stormed out of the house.
After this blowup, Lindsay comforted Unglert and they shared a tender moment. He told the Bachelorette that he was falling in love with her ― and she responded that she was also falling in love with him.
But apparently, that wasn't enough. When the rose ceremony arrived, he was sent packing. After the charged moments they shared on the hometown date, viewers were more attached to the lovable suitor than ever, and they weren't happy to see him go.
Outraged "Bachelorette" fans do have some idea of how to make it right, however:
Do people love "The Bachelor," "The Bachelorette" and "Bachelor in Paradise," or do they love to hate these shows? It's unclear. But here at "Here to Make Friends," we both love and love to hate them — and we love to snarkily dissect each episode in vivid detail. Podcast edited by Nick Offenberg.
Want more "Bachelor" stories in your life? Sign up for HuffPost's Entertainment email for extra hot goss about The Bachelor, his 30 bachelorettes, and the most dramatic rose ceremonies ever. The newsletter will also serve you up some juicy celeb news, hilarious late-night bits, awards coverage and more. Sign up for the newsletter here.
Calling all HuffPost superfans!
Sign up for membership to become a founding member and help shape HuffPost's next chapter
BEFORE YOU GO
PHOTO GALLERY
Tweets About "The Bachelorette" Season 13, Episode 8: Hometowns