Starring Kirsten Dunst, Isla Fisher and Lizzy Caplan as three bridesmaids-from-hell who embark on a night of cocaine-fueled mayhem just before their childhood friend Becky (Rebel Wilson) ties the knot, "Bachelorette" is a woozy binge of drugs, sex and even violence that feels more like an estrogen-driven version of "The Hangover" than its more obvious predecessor "Bridesmaids." The movie, which opens this weekend, certainly isn't for everyone -- not that Headland minds, of course.
"There are people who are going to watch the movie and be super offended by it," Headland, a first-time film director who adapted the script from her hit Off-Broadway play of the same name, observes. Describing the prim but self-entitled Regan (Dunst), hapless party girl Katie (Fisher) and sharp-tongued Gena (Caplan) as "morally gray," she adds, "If it were men and it were called 'Hurlyburly' and it starred Christopher Walken, they would love it."
Unlike the characters seen in "Bridesmaids," the three maids-of-dishonor in "Bachelorette" are unapologetically flawed, catty and brazen, occasionally to the point of being downright unlikable. But as the cast explain, that's exactly the point -- and perhaps central to the movie's inherent appeal for both female and gay male audiences.
"It's rare to find a movie that's so honest and also so, so funny…it's nice to do a ballsy movie where there are no balls in the cast," Caplan, whose ability to steal a scene hasn't dwindled since her breakout turn in 2004's "Mean Girls," says. Adds Fisher: "I don't think it's our job to like our characters. Our job is to commit to telling the story the way it was written."
While Hollywood has produced a barrage of wedding-themed female-centric films in recent years ("Sex and the City," "Something Borrowed" to name just two), "Bachelorette" also wisely dispenses with the atypical "happily ever after" conclusion. (SPOILER ALERT: Not only does the wedding not go off without a hitch -- among them, projectile vomit on a bridesmaid's dress and a groomsman's speech gone awry -- but whether or not the girls' friendships will survive beyond the bouquet toss and cake-cutting is questionable)
According to Caplan, one of the reasons she was drawn to the project was that Headland provided ample reasons for each character's motivation: "They're damaged and flawed and there's a reason as to why they've gone down these paths. To me, that makes them still sympathetic as characters; they've just gotten a bit messed up along the way."
No stranger to dark comedy after 1999's cult classic "Drop Dead Gorgeous," Dunst notes, "I just loved the fact that I got to play a bitch. How often do I get to play that? Girls always have to be nice, cute and the sweet sexy girlfriend…not in this movie!"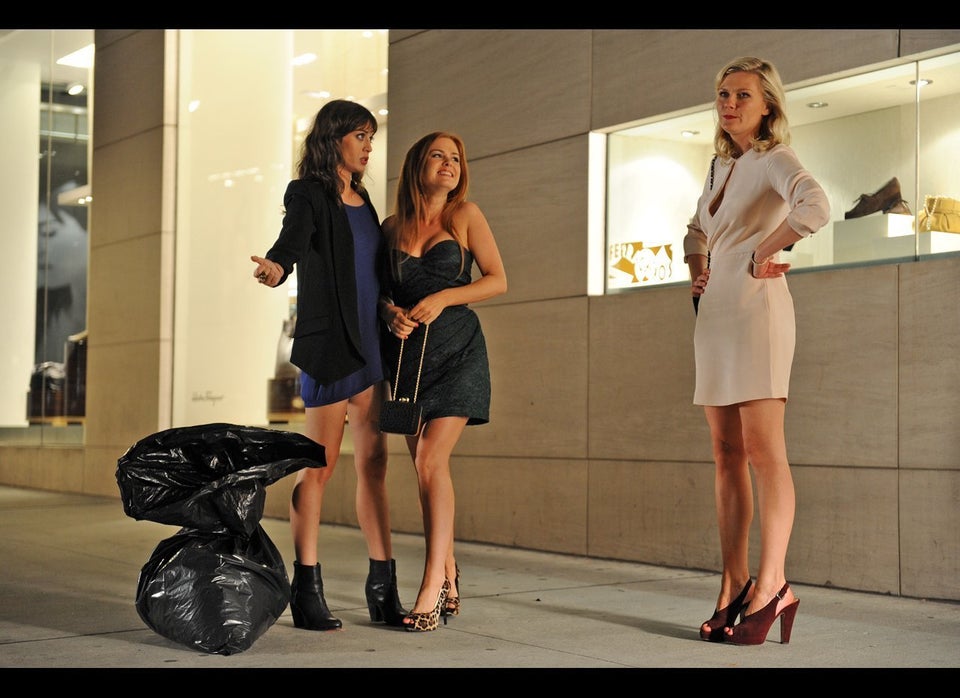 Scenes From 'Bachelorette'