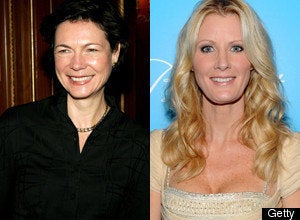 In 1963 when Nelson Rockefeller, then governor of New York, divorced his wife and married another woman, it was a scandal.
For the sitting governor of New York to be juggling two women at once -- it wasn't the Duke of Windsor, but it was close. His new wife, Margaretta Rockefeller (aka 'Happy' for her upbeat disposition) was a political burden that almost undid Rockefeller. But unlike the Duke, Rockefeller stayed in office and continued on to the Vice Presidency, and Happy Rockefeller would become Second Lady.
Such concerns are no longer a problem here in New York. Case in point -- our two most powerful executives are divorcees with live-in girlfriends who have no plans to get married any time soon.
And rather than play the role of supportive political spouses, these two prominent girlfriends are independent and formidable presences all their own. Sandra Lee is, well, Sandra Lee, Food Network star, whose fortune vastly outweighs the Cuomo dynasty's; and Bloomberg's GF of many years is former state banking superintendent Diana Taylor, an Ivy-league educated businesswoman who often finds herself on many of New York's 'best dressed' lists.
Taylor made a name for herself as an investment banker and both a Pataki and Spitzer appointee, but made headlines when she moved into Michael Bloomberg's Park Avenue townhouse.
In 2006 the Times discussed the uniqueness of Taylor and Bloomberg's relationship, in political terms:
Her relationship with the mayor is something of a novelty in government circles, blending the rituals of a traditional political spouse with the contemporary realities of a postfeminist, post-sexual-revolution era.

"What can I say? She's got beauty, she's got brains, she's got personality," Bloomberg told The News. "She's sophisticated but down to Earth. She's one of those people who can do anything she sets her mind to."

In that same article, when she was asked if the two would grow old together, she responded, "Hmmm. . . . That's a good question. Why don't you ask him that?" When the Times posed the same question, this was their interpretation of her answer: "For Ms. Taylor's part, a mention of the M-word causes her to purse her lips as if she had just swallowed cough syrup."
Andrew Cuomo's ladyfriend Sandra Lee is, of course, no stranger to the spotlight, but shares a similar distaste for the personal. As the plucky Food Network star she has crafted her own fame and fortune, but as the new First Lady she's less sure of her place in the spotlight. She has said she will tour the state, but not on taxpayer dime, and not for any political agenda. As of late she's had a fickle relationship with the New York media, at once playing the role of spouse -- hand on bible, doting on the incoming governor -- but wants to maintain an independence from the political arena.
In a moment of rare candor, Lee recently she opened to the New York Post about being the unmarried partner of the governor:
"We don't even think about it, and nobody says anything," Lee said. "I think when it's important to the kids, we'll do it. Right now, we have much more important things to do."
In that same interview she revealed that Cuomo and Lee do have a baby together -- Lee's new pet cockatoo, which Cuomo bought for her. "It's beautiful. All white with a white crest."
Other times Lee is cagey with the press, unsure. Check out how she uncomfortably dodges questions in this local report:
Though to be fair to Lee it may be a case of strong handlers rather than a reluctance to speak. Lee is not camera shy, quite the opposite. It's simply unfamiliar territory. If Governor Cuomo II had to suddenly host a cooking show, he probably wouldn't make the best kwanzaa cake in the state.

REAL LIFE. REAL NEWS. REAL VOICES.
Help us tell more of the stories that matter from voices that too often remain unheard.