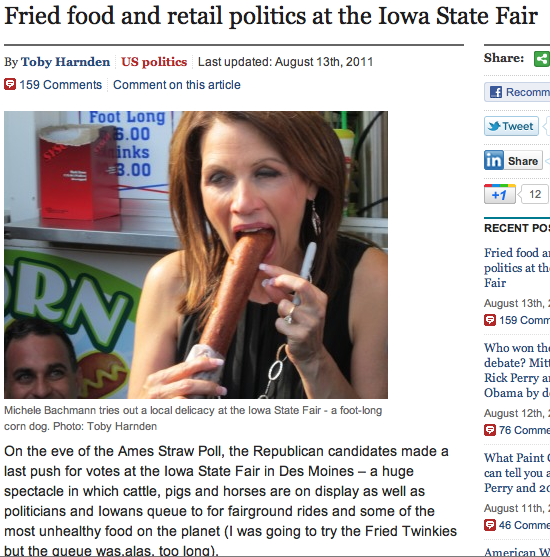 Driving away on a golf cart with her husband Marcus beside her, Mrs Bachmann stopped to buy a foot-long corn dog -- a chicken and beef sausage in deep-fried batter. After applying mustard and allowing Mr Bachmann to take the first bite, she chomped into it with gusto.

-- Fried food and retail politics at the Iowa State Fair (Telegraph)
I get it's the first heat of America's GOP campaign, but you'd think the Telegraph's US Editor (and sadly, wannabe photojournalist) would know an awful lot better -- especially in the midst of Britain's ongoing journalism scandal and the blazing firestorm over Newsweek's blatantly sexist Michele Bachmann cover last Monday.
But no. Instead, Editor Toby Harnden posted this Bachmann pornographic fantasy he shot himself in a two-fer piece on the Ames Straw Poll and the Iowa State Fair. Beyond the clip above which concludes Toby Harnden's blog post, I don't think the outrageous photo (embellished with what reads like a leering guy, far left) or the "foot long" caption reference, needs any more elaboration than a call for Mr. Harnden to be fired.
In the discussion of the photo on the BagNews site, many readers actually felt that it was Bachmann's fault, saying that she, and other candidates, should know there are cameras all around them at the Fair, and should also know not to be shot in a way that makes them look like they are fellating a "foot long." I believe that's a pretty naive argument. As the only women in the race, and one who just got hammered the past week for being bug-eyed (read: a hysterical female), a picture of Romney or T-Paw in the same pose would not play anywhere near the same way (if it was published at all) -- and the Telegraph knows it.
Personally, I think Bachmann and her politics are deeply flawed. Photos and photo editors (and, in this case, a sophomoric mainstream media blogger) thinking no more deeply than the Porky's script, however, are not going to help us see any real expression of Bachmann's personality or her visual tactics (such as her milking of church services while exploiting far-right abortion anger, or her drowning herself in children, to name just two). Instead, a photo like this is going to do one of two things -- stoke up sympathetic anger from Bachmann's supporters or generate cheap laughs (or quiet embarrassment) from everyone else.
The visual sphere needs to be held to a higher standard. Moreover, it's time for the click-hungry media, when it comes to the sexist depiction of women, to clean up its act.
Related
Popular in the Community