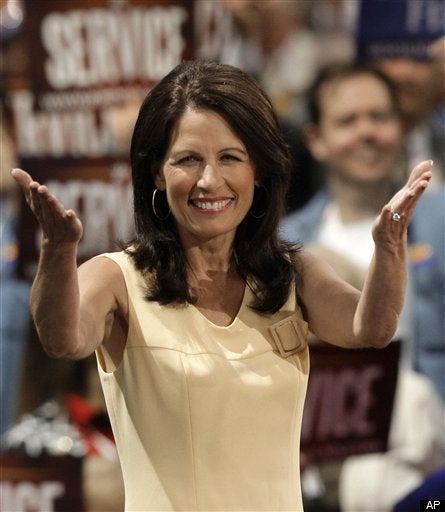 The Democratic challenger to Rep. Michele Bachmann (R-Minn.) has ample material with which to mount a campaign -- from Bachmann's call for an investigation into anti-Americanism in Congress to her bizarre insistence that the Obama White House wants to put America on an international currency.
But in an interview with the Huffington Post, Minnesota State Sen. Tarryl Clark had a pithier message: Michelle Bachmann was Sarah Palin before Sarah Palin was Sarah Palin.
"For many in Minnesota, when Sarah Palin came on the scene it seemed like she was Alaska's Michelle Bachmann," Clark told the Huffington Post. "They seem to share some similarities."
Bachmann, for her part, seems to like the analogy. The Minnesota Republican sent out a fundraising email just last week in which she seemed to be stepping into the void left by the former Alaska Governor.
"With Gov. Palin taking a well-deserved step out of the spotlight, it appears that I may be absorbing even more of the liberals' scorn," Bachmann said, who went on to warn that the media would "Palinize" her.
To Clark, Bachmann's penchant for the outrageous soundbite and the conservative media spotlight is a distraction at best, and a disservice to the taxpayers at worst.
"People in the sixth district deserve to have reasonable representation and right now we have a representative whose main accomplishments is creating controversy and generating talk show ratings," she told the Huffington Post.
"I can't profess to explain why she, for example, doesn't want people to comply with the law with the census. Or more importantly, why does she want to send our taxpayer dollars to other states?" Clark added. "We are already not getting a good return on our dollar. But the bottom line is, is that it reinforces that her head is really elsewhere. She does seem to be more interested in attention then in focusing on the needs of the district. And it is important that we do have someone willing to roll up their shirtsleeves and get the job done for people. And if she is interested in being Ann Coulter, fine. But the taxpayers shouldn't have to pay for that."
As part of her effort to take over Bachmann's seat, Clark took to the halls of the Netroots Nation festival in Pittsburgh this past weekend, meeting with progressive strategists and new media voices. The goal was to turn a spotlight on a race that seems likely to be one of the tighter ones in the 2010 elections. While Minnesota's sixth congressional district is historically conservative, during the last cycle Bachmann's histrionics landed her in a tight election in which she squeaked out a two percent victory with just 46 percent of the vote.
But for Clark to win she has to have a platform that is more than just: "I'm not her." Both she and her handlers know this. So, in the roughly 15-minute conversation, she spoke about the need to expand opportunities for educational advancement and creative ways to bring economic development to her home state. On the major topic of the day, health care reform, however, she remained vague, refusing even to endorse a public option for insurance coverage without additional details.
"It depends upon what is in it," she said. "I'm being honest. I'm not trying to be evasive. If we are talking about catastrophic only, why would we want to do that? So, I think we should be looking for value. We should be looking for quality. We want to bring down costs, though, to make it cheaper."
That said, Clark did come down strongly on one health-care related item. There is "no death panel" in the House bill, she said, despite insistence from Bachmann and a whole host of other conservatives that euthanasia was on the table when it came to Obama's health care agenda.
"I think that the scare tactics that what we see over and over, pick a topic, that instead of trying to find positive creative solutions to solve a problem because people on both sides of the aisle, and people who aren't affiliated with parties, are concerned with rising health care costs," she said. "Part of the question is: What are her ideas for solving things? But over and over what we tend to see instead is raising fears and being divisive."
Popular in the Community