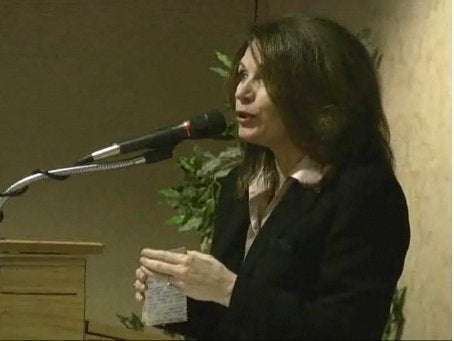 Michele Bachmann (R-Minn.) joined fellow controversy-prone Republican Congressional candidate, Allen Quist, at a health care forum on Monday, and suggested that health care reform would lead to a "gangster government" that would prevent those who criticized reform from receiving care.
To reach her conclusion, the Minnesota representative explained her understanding of the Japanese health care system (as told to her by someone who had lived in Japan):
In Japan...to wait in and get health care is almost impossible. You get on a list and you wait and you wait and you wait. But he said this is something people don't know: in Japan, people have stopped voicing their opinion on health care. There are things that are wrong with Japanese health care, but people [aren't] voicing. 'Well why is that,' I asked. He said it's 'Because they know that would get on a list and they wouldn't get health care. They wouldn't get in. They wouldn't get seen. And so people are afraid. They're afraid to speak back to government. They're afraid to say anything.' Is that what we want for our future? That takes us to gangster government at that point! And absolute abject corruption.
Nevertheless, Bachmann finished her speech by vowing not to give up her fight against the current health care reform bill, calling "government takeover of health care...the crown jewel of socialism."
Calling all HuffPost superfans!
Sign up for membership to become a founding member and help shape HuffPost's next chapter