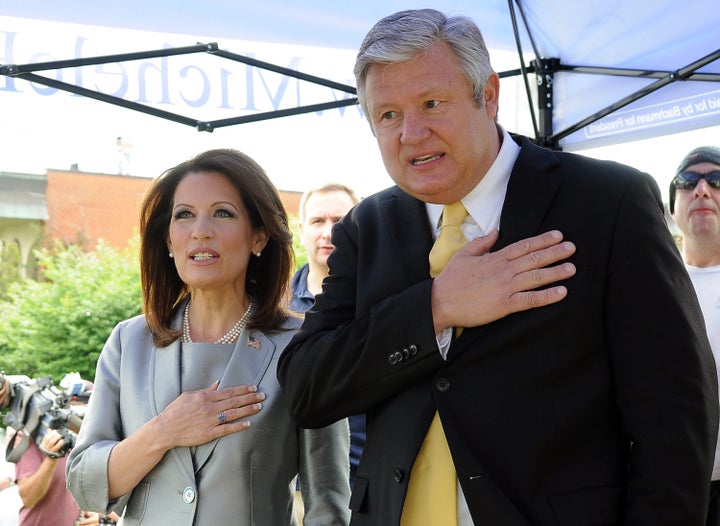 WASHINGTON -- Rep. Michele Bachmann may have a more personal reason to hate government funding than fellow conservatives. The GOP presidential candidate's husband had secured a deal for public financing that ended up worthless.
In 2005, Dr. Marcus Bachmann's mental-health counseling service, Bachmann & Associates Inc., was awarded a contract [PDF] to provide outpatient counseling to drug addicts. In 2008, the service was awarded a second contract [PDF]. The two could have netted Bachmann's husband as much as $4,000 per client. The sum total of the contracts could have raked in roughly $80,000 in public money.
Instead, the government contract turned out to be a bust.
Bachmann & Associates held onto the contract from 2005 through the beginning of 2009. During that time, the contract did not earn them a penny in government funds because the county never sent them a single potential client.
"We never made a single referral to them and we paid them nothing," said Daniel Papin, Director of Washington County Community Services, in an interview with The Huffington Post.
It came down to one reason: No drug addicts that sought help through the county wanted to go through Bachmann's program.
"We rely on client choice," Papin said. "Just didn't see anybody that came through us for assessment that was appropriate for their program."
Recovery programs often have some kind of faith component. For Bachmann & Associates, the christian angle was their number one selling point. In the second paragraph of its 2005 county contract, it's clear that their mode of recovery would be celestial: "Clients will need to be comfortable with counseling and education emphasizing spiritual growth utilizing Christian language concepts."
Even Bachmann & Associates realized that its program may not be so inclusive. Under "Faith Based Elements of Christian Programming," they present concepts that appear similar to Alcoholics Anonymous' 12 steps. Only the religious-theme isn't mere background or subtext -- it's the text itself. Under a listing of those they would potentially serve, Bachmann listed "individuals who are comfortable with references to Christian spirituality." And then laid out what clients should expect in a series of bullet points, county records show:
* This program is open to anyone, no matter what his or her religious background or current belief system. It will be utilizing Christian concepts and language that some non-Christians might be uncomfortable with. Ambivalent clients are welcome to participate and if it doesn't feel like a good fit an appropriate referral will be made.

* Christian concepts designed to encourage recovery will be thought in a gentle and encouraging manner emphasizing God's life-changing Love and Power. Key concepts developed will be repentance (Step 3), confession of sin (Steps 4 & 5), Sanctification (Steps 6-12), restitution (Steps 8 & 9) and service (Step 12).

* Church involvement will be encouraged and clients will be encouraged to utilize their church as a source of support and accountability....

* Local members of Christian recovery groups will routinely share their recovery process and be available as mentors.

* Groups will include short opening and closing prayers.

* The concept of God or HP [Higher Power] will be referred to in a Christian manner by both staff and clients.
That emphasis on Christianity may not have worked in Bachmann & Associates' favor, according to Papin. "Almost all chemical dependency has a higher power component," Papin said. "They described themselves as very strongly faith based ... We didn't have anybody that fit, that identified or wanted that level of treatment, that type of treatment."
Cindy Rupp, social service division manager with Washington County community services, recalled that Bachmann & Associates had hoped to carve out a faith-based niche among the dozen or so recovery programs contracted with the county. Like Papin, she said she thought the county government did not make a single referral.
Rupp says the reason for contract's failure may have been the Christian theme, but it could have been something a little more prosaic. "They had some problems getting their program up and running, and they had some staff turnover," she said. "In the end, we sent them a termination letter ...They told us they were disbanding the program."
County records show that Bachmann & Associates had acquired a second contract that covered from 2008 to 2011. That contract was terminated early by the county after the service decided to no longer provide drug treatment.
Bachmann's campaign did not return an inquiry seeking comment.
Calling all HuffPost superfans!
Sign up for membership to become a founding member and help shape HuffPost's next chapter