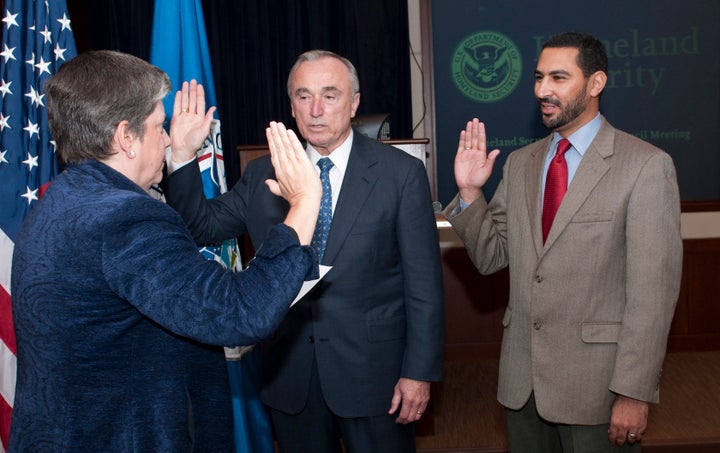 WASHINGTON -- Huma Abedin is, in some ways, lucky. Although a group of five conservative lawmakers have alleged that she may have connections to the Muslim Brotherhood, public officials on both sides of the aisle have since rushed to defend the character and good name of the high-ranking State Department official.
But the other Muslim American individuals targeted by these lawmakers, who aren't quite as famous as Abedin, haven't been so lucky.
Mohamed Elibiary, a national security expert who serves as an advisor for the Department of Homeland Security, was accused last October of leaking secret documents in an effort to smear then-presidential candidate and Texas Gov. Rick Perry (R) as Islamophobic. The charges led to death threats, and the FBI had to visit Elibiary's home to investigate a suspicious package.
DHS found the charges baseless, but nine months later, Rep. Louie Gohmert (R-Texas), one of Ebiliary's chief accusers, hasn't let it go. He's now taken his issue with Elibiary -- a Republican whom he described last week as "a very nice gentleman" -- even further, accusing him in a June 13 letter to DHS of having ties to the Muslim Brotherhood.
Elibiary, along with Mohamed Magid and Dalia Mogahed, are mentioned in one of the letters sent to various government agencies earlier this month by Reps. Michele Bachmann (R-Minn.), Trent Franks (R-Ariz.), Thomas Rooney (R-Fla.), Lynn Westmoreland (R-Ga.) and Gohmert. The representatives are all calling for investigations into whether the Muslim Brotherhood has infiltrated the U.S. government. Magid is also mentioned in a letter to the Justice Department.
All three say they are in no way affiliated with the Muslim Brotherhood. But it's difficult for them to clear their names, Elibiary said, when members of Congress seem intent on dragging them through the mud.
"They feel like there's no consequences to what they're doing, no negativity, and they just wrap themselves in the flag like they're the only uber-patriots out there. There are real peoples' lives that are affected," said Elibiary, the sole Muslim member of the Homeland Security Advisory Council. "This is a witch hunt to just make sure that we ruin every Muslim who is serving in any capacity in the government, period."
Elibiary Elibiary was born Alexandria, Egypt, and grew up in Dallas. He said no one in his family -- from parents and siblings to grandparents, aunts and uncles -- has any ties with the Muslim Brotherhood. He filled out documents for vetting and "it wasn't ever an issue," he said.
The accusation by conservative outlets that Elibiary shopped around classified documents to the press did not lead to him losing his spot on the advisory council, and both agencies that looked into the matter found he had done no such thing.
Cleared or not, Gohmert won't drop it. Last week he questioned Homeland Security Secretary Janet Napolitano over why her agency hadn't responded to his alleged security violations. She pointed out -- again -- that they were found baseless. She also defended Elibiary and other Muslims who have advised the agency and are now being attacked.
"What bothers me, quite frankly, are the allegations that remain against anyone who happens to be Muslim," Napolitano told Gohmert.
"The allegations are not because he is Muslim," Gohmert replied.
Elibiary has been helpful to Gohmert in the past, introducing him at one point at a mosque in the congressman's district. That friendliness has dissolved now. Elibiary said he wrote Gohmert a letter in March asking him to talk about his concerns, but it went unanswered. When he saw the congressman at the state GOP convention in early June, he said he approached him again and politely said the same thing. "He looked at my delegate name tag and said 'Mohamed Elibiary, all I need to know about you I already know,' and proceeded and walked off," Elibiary said.
Gohmert's office did not respond to a request for comment on that meeting, his accusations against Elibiary or the letters he and other members of Congress sent on the Muslim Brotherhood. Bachmann's office also declined to respond with a comment. So far, she has been unapologetic about the letters, saying in a July 18 statement that they were "unfortunately being distorted," and not responding to questions from reporters over the Republicans who condemned her effort.
All three of the advisors accused of having ties to the Muslim Brotherhood in the June 13 letter were vetted by DHS, a spokesman for the agency said on condition of anonymity.
Mogahed, who is the executive director of the Gallup Center for Muslim Studies and served on a DHS working group, also said she was being wrongly tied to the Muslim Brotherhood.
"As a Gallup expert, I research and report public opinion in majority Muslim societies on a variety of issues, including the relationship between politics and religion," she said in an email. "I am not and have never been a member of the Muslim Brotherhood. In our capacity as Gallup scientists, my colleagues and I frequently meet with a wide variety of leaders and address diverse global audiences in an effort to inform public debate and policy decisions with sound research."
Magid, the president of the Islamic Society of North America and the leader of the All Dulles Area Muslim Society, a 5,000-member group of mosques in Northern Virginia, called the accusations "unfair and unfounded" and said he has "nothing to do with the Muslim Brotherhood." He called the accusations "politically motivated" and said he believes they were made to "isolate Muslims from public life."
"American Muslims are always being questioned by the people who are supposed to be the defenders of religious freedom," he said. "It bothers me that the people making these statements haven't even talked to us. I have never met Michele Bachmann in my life, nor Frank Gaffney, but they make assumptions that are completely inaccurate."
Magid said he regularly works with federal officials such as those in DHS, but does so in order to "address the issue of violent extremism."
Giving an example, he said he invites "people from law enforcement to my [mosque] to talk about Internet safety and recruitment for violent extremism online."
The imam also invited the lawmakers to visit his mosque.
"Come with me and talk to me and look the Muslim community in the eye and say 'I would like to get to know you.' Ask us what we are doing, what we are contributing to America," Magid said.
Elibiary said he would like the Office of Congressional Ethics to look at the letters from the five members. His understanding is that he can't sue a member of Congress for making those claims against him, but that there should at least be rules against it.
"When you throw peoples' names out in public and you publish these letters that they've published, they're not going after the truth," Elibiary said. "They're not interested in people ever being found innocent. What they're interested in is making sure to tar their reputation forever as associated with something controversial."
CORRECTION: -- This article has been updated to say that Elibiary was born in Alexandria, Egypt -- not the U.S. -- and to remove a reference to the three advisors not having security clearances. One, Elibiary, does have a clearance.
Before You Go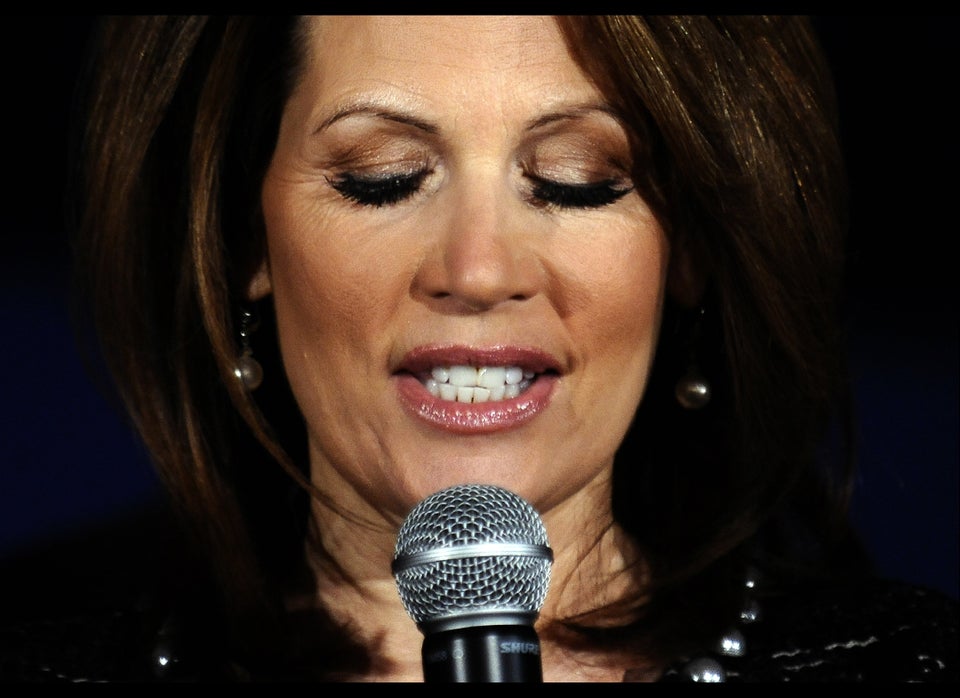 Unforgettable Bachmann Moments
Popular in the Community