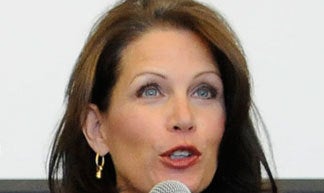 Rep. Michele Bachmann (R-Minn.) refused to answer a question this weekend on the death of a census worker in Kentucky.
Bill Sparkman was found earlier this month hanged from a tree near a Kentucky cemetery had the word "fed" scrawled on his chest. The FBI has been investigating whether the killing was related to his job as a Census worker.
Bachmann, who has proclaimed that she will not fill out her Census forms and suggested that the survey could lead to internment camps, did not bring up the issue at the conservative How to Take Back America Conference in St. Louis.
I caught up to her as she headed outside and asked if she had any response to the murder of a Kentucky census worker, having noticed that the Census, a constant target for Bachmann, did not figure into her speech. Bachmann recoiled a little at the question and turned to enter her limo.

"Thank you so much!" she said.
Popular in the Community