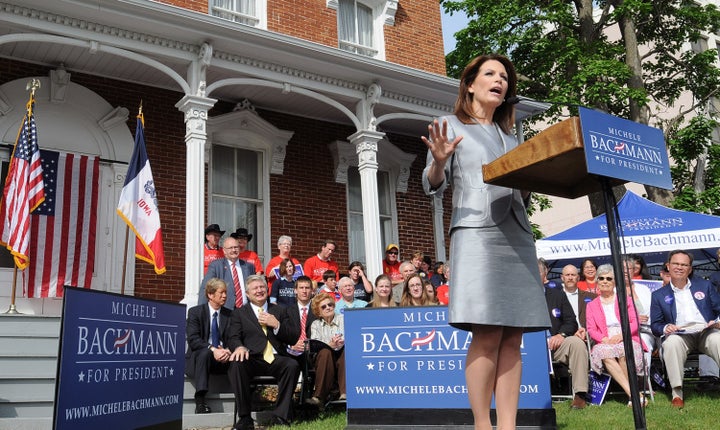 ROCK HILL, S.C. – Conservative voters here sound a lot like Goldilocks when talking about Rep. Michele Bachmann (R-Minn), the Tea Party firebrand who toured the Palmetto state Wednesday to round out a three-day trip officially launching her bid for the Republican presidential nomination.
The former governors – Mitt Romney of Massachusetts, Tim Pawlenty of Minnesota, and Jon Huntsman of Utah – are too cold. Conservatives aren't excited by them. The Tea Party favorites – former Sen. Rick Santorum of Pennsylvania, former Godfather's Pizza CEO Herman Cain, and Rep. Ron Paul (R-Texas) – are too hot. Conservatives like them but don't think they can beat Obama.
Bachmann is just right, said a number of voters who spoke with the Huffington Post at three out of Bachmann's four stops in the state Wednesday. They were thrilled with the candidate's charisma and energy – Bachmann sometimes seems to go for long stretches in her speeches without taking a breath – and said they consider her a force to be reckoned with in a match-up with President Obama.
"We're not just interested in the primary. We want to win the general election," said Bill Tulluck, a 68-year-old retired engineer from Orangeburg.
The large crowds who came to see the 55-year-old Bachmann pop out of her blue campaign bus in a yellow sleeveless dress and pearl necklace did not give her unreserved adulation. Not everyone who spoke with HuffPost was as optimistic about her ability to beat Obama. And some said they hope to see Texas Gov. Rick Perry join the race. But it was clear that out of the current choices on the GOP side, many like her the best and are moving toward supporting her.
"She's extremely well qualified," said Bill Bates, a 62-year-old retiree who rode his bike from his home on Daniels Island, just north of Charleston, to Bachmann's first event of the day.
"Do you have a tax law degree?" Bates asked this reporter, citing Bachmann's possession of such a certificate. "I know I don't. She's raised foster children. Have you done that? I know I haven't. Her child is a physician. I know you don't have a child who's a doctor. I don't either."
Bates, who had the bearing of an attorney or doctor, said he was not a member of the Tea Party but called it "a necessary movement."
"We are letting government get away from us. Remember it's government by the people and for the people. That's what's written down," he said, raising his voice and emphasizing the end of his sentence by holding his hands out as if he was trying to shake someone awake. "And that same government takes the diaper off a 96-year-old woman because she's some kind of threat?"
A sense of urgency is common at conservative and Tea Party gatherings these days, and the mood is growing more intense as the presidential campaign heats up. The prospect of a second term for Obama is reawakening a grassroots movement that has been dormant since last fall's elections. To these voters, Romney is a heretic because of his health care plan in Massachusetts and Pawlenty is not passionate enough to lead them.
"People are turned off by lukewarmness," Tulluck said. "Pawlenty is just like John McCain. He's so weak-mouthed he probably wouldn't have a chance of getting elected."
Several people interviewed by HuffPost pointed to Pawlenty's decision not to attack Romney in the New Hampshire debate earlier this month.
"[Pawlenty] could have garnered a lot of support if he had taken [Romney] on then, but now I think it's too late," said Allen Olson, a leader of the Columbia TEA Party.
By contrast, Bachmann has gone after Romney several times just in the last week. But she kept her stump speech focused on the object of the right's ire: Obama.
"With all due respect, I think the president has failed the American people on turning the economy around," Bachmann said during her last event of the day in this South Carolinia exurb of Charlotte, N.C.
Around 800 people attended the hour-long evening town hall meeting, spilling into one large overflow room and four smaller ones. And during the event, Bachmann was at her most expansive. It was clear why red meat conservatives are drawn to her: she speaks her mind and does not hold back in doing so, apparently unconcerned about making any verbal gaffes.
She told the crowd that the U.S. government will not default if it hits the debt ceiling on Aug. 2, and said that the Obama administration is "fear-mongering" on the issue.
"All president Obama has to do is direct the treasury secretary … to pay the interest on the debt. Then you keep the full faith and credit of the United States," Bachmann said. But she did not address what may happen if credit markets react negatively to such a scenario.
Bachmann also blasted the Federal Reserve's policy of quantitative easing and said it has intentionally devalued the dollar.
"In the last two years of the Obama administration ... you have lost 14 percent of the value of that dollar. That means the federal government has stolen that money from you. You made it and they stole it from you because they've been printing essentially valueless money and flooding it into the money supply," she said.
"I don't stand for that. A dollar in 2011 should be the same as a dollar in 1911. A dollar should be worth a dollar," she added.
Bachmann spokeswoman Alice Stewart explained the 1911 comment this way afterward to HuffPost: "All she's saying is that the dollar has lost a substantial part of it's value."
Bachmann also went into detail to tell her own story, sharing how losing a child to a miscarriage led to her and her husband Marcus deciding to become foster parents to 23 children in addition to their five children.
"When we lost that child, it changed us, and it changed us forever. So we made a commitment that no matter how many children were brought into our lives we would receive them, because we're committed to life," she said. "And we didn't know at that time we would be foster parents, and that we would be parents of 28 children."
Ian Saunders, a 68-year-old retired financial firm executive, said "there's a genuineness that comes across with her, more than someone like Romney, who I also like, but who I think is more canned."
Bachmann was handled at all times during the day by a polished political operation that moved her efficiently from bus to podium, through a crowd of well-wishers and back onto the bus after her events, shielding her at all times from reporters' questions. Bachmann's press and logistics aides did not restrict reporters' movements at events and were helpful in answering questions and providing information.
But when HuffPost attempted to ask Bachmann questions on two different occasions, it was ignored by the candidate. Bachmann's husband was at all times close by her side, often physically shielding her from questions, and at one point touched this reporter's arm as if to pull his recorder away from Bachmann.
Marcus Bachmann, who has drawn scrutiny for past statements about homosexuals, even took the stage with his wife in Rock Hill to answer a question about the secret to a successful marriage.
"If you understand how important it is to serve, you really become a success story," he said. "From a husband's perspective, it's really easy to love this woman."
The fact that Bachmann represents the middle ground to many in the GOP is evidence of the strong Tea Party influence. But she has also been considered more seriously than she was even a month or two ago, as details of her biography have registered with the American public and as she has focused her campaign message.
This reassessment of Bachmann is bleeding over to the Democratic Party to some degree, but she is still not seen as a serious threat to the president.
"She's talented. She definitely has an appeal and there's a sense on the Democratic side that it might be even more potent than [Sarah] Palin," Jennifer Palmieri, president of the Center for American Progress Action Fund, told HuffPost. "But, you know, she is gaffe-prone and she's really conservative."
"The idea that Barack Obama can't beat Michele Bachmann is laughable to me," Palmieri said.
But the Bachmann operation was not thinking that far ahead, content to bask in the success of its first official trip.
"This is like an end of the campaign event," said pollster Ed Goeas, referring to the size of Bachmann's crowds and the enthusiasm levels. "We're very happy."

Popular in the Community