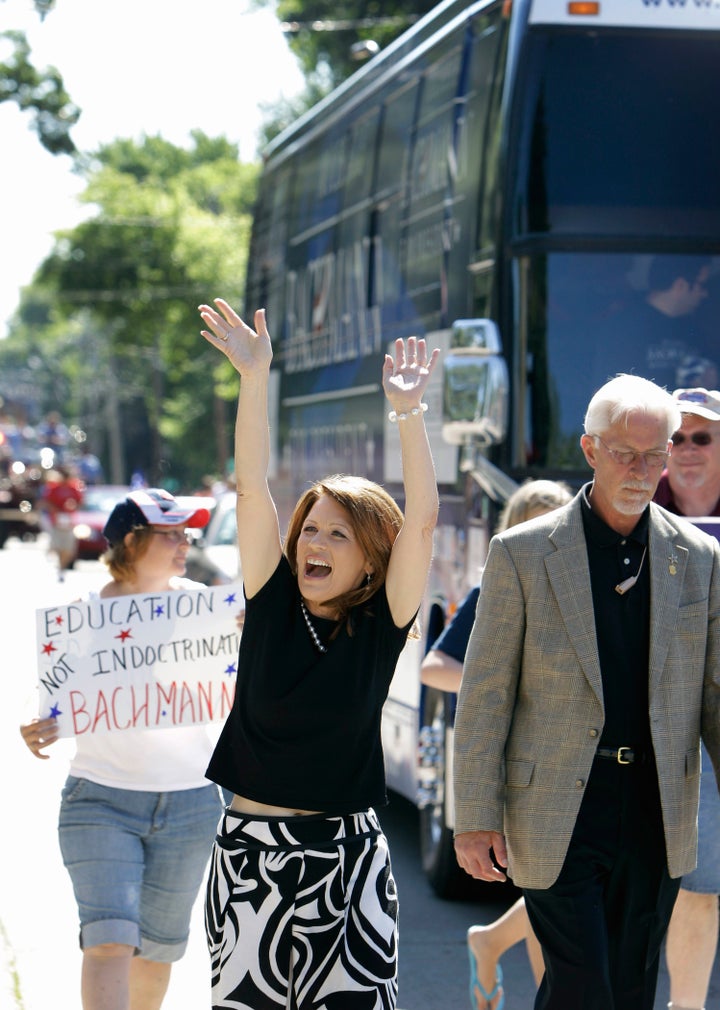 Your big 2012 election news of the day comes out of Iowa, where a poll conducted by TheIowaRepublican.com has placed Minnesota Congresswoman Michele Bachmann at the top of the pack. This poll, of "likely Iowa caucusgoers," found 25 percent of respondents favoring Bachmann's bid, with former Massachusetts Governor Mitt Romney in second place, with 21 percent.
While Bachmann's lead over Romney is just within the margin of error, the poll's cross tabs show how much momentum her campaign has generated in Iowa. Her favorability is ten points higher than Romney's, who had the second highest number in that category. Her unfavorable figure is 14 points lower than Romney's, giving her a stellar plus 65 favorability margin. Her numbers suggest that Bachmann has found a very effective way to appeal to caucus goers.
Now, none of these results are particularly surprising, given the fact that Bachmann has gone out of her way to play up her connections to Iowa and Romney has gone of his way to...well, do everything short of ignoring Iowa entirely. Bachmann's pitched herself to all the right constituents, and has aligned herself with influential Iowa conservatives -- she was the first to sign Bob Vander Plaats' "Marriage Vow," inking her name on the pledge before its sponsor organization, The Family Leader, altered the pledge to remove an odd reference to slavery. It's also very likely that between now and the Iowa caucuses, Bachmann will avail herself of the organizing power of her close friend, Iowa Representative Steve King.
Aside from Bachmann and Romney, the most significant shifts signaled by this poll involve Tim Pawlenty and Ron Paul. Pawlenty's third place finish (he edged out Herman Cain by a few tenths of a point), is a lifeline to a campaign that was circling the drain last week. Pawlenty can take solace in the fact that after Bachmann, he is the candidate with "the next highest favorable/unfavorable spread." Pawlenty spent last week sending mixed messages on how hard he was going to compete in Iowa, alternating between downplaying the state's importance and suggesting that he'd only just begun to compete in the state "in earnest."
On Meet The Press this Sunday, he played up the latter position. This mini-surge will bolster his efforts. However, conventional wisdom dictates that he'll need to show real strength in the Ames Straw Poll just to get his ticket punched to next year's caucus. Ron Paul has also heavily invested in winning the Ames Straw Poll, and he's outraised Pawlenty at just the right time. But mired at six percent, he'll need a successful showing in the Straw Poll to just demonstrate that his candidacy has broadened its appeal beyond his dedicated fanbase. The singular thesis behind Paul's candidacy is that the rest of the country has moved toward the positions he's spent his career espousing. Ames will be a critical test of his theory.
Naturally, Bachmann's now facing incoming fire from the direction of Pawlenty's and Paul's respective camps. As Alexander Burns reports, Pawlenty was critical of Bachmann's record on this morning's Fox And Friends.
"With all due respect, she just doesn't have that kind of experience," he said. "And secondly, her record in Congress, as I mentioned before, is, you know, again, great remarks and great speeches, but in terms of results and accomplishments, nonexistent."
The tax collector business has been brought up on the Ron Paul forums by Paul-supporters who are clearly irked that the "Tea Party" candidates like Bachmann (and former Fed employee Herman Cain) are stealing grassroots attention from their preferred insurgent candidate. ("Bachmann was a tax prosecutor for the IRS - I can't think of any professional less desirable to the tea party.")

At the Paul-supporting "Economic Policy Journal," Robert Wenzel writes:

"But, there is a clear difference between Ron Paul and Michelle Bachmann. While Dr. Paul early in his career practiced medicine and delivered thousands of babies, Michele Bachmann was a tax lawyer for the IRS and has a post-doctorate degree in Federal Tax Law. She has stated that she represented the IRS in hundreds of cases against American citizens."

That is a clear difference! (The comments on that post are also priceless. "IRS/Federal Reserve: Two NWO people right from the bowels from hell.")
Perhaps the saddest news in this poll is reserved for Rick Santorum, who garners just two percent despite having made Iowa his second home. As we've noted before: conservatives really like him, they just don't want him to be President.
Popular in the Community