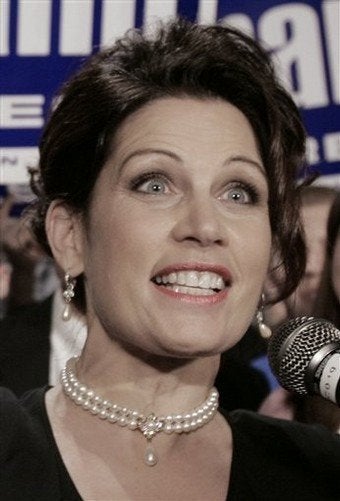 Rep. Michele Bachmann (R-Minn.) has taped an advertisement apologizing for her televised comments calling Barack Obama anti-American, according to a Republican source familiar with her campaign's decision.

Bachmann campaign spokeswoman Michelle Marston said the campaign will be airing a new advertisement this afternoon, but declined to comment specifically on whether Bachmann would be apologizing in the spot.

...

The move comes as polling, both public and internal, shows Bachmann rapidly losing ground in her reelection bid. A University of Minnesota poll released today shows Bachmann trailing her Democratic opponent, Elwyn Tinklenberg, 45 percent to 43 percent. Those numbers are consistent with an automated SurveyUSA poll showing Bachmann trailing Tinklenberg 47 percent to 44 percent.
"Once again, our nation is at a crossroads and it's a time for choosing. We could embrace government as the answer to our problems or we can choose freedom and liberty. I may not always get my words right but I know that my heart is right because my heart is for you, for your children and for the blessings of liberty to remain for our great country."
Bachmann does not directly address her comments or apologize to Obama in the ad. Other Republicans in tough spots have been more candid. In 2006, Rep. Don Sherwood (R-PA) apologized in an ad for having an affair. Recently Rep. Tom Feeney (R-FL) aired an ad apologizing for going on an Abramoff-funded trip to Scotland:
Popular in the Community