In the tiny Yucatán village of Petac, there was a lunar eclipse. The local Maya gathered on the darkening street, believing that ants were eating the moon. They banged their pots and pans to scare the insects away.
This was 2002. The year Apple released the iPod 2.
In our fast-advancing world, there are still some blessed pockets where things haven't changed much in the past few centuries. Around Mérida, in the eastern Mexican state of Yucatán, a sizable percentage of women still wear traditional hipiles: white cotton dresses with embroidered flowers along the neckline and hems. Families still live in thatched-roof palapas, but those are being replaced by concrete houses, most containing little more than a plastic chair, hammock and clothesline.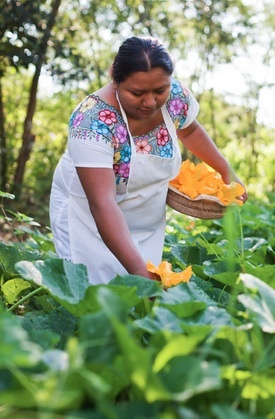 This was the era when Mérida was the wealthiest city in the world, thanks to the henequén (heh-neh-KEN) boom of the early 20th century. The region's strong agave fiber became a boom crop, answering global demand for a textile used to make feed bags, rugs, twine and shipping rope.
The "green gold," as it was known, made some people incredibly wealthy, but confined others to a lifetime of manual labor under an unforgiving Mexican sun. Land owners created opulent haciendas, or estates, with various buildings including a casa principal (main house), casa de máquinas (machine warehouse), chapel, infirmary and even a jail. Some haciendas maintained their own non-exchangeable currency, slyly trapping the workers in a cycle of dependence.
Today, these historic haciendas exist in a variety of conditions. Some have been left in total disrepair and look like little more than piles of rocks. Others, like Hacienda Petac, have been restored to or beyond their original glory.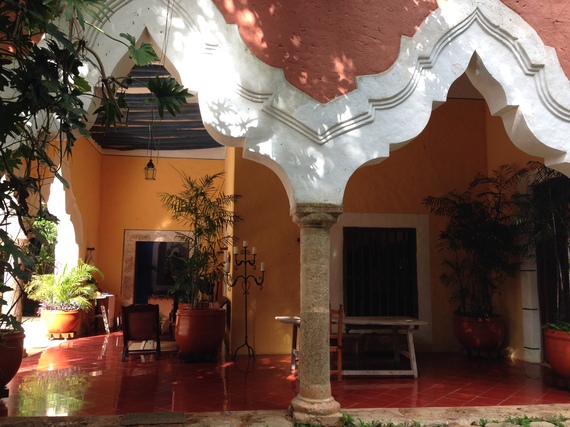 Dev and Chuck Stern of Houston, Texas fell in love with Yucatán about 15 years ago after searching throughout Mexico for a hacienda to restore. In 2000, they bought one of the rubble-pile varieties and spent three years remodeling and renovating. Now, the breathtaking property offers up to 14 guests at time a taste of hacendero life -- minus the pesky matter of subjugating other humans.
When I arrived at the exquisite estate, the driveway was illuminated with a pathway of candles with lights shining up onto the stucco of the main house's pink façade. A quiet young Maya woman offered me smile and a fresh glass of hibiscus juice as I stepped out of the car.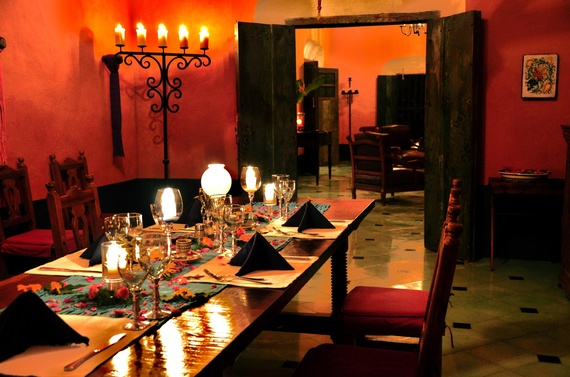 The casa principal has been fully restored with an open-air sitting room, dining room, kitchen, bar and a modest library. The husband-and-wife team of architect and interior designer Salvador Reyes-Ríos and Josefina Larraín worked with the Sterns to re-imagine and preserve part of Yucatán culture. The 250-acre grounds include some newer amenities such as a full-service spa, hot tub, heated swimming pool, outdoor yoga studio, game room and even wifi for those crazy enough to shift focus from this paradise to anything back in the "real world."
An utterly attentive staff attends to your every whim. If you're sitting in the sun, watching one of the many butterflies flit by, a smiling woman will quietly pad over and offer you fresh-squeezed watermelon juice or an icy margarita.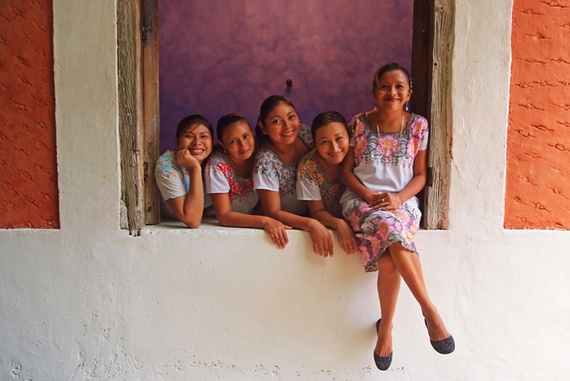 Hacienda Petac is alive with fresh flowers and greenery. Hand crafted tables, doors, and armoires of warm dzalam, red cedar, and ciracote wood are set against a rainbow of bold-colored walls. The Chu Jun room in the casa de máquinas, where I stayed, boasts 30-foot ceilings and a marble bathroom with a deep standalone tub and a rainfall shower. Opening the heavy wooden door to the outside, your senses are filled with the scent of jasmine flowers and a faint intimation of fresh tortillas from the kitchen.
The food at Hacienda Petac is as impressive as its décor. Each meal is presented in either the indoor dining room or the outdoor patio, always with a full place setting of traditional ceramic and metal dishes, colorful placemats, shining chargers and an array of flower petals and leaves.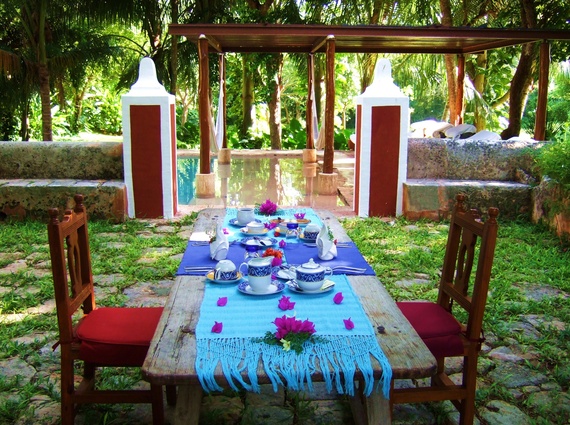 During my stay, I enjoyed poc chuc, sliced pork marinated in sour orange juice served with a tomato sauce and pickled onions, and fresh tortillas served in a yuc (hollowed out gourd). Another memorable dish was a local favorite: panuchos, fried tortillas stuffed with refried beans and topped with shredded chicken, lettuce and pickled onions and a side of habañero pepper sauce.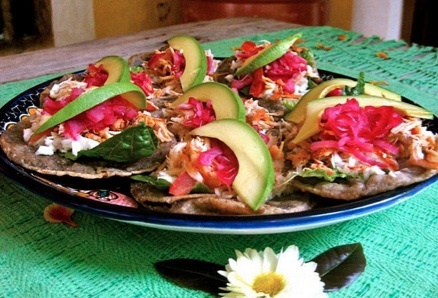 Perhaps the best part of the cuisine at Hacienda Petac is the morning coffee. Arise from the king-size bed of soft cotton linens in perfectly calibrated air-conditioning, simply put the small cross-stitched sign that reads "Café Please" on the exterior doorknob. Within minutes, one of the staff arrives with a tray of warm coffee with rich cream and local cane sugar to start your day with a hearty dose of hospitality and caffeine.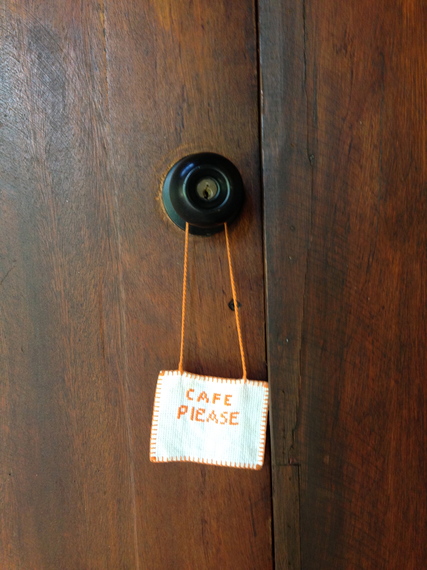 The Sterns have recreated a peaceful gentility on the hacienda -- one that may have never actually existed in the henequén era. Here, the best of Petac's past rubs shoulders with the promise of its future, as culture perseveres and evolves under Mérida's suns and moons.