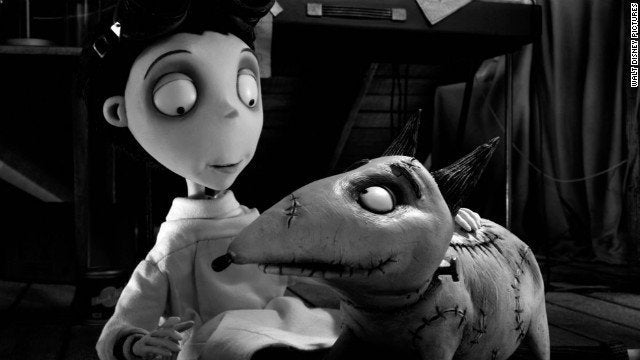 These days, it seems like anytime someone says anything about Tim Burton, it has to be along the lines of "Oh, how the mighty have fallen," or even, in some especially wrong cases, "Oh, how the mighty were never even mighty in the first place.[1] " Sure, maybe the man has been resting on his laurels for a few years, but he's got hell of a set of laurels. And shtick aside, there is no fronting on his resume. Here's a taste: he has animated for Disney, dreamed up dozens of iconic characters, invented the dark superhero film, directed bona fide classics in a Whitman's sampler of genres, and had two children with Marla Singer from Fight Club.
Believe it or not, that long and storied career had one of its earliest highlights in 1984 with a short film called Frankenweenie. At heart, Frankenweenie is a classic tale about a boy and his dog. Of course, given the title, you would be right to suspect there's a little more at stake here than that. It's an homage to the memory of James Whale's Universal Frankenstein films, from the sprawling score to the dramatic angles to the plot, in which the boy reanimates Sparky, his punnily named bull terrier.
Frankenweenie (Tim Burton, 1984)
The short film that got Tim Burton fired from Disney. Which would later become a feature film... for Disney.
Serendipitously enough, Burton was born right next door to Hollywood in Walt Disney's backyard: Burbank, California. He spent his childhood drawing, making films, and steeping himself in the work of folks like Roald Dahl, Edgar Allen Poe, Godzilla, and Ray Harryhausen. He would go on to study at the California Institute of the Arts alongside fellow legends-in-training John Lasseter, Brad Bird, and Henry Selick, with whom he would later collaborate on The Nightmare Before Christmas and James and the Giant Peach. His work there caught the attention of the Walt Disney Productions' animation studio, where he was offered an apprenticeship and worked on many of their early eighties films.
Frankenweenie was the third of three shorts Burton produced for Disney. The first, a well-received five-minute stop-motion animation called Vincent, was released in 1982. Frankenweenie was not his first live action film (that honor belongs to 1982's Hansel and Gretel, which he produced for the Disney Channel) but it was his first time working with a professional cast -- one that just so happens to include the (surprisingly compatible) Shelley Duvall and Daniel Stern.[2]
Though the film was originally slated to debut before a re-released version of Pinocchio in theaters, Disney was famously so nonplussed with the PG rating of the chance they had taken on their animator that he was fired immediately. It's hard to imagine that the market for black-and-white children's entertainment was bustling in 1984. Of course, their main complaint was that the film was too scary -- a silly charge, perhaps, as anyone who was scarred for life by the violent death of Bambi's mother (including Burton)[3] could attest. The film would be released on home video in the wake of a Burton boom, ten years after its completion in 1994. A recent remake in a significantly more zombie-friendly world suggests that Burton and Mickey have buried the hatchet.
Burton may not have had perfected his aesthetic by Frankenweenie, but this half hour is chock full of hallmarks that are familiar to any fan: plastic people, gothic undertones, childlike fantasy, and a sly, pitch-black sense of humor. I defy you to name another filmmaker who could warm hearts with a tale like this or who could dress a dog up in bolts and stitches without it becoming cutesy or grotesque. In Frankenweenie, as in just about all of his films, his animator's sensibilities provide for some seriously memorable set pieces and sequences. Though not as sprawling as his feature-length films, every aspect of Frankenweenie, from the pet cemetery opening credits to the design of the titular terrier, is clearly the product of a gifted visual artist.
Both Frankenweenie and Vincent are among Burton's most personal projects. The former opens with an amateur fantasy film made by the boy protagonist that must not be unlike the projects from Burton's own childhood. The character is named Vincent after Vincent Price, who was Burton's childhood hero, one of his chief muses, and a frequent collaborator with Burton until his death until 1993. Frankenweenie was even based on a real dog. Says Burton:
I had this strong connection with a mutt we had named Pepe, and it was a good connection. Like your first love. It was very powerful. The dog was not meant to live very long because of a disease he had, but he ended up living quite a long time. So you have this strong connection, and then you think: "Well, how long is this going to last?" You don't really understand those concepts of death at the time.[4]
Though the lack of a wide release prevented Frankenweenie from receiving any serious love, those that were lucky enough to see the film were impressed. Among those lucky few were Griffin Dunne, who suggested Burton to direct After Hours (he stepped aside, the pushover, when Martin Scorsese expressed interest in the project) and Paul Reubens, the man behind Pee-Wee Herman. So impressed was Reubens, in fact, that he asked Burton to direct what would become his first feature-length film, Pee-Wee's Big Adventure. The rest, as they say, is history.
So, whether the reader is a Burton-virgin, a Burton-doubter, or a Burton-hater, you might do well to devote a mere half hour to this gem of a film. If it doesn't (re-)instill your faith in the man, remind you why you ever liked him in the first place, or convert you, it's bound to at least put you in a good mood. If it doesn't do that, well, I think we better get Vincent to hook you up to that toaster.
2 Duvall was so impressed by Burton that she invited him to direct an episode of Showtime's Faerie Tale Theater, of which she was host and executive producer (Tim Burton, Burton on Burton: Revised Edition (London: Faber and Faber, 2006) 71.).