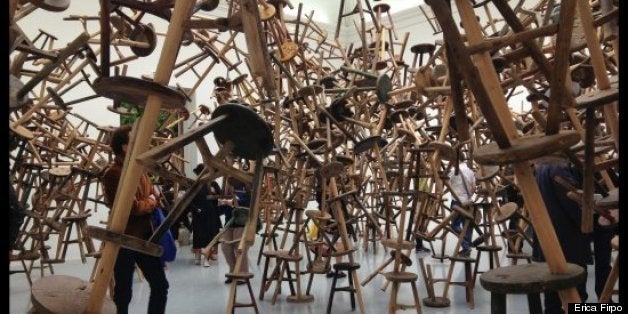 Venice. Floating city, contemporary art contradiction. In 1998 and 1999, I lived bi-coastalish between Venice, Italy and Los Angeles. I spent most of my time with my head in modern and contemporary art and my feet in unattractive, waterproof shoes. I had a love/hate relationship with the city. It was mysterious, humid, incomprehensible, beautiful and capricious. To me, it was that mellifluous Gemini in the form of a city -- giving you nothing and everything at once. In other words, the very perfect place to have a contemporary art festival.
The Venice Biennale is a six-month celebration of contemporary art, and in part a celebration of the ancient archipelago that refuses to be defined. Since 1895, the Biennale Gardens, then Arsenale and several palazzi across the islands have been reincarnating themselves bi-annually in country curated pavillions, galleries and exhibitions and pop-up venues throughout the Biennale and Venice. Pavilions act as setting and installation, and Venice's historic palaces are both beautiful backdrop and destination for some of the Biennale's most engaging pieces.
Walking through this year's Venice Biennale is like stepping through Narnia's wardrobe into an endless and unpredictable art world/exhibition-- mostly likely what curator Massimiliano Gioni had in mine when he set the curation theme : the Encyclopaedic Palace, inspired Italian-born artist Marino Auriti's 1955 cylindrical skyscraper/conceptual piece. Auriti's idea was to build a structure that would "hold all the works of man in whatever field, discoveries made and those which may follow." An auspicious endeavor and a great idea that disappeared into obscurity [aka the suburbs of Philadelphia] until Auriti's model was brought to the Folk Art Museum, Gioni stumbled across it and then metaphorically and literally used it as springboard for the 55th Venice Biennale.
To briefly summarize the Biennale, there are 158 artists and 88 country pavilions represented. Art includes video, collectionism, outsider art and installations of a variety of themes including nature. Predominantly, the work is experiential-- stepping into sound spaces like the Poland, Mexico, Korea pavilions, standing (women only) in the golden rain of the Russia pavilion, walking through collected clusters of the United States pavilion and the multitude of collections like Morton Bartlettt's eerie dolls in the Central Pavilion, or just enjoying the clever curation in the Arsenale's corderie where there are sixteen curated galleries, with hundreds of works by tens of artists- established like Walter de Maria or soon-to-be household names like Ryan Trecartin.
This year, there is also performance, a media that tends to be placed in the background. The Central Pavilion has a subtle live artwork by Golden Lion recipient Tino Sehgal that I almost ignored ( two or three persons softly sing, hum and move together on the floor of Central Pavilion), while stark Romania pavilion is "painted" by performers who cleverly act out paintings, sculpture et al from past Biennales. In addition to the Giardini and Arsenale, off-site exhibitions pop up in palaces, courtyards and campos, like Iran and New Zealand's pavilions and Ai Wei Wei's installations. Contemporary foundations run throughout the Grand Canal to the Lagoon: Henri Pinault's Palazzo Grassi, Fondazione Prada's Ca' Corner, Pinault's second contemporary art gallery, Punta della Dogana, and Palazzo Cini on San Giorgio Maggiore, among others.
Famously, the week before the Biennale is an arty party. Morning through evening everyone is running around looking, talking and dressing art, and more importantly blurring the lines between fashion and art. There are pop ups and one-time only performances, and Hermes, Givenchy and Chanel flow just as easily as the rain. I chatted about water bus tickets with Maurizio Cattelan, Running through a campo, I bumped into Milla Jovovich's performance Future/Perfect. And later, I grabbed a bite to eat at Rirkrit Tiravanija's pop-kitchen at the Hotel Bauer (the BAUERs) where fashion was served with food performance.
Venice itself is encyclopaedic. Its frustrating vicoli, whimsical attitude and beautifully decaying palazzos are fathomless fonts for tales to come, making the floating city perfect for a contemporary art biennale that is based as much on whim and humour as it is on introspection. Ironically, this drowning city is dripping with contemporary art. And not just for a few months every two years.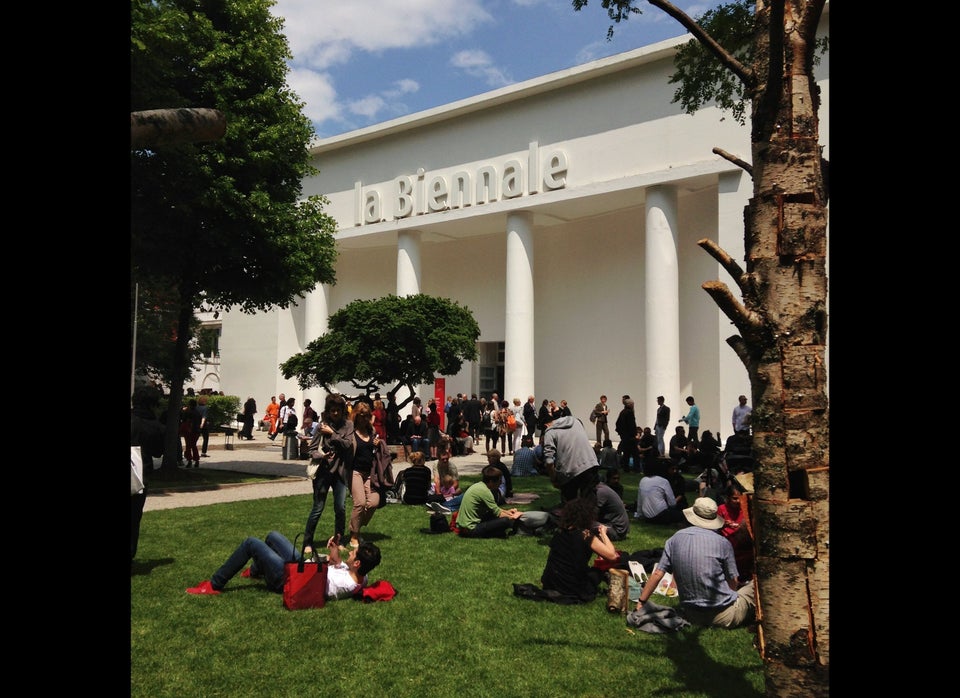 Enjoying the Venice Biennale
Related