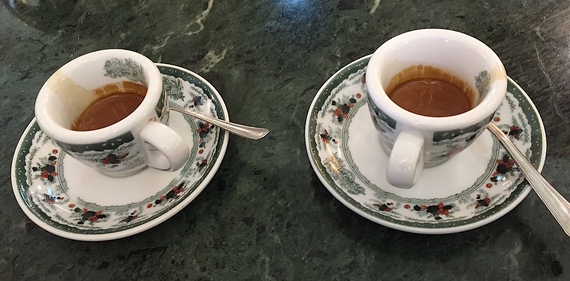 Back in the 19th century Naples had the distinction of being compared only with Paris for its grandeur by Goethe, Dumas, Flaubert, and the Marquis de Sade, even if Mark Twain--grumpy to be quarantined for ten days in its harbor--found that grandeur jumbled together with the most dire poverty.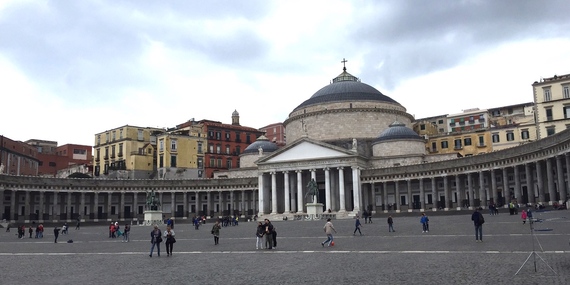 Current-day Naples falls somewhere in between those opinions, for its magnificent piazzas and villas keep close company with crumbling structures propped up by nothing more than prayer. The vast city swirls with activity and there is hardly a moment between eight in the morning and two a.m. when the streets are not teeming with people, many of whom seem always to be strolling arm-in-arm toward a caffé or along the waterfront.
Not too many years ago Naples was an affront to contemporary civilization, with its most famous street, Spaccanapoli, cutting through the center with sinister intent, dark, bereft of sunlight because of so much hanging laundry, its broken cobblestones washed only by the rain that pours into it like a rivulet. Hustlers, beggars and men giving tourists the mal'occhio leaned against graffiti-scrawled walls. Piles of garbage were as inevitable as death and non-payment of taxes.
Nevertheless, and despite its chronic underground control by the Camorra crime mob, Naples has in recent years roused itself to something like buoyancy, despite debilitating unemployment and waste disposal that is still a major issue. But the glorious Piazza del Plebescito (above) and Royal Palace have been restored, and the city still has some of the finest art museums in Europe, including the vast Museo di Capodimonte, dating to 1738, with masterpieces by Masaccio, Mantegna, Caravaggio, Raphael and Titian.
Even Spaccanapoli (above) has been spruced up: the laundry is largely gone, the street is cleaner, the low-life moved out.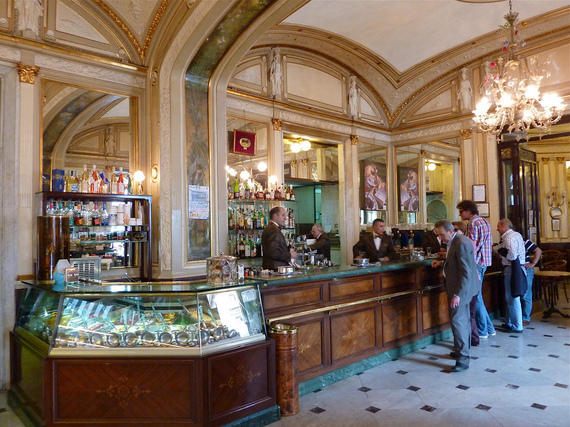 One of spots easiest to find the romantic soul of the city is at Caffé Gambrinus (above), a uniquely beautiful coffee and pastry purveyor, set on the piazza in 1860. Its architect worked in the extravagant Beaux Art style, using the city's finest artists and decorators, and it soon acquired the sobriquet of "literary coffeehouse" for the generations of writers, artists and composers who came here for a dazzling array of pastries, aperitifs, and its incomparable coffee, made by master barristi at a battery of ancient machines that hiss and sputter like a steam train. You may also sit outside and have cocktails while watching the passing parade.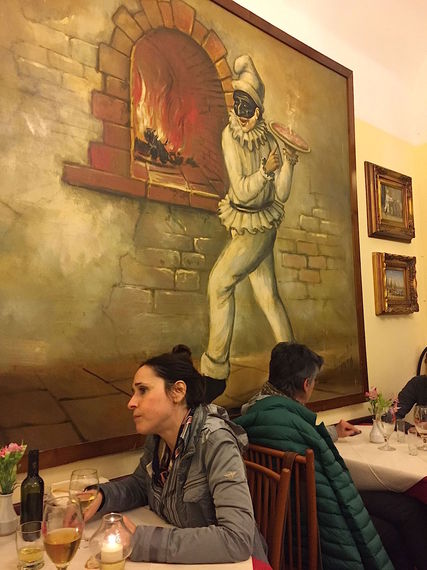 Just around the corner is Pizzeria Brandi (above), opened in 1760, site where the pizza alla margherita was truly born, the creation of Chef Raffaele Esposito in 1889 for the visit of the Queen Consort Margherita, using the three colors of the new Italian flag--red tomato, white mozzarella and green basil. Today Brandi straddles both sides of a narrow street, and if you go without reservations on just about any night, you will wait an hour or so for a table. Once inside the brightly lighted rooms with their commedia dell'arte murals, you'll find everyone from everywhere.
You must accept that this, the original pizza, which is the style found throughout Naples and the region, is soft-centered, rather floppy, not crisp in the crust.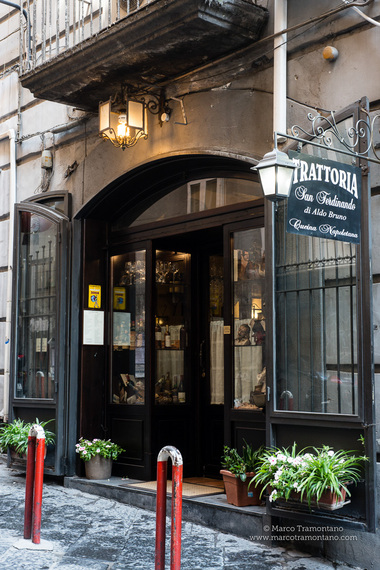 The best meal I had in Naples was in a popular family-run Trattoria San Ferdinando (above)(near the Royal Palace and opera house. Led by paterfamilias Aldo Bruno, this simple trattoria is mightily committed to traditional Neapolitan fare and you can tell from the first bite that everything on the menu has been refined over many years to show the family's enduring expertise.
Naples claims to make the best buffalo milk mozzarella in the South, and it's hard to argue with the luscious, pliable version at San Ferdinando, served with tomatoes and sprigs of basil. You might begin with a sauté of seafood or a delicate carpaccio of sea bass with citrus fruits. There's a wonderfully hearty pasta e fagioli here. I loved the linguine with crab and the fresh fettuccine with mussels and pecorino.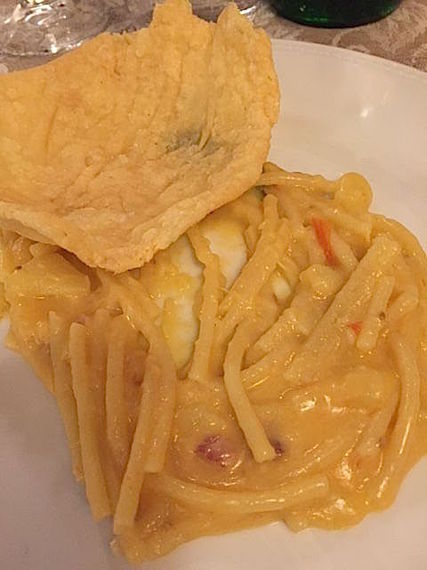 All the pastas hit their mark: Rigatoni comes with eggplant, green peppers and provola cheese; risotto with meaty morsels of merluzzo (hake) and herbs; bucatini is spiked with a black pepper sauce; the specialty here is pasta and potatoes with provola cheese made into a marvelously chewy crisp (above).
Actually these dishes are not common in Naples, but they all taste of the regional cucina di Campania and its rich food culture. After all, this is where the tomato was first imported from the Americas in the 17th century, and it took nearly three hundred years for the rest of Italy to catch on to how delicious it was.
So, too, are San Ferdinando's stuffed cuttlefish, and the beef meatballs Neapolitan style, which you may compare with all those meatball-and-spaghetti dishes standard in Italian-America restaurants.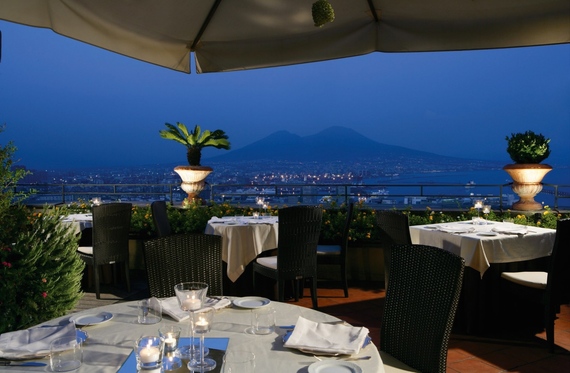 For la cucina more experimental, I dined at La Terrazza dei Barbanti (above) in the hillside Hotel San Francisco al Monte, a comfortable, serviceable place to stay well above the noise and traffic of the center of the city and several blocks from a funicular that takes you right down to the Piazza del Plebiscito. Chef Enzo Spingone serves up some of the city's most inventive cuisine, in a modern glassed-in room overlooking the bay. Here you may begin simply, with a carpaccio of boiled pig's trotters and snout dressed with salt and lemon juice, served with marinated celery, arugula and pink grapefruit (13€). Paccheri with clams and bright zucchini flowers zesty with lemon (16€) or linguinette pasta with langoustine, a subtle dose of garlic, and broccoli (18€). Bonito is marinated in cider and served with a corn salad (18€), while old fashioned eggplant parmigiana is rendered new with chutney and basil (14€).
Desserts are lavish and lovely to look at, like the ricotta and pear cream with chocolate ice cream (9€); green apple sorbet soaked in an amaro liqueur (7€); and a Neapolitan baba spongecake with crème anglaise and black cherry ice cream (8€).