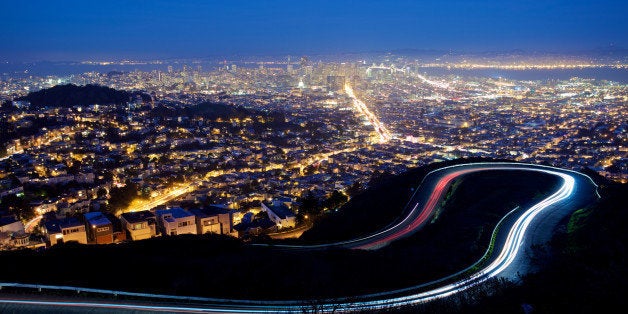 "My momma was a race car driver..." My boys used to trot that phrase out whenever they wanted to impress a new friend. And, although unusual for small boys, they were telling the truth. In my early 20s I went to racing school with the Sports Car Club of America, and have driven on several West Coast tracks. Fun as it is to drive fast, turns out I am too polite to be a cutthroat driver who can try to keep other cars behind me. I'm the nice lady who slows down to let you pull out of the mall entrance, not the one who pretends not to notice how long you've been waiting there.
But it has long been on my bucket list to get back out there and test my driving skills somewhere other than the mostly wide and mostly straight California freeways, so when a tweet from Jaguar USA announced their Art of Performance tour had driving slots available in San Francisco, I bit. I bit hard.
I know a thing or two about Jaguars, I don't want you to think my life is all mommy cars and casseroles. I have a vintage Jag, a 1966 3.4s that mostly sits in the driveway. Right hand drive. Another thing that thrills my sons, the chance to sit on the left side of a car and wave to startled passersby. Drive a new Jaguar model some three months before it hits the market? I'm there.
"How fast can I go?" was my less than polite question when I phoned the "Jaguar concierge." Less than 150, more than 25, was her polite response. Yes, she assured me, you get to drive on the closed course. I was out the door early on a foggy Friday morning in anticipation of reviving my long dormant racing skills. The drive in to San Francisco passed quickly.
Alas, the Jaguar concierge was misinformed. The obstacle course was set up inside of a warehouse on Pier 35, a big empty space but not one that lent itself to bursts of speed. And no, I wasn't allowed to test the cars in there. I pouted as I settled in reluctantly in the passenger seat next to Davy Jones, the professional driver who would take me around. "You ever raced?" I asked him in a huffy tone. "Twenty years with the Jaguar racing team," he said quietly, putting the 2016 Jaguar XE into gear. "I'm the last American to win at Le Mans." And then he punched the accelerator.
Okay, I have to confess, if it had been me driving that fast inside the warehouse perched over the water we would have blasted right out the back wall and sailed into San Francisco Bay. And hard as it was not to scream during the three laps we took, he did know what he was doing. Turns out he also won at Daytona.
But then it was my turn, and although driving through the streets of San Francisco is no one's idea of a race track it is possible to have more than a little fun on some of those steep hills. Many passengers might have flinched and said, "Hey, take it easy," but happily, the retired race car driver did not. Turns out I can still maneuver a fast car with some degree of skill. Mr. Jones and I reminisced about the cars we have known and loved, and the engines we have blown.
It was all over too soon. I am no longer in my 20s, my children are no longer little boys, and I am still too polite to cut off another driver. Driving home later in the dark on, once again, a wide California freeway, I obeyed the speed limit. Well... That's my story, anyway, and I sticking to it.
Gin Sander is the author of The Big Bucket List Book: 133 Adventures of a Lifetime (Sourcebooks, 2016)
Calling all HuffPost superfans!
Sign up for membership to become a founding member and help shape HuffPost's next chapter