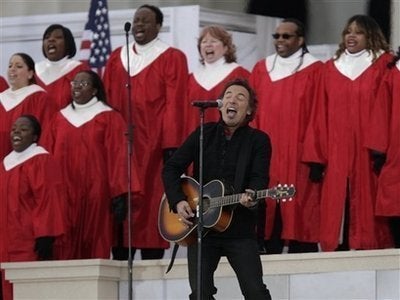 I'm from New Jersey, and though you may not have heard the news yet, so is Bruce Springsteen.
By Garden State law, I have been a fan of the man since I was back in middle school, just as Bruce rushed from being that cool rocker from down the Shore to a national treasure when Born To Run made him a cover boy not just on Rolling Stone, but on Time and Newsweek as well.
Frankly, being sainted and all, Springsteen's never needed much defending. Yes, it's hard to be a saint in the city, but for Bruce in New Jersey, not so much. This past week, however, I've heard something new and ugly -- some actual, misguided Boss-bashing. First, the Oscar voters somehow overlooked Springsteen's powerful theme for The Wrestler. Then this weekend I read a number of oddly mean-spirited early reviews for Springsteen's new album Working On A Dream, including a few that seemed to take a late swipe at The Rising and Magic -- two of his finest by my reckoning.
Now I don't even have the album yet -- come on, Bruce and Sony, set a former Bergen County brother up! -- but I hereby promise you Bruce's latest is a solid investment of your money, whatever that means in these post-Madoff times. Here's another safe bet for you: next Sunday, whether the Steelers or the Cardinals take that Super Bowl title, Bruce and the E-Street Band will having a winning performance.
At this point in one of the most uplifting and inspiring careers in popular music history, Bruce is not above criticism -- just way beyond most of what passes for it these days. So if I don't get a free copy of the album in the mail before then, I will buy one on Tuesday. And on Super Bowl Sunday, I'll make sure that my wife, sons and I all take our bathroom breaks well before halftime.
Show a little faith, bitches, there's still magic in the night.
Popular in the Community