How I brought an entrepreneurship workshop back to my primary school & inspired 11 year olds to explore business.
"Hands up, how many of you want to study business when you go to secondary/high school?", we asked the class of 21 bright-eyed 11 year old pupils from Ms Mackle's 5th Class, at St. Mochta's National School in Dublin on day 1 of our 2 day Bizworld Ireland workshop. Only 4 hands went up (3 boys, 1 girl). I couldn't believe my eyes. The global statistics of the latest 2016/2017 GEM (Global Entrepreneurship Monitor) Report were playing out, right in front of us, where "...only 6 women on average, were engaged in early-stage entrepreneurship for every 10 male entrepreneurs."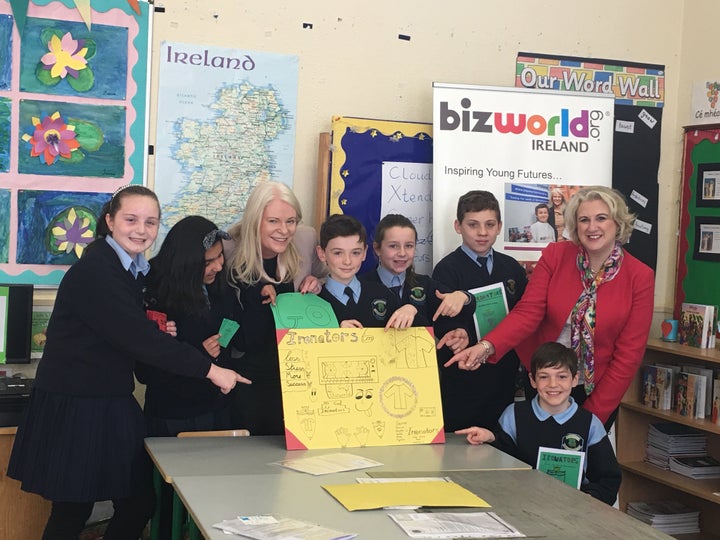 All the more reason, initiatives like Bizworld Ireland are so necessary. I am an entrepreneur myself and a passionate women's advocate, helping female founders take their first steps to get investor-ready and grow in confidence when looking for funding (through Global Invest Her), as well as supporting many initiatives to get more girls into STEM and entrepreneurship.
This week, I was given the opportunity to create magic and ignite entrepreneurship with 11 year old pupils back at my primary school in Dublin, thanks to Fiona McKeon, CEO of Bizworld Ireland and Seán Fay, a wonderful entrepreneur and investor himself, whom I met at a tech conference end of 2016. When Sean asked me if I'd like to go back to my old school to teach pupils about entrepreneurship, I automatically assumed he was talking about my secondary/high school. Actually, part of the Bizworld magic, is starting even younger - getting 11 year olds to create companies, do market research and pitch to their 10 year old peers! I was hooked!
When I met Fiona McKeon, our kindred spirits stepped into an even higher gear. I asked her why she set up the Irish entity of Bizworld (part of the Bizworld franchise), which was born from her frustration as a teenager, at not having the option of studying business because of the way her school was in a streamed system. A seasoned primary school teacher, teacher trainer and education expert herself, she took advantage of a career break to get this started and has never looked back.
How Bizworld works:
Over 2 days, the bright and well-mannered pupils of Ms Mackle's 5th class at my old alma mater, St. Mochta's National School in Dublin, created 4 innovative companies and took their first steps in the world of business and entrepreneurship. Fiona deftly introduced basic business concepts and terms to the children and within an hour, they were starting on their journey as first-time entrepreneurs. What sets this program apart from other similar programs, is that it has been designed by a primary school teacher who understands the pupil's rhythms as well as the teacher/curriculum constraints. That's why it's always delivered by Bizworld tutors and not the teachers themselves. The other outstanding differentiator, was the totally hands-off approach of the tutors towards the pupils. Fiona and I gently guided them through the well structured program, and the children did all of it themselves without us intervening in how they made decisions, worked together and pitched. Allowing them the space to really experiment was fantastic and they let their imaginations and creativity run wild!
Day 1: Setting up Companies & Becoming Directors
In the morning, the children learned about the different types of businesses, key terms and the all important profit equation: Revenue - expenses = Profit! They then each applied for and decided who should be Director of what (Product, Creation, Sales, Marketing, Finance etc) by themselves and set about deciding what problem they wanted to solve. Then they created and registered their companies, did business plans and got their bank loan.
The Afternoon, was about getting down to business of estimating their costs and doing market research with 4th Class, before diving into the cool stuff of creating their pitches, posters and other coms tools. They also got some homework to do on their projects. The classroom was buzzing that afternoon as we left them to create their masterpieces.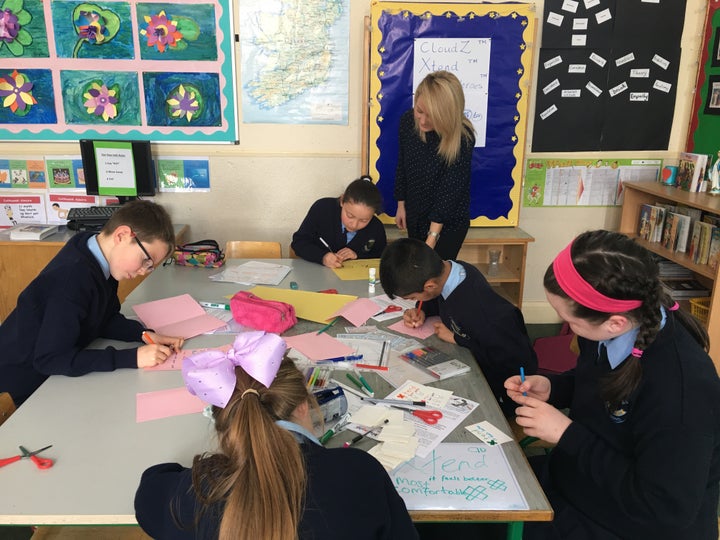 The Birth of 4 Companies and 26 Entrepreneurs
I couldn't wait to see what the 4 teams would come up with. The companies and problems they solved were so innovative: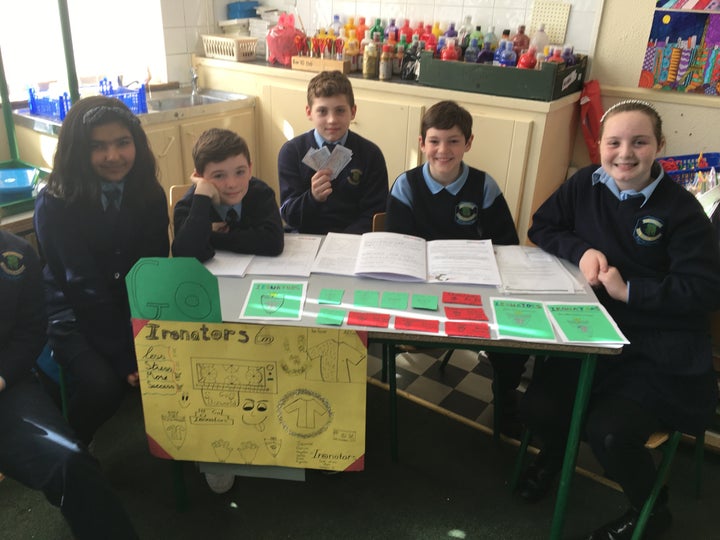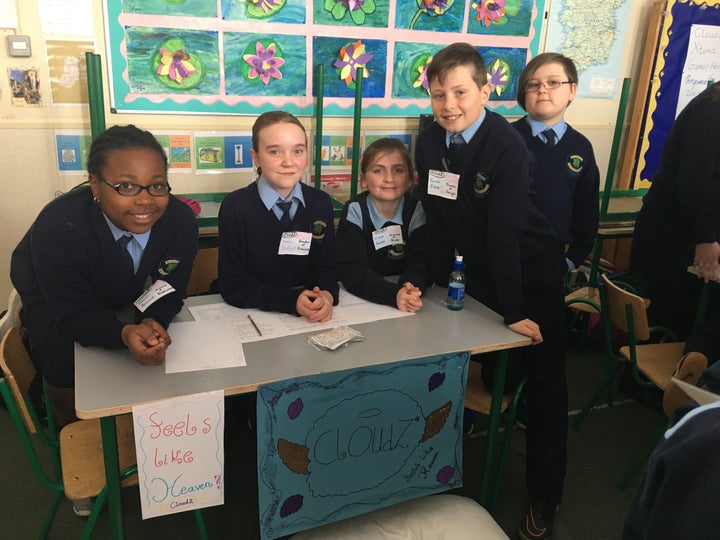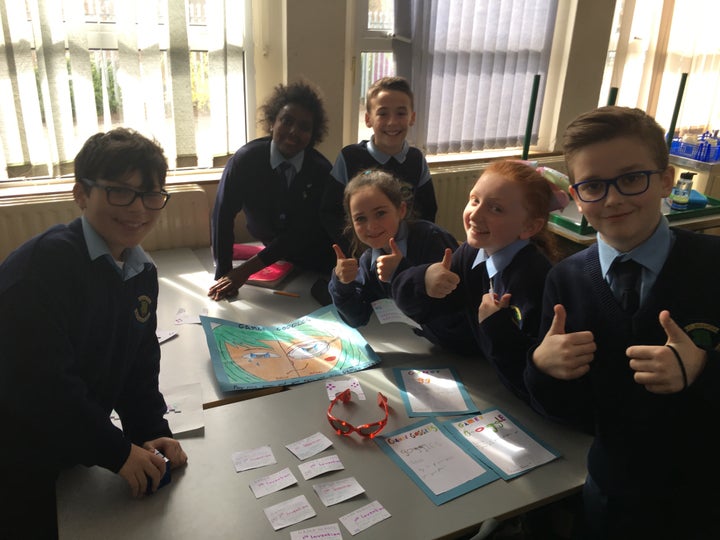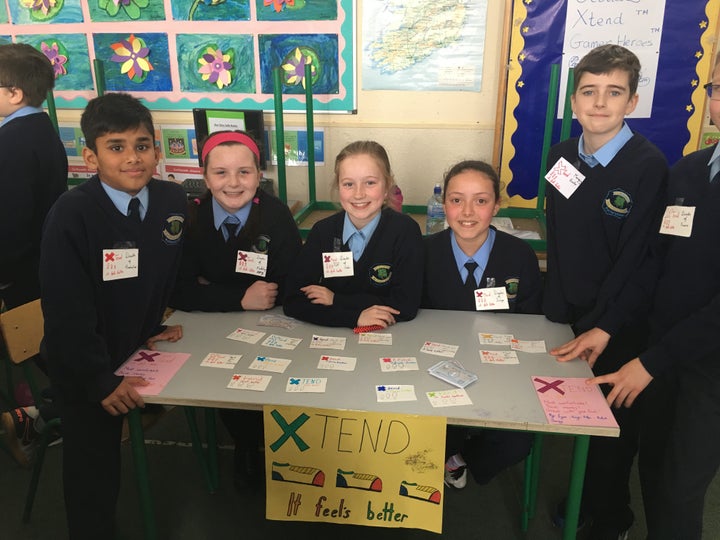 Day 2: Pitching Dragons and fending off questions from 10 year old peers - the stuff of champions
Teacher, Ms Mackle, had carefully prepared the children for what to expect by showing them a few episodes of Dragon's Den (like Shark Tank) during break times beforehand, yet as in real life, watching TV and thinking you are ready is very different from actually doing the work, which our 4 teams of budding entrepreneurs quickly learned and embraced.
When we arrived back on the morning of day 2, I couldn't wait to see the pitches! Fiona and teacher helped them practice their pitches and get ready and soon it was time for each team to pitch to our very own Dragon - Sean Fay!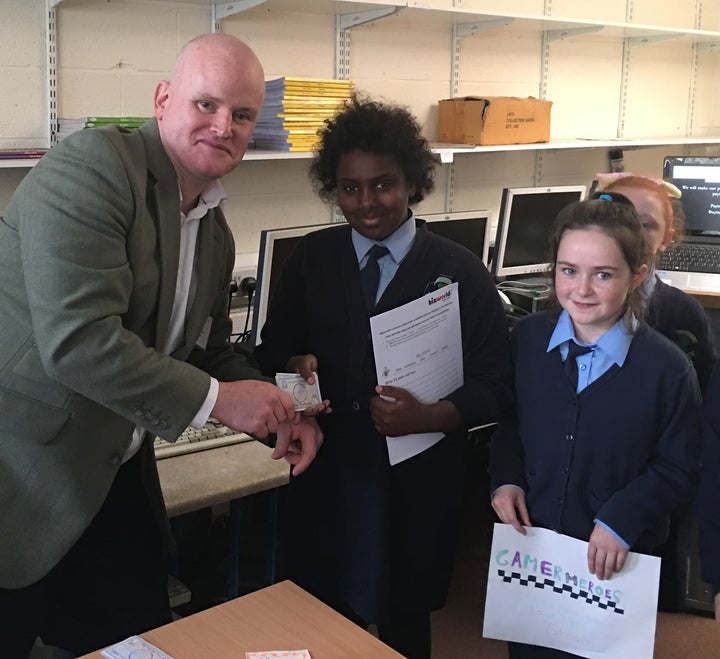 What can I say, other than that the 4 teams were fantastic! They shared their pitch and powerpoints, did live ads that they acted out themselves, showed off their fabulous posters and business cards and deftly answered all of the investor's questions. Then came crunch time - negotiating the investment! Needless to say, all 4 teams got their investment, after some deft negotiation on the part of the young entrepreneurs and Sean gladly handed over the 'bizbucks'.
That was only the warm up
Each team then went back to their classroom to pitch in front of 28 smart and challenging 4th class pupils (10 year olds) from Ms Ahern's class. The questions came fast and hard, as their peers didn't miss an opportunity to 'grill' their older classmates. I really was impressed by the quality of the questions and above all, watching the pitching teams deftly answer any question that came their way, which took thinking on your feet to a whole new level!
It wasn't over yet! Each 10 year old had 10 'bizbucks' to invest in their favourite company, so each company had to convince their peers to invest!! The room was alight with fun-filled frenzy as all involved revelled in their newly found investor/negotiator shoes.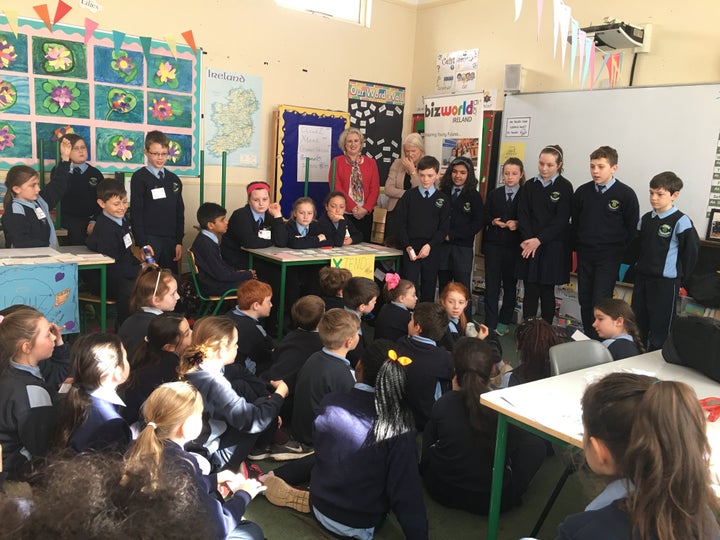 Taking Stock
Once 4th class returned to the rest of their day, our budding entrepreneurs settled down to finish their accounts, count their investment and how much equity they had given up and see which company had been most profitable.
During my 2 days there, I had the wonderful opportunity to see 2 of my teachers from when I was a pupil - Mr Morgan who taught me in 3rd class and Mr McClelland, (for 2nd & 5th class) who kindly came out of his retirement to come and visit me at the school. It was also wonderful to see Mrs O'Boyce too. I had come full circle, nearly 30 years later. The memory of these 2 very special days will stay with me forever. What a gift.
Special thanks go to Ms Maria Farrell, Principal of St Mochta's National School in Porterstown and Ms Mackle 5th Class Teacher, all the wonderful pupils and Fiona/Sean for making this happen.
Before we left at the end of Day 2, we asked again, how many pupils would like to take business as a subject in secondary/high school. 20 hands went up this time (out of 26), so at least we ignited a spark of curiosity!
The future looks very bright indeed!
If you want to bring Bizworld Ireland to your school, please contact Fiona McKeon at Bizworld Ireland.
If you want to be part of this legacy and make a difference in many young people's lives, do reach out to Fiona to sponsor some workshops and give this gift to your staff.
____________________________________________________________________
Watch Anne Ravanona's TEDx talk on Investing in Women Entrepreneurs.