It's by now old news that the art world schmooze has in many cases replaced traditional forms of meeting and greeting all over the world. Next week the artists and art groupies will hie to London for the Frieze Art Fair which I have been told is now vying with Art Basel for title of most desired. I spoke with a famous NY artist who was just leaving, a multi-dwellinged tv producer slash collector who said her dance card was full full full every day next week and a friend whose clients had abandoned their meeting in NY practically in mid-sentence to jet over to be part of the action.
Where does that leave us stateside?
No worries: Chelsea is an ongoing art fair. On a beautiful New York Saturday last weekend, I plotted out my path. This is a must: like suburban sprawl, Chelsea creep is upon us; there are so many new "found" spaces, annexes of galleries already there (up to three and even four) that one must put blinders on and then some kind of sustenance is required midway; I make sure to always leave time for my favorite watering hole, Tia Pol, where I sit at the bar with one of their delicious Spanish wines and one of the specials of the day(this week a creamy scrambled eggs with chorizo, yum) and look out the European style open doors and feel that my wanderlust is temporarily and happily sated.
Before I begin my ramble, I make a bargain with the Emperor: I tell him I don't care if he's wearing clothes today or not, I am going to take everything I see in Chelsea at face value and presume he is not trying to have one over on me. I give over to knowing that the graduates from art schools all over the country are now sophisticated and manipulative just like my children and have figured out how to push my buttons exactly the same way and I promise not to overreact to their preening and show off-y ness just the way I shut down when my kids try to climb crazy high mountains or take off on solo excursions into the wild. In other words, I relax a little and let the hundreds of images and ideas and objects wash over me and don't resist, at least at first. When I get to Tia Pol, and my back and feet are getting a break, I go back to the list and figure out what is hanging around the fringes, from the almost museum sized installations, the observatory-like displays in the vast, high ceilinged, well lighted Chelsea gallery spaces.
Here's a small selection of what stuck this week:
In is third NY space on W. 21st St., Larry Gagosian presents Willem de Kooning's, The Last Beginning (twinned at L and M Arts uptown) the mostly late work of this prodigiously talented man who by the 1970's when most of this collection is dated, was already struggling with health and despair. (If you have not read the prize winning de Kooning biography by Mark Stevens and Annalyn Swan, do. It gives one of the most comprehensive looks at what makes a great artist and reads like a novel.) The large, freewheeling canvasses are studded with earlier, smaller, more complex (and for me, much preferred) work, but their colorful swathes of paint and their relative simplicity is shown to maximum advantage in the vast and airy space -- I felt like if someone cut one of the string-y lines in one of the paintings we would all float easily up to heaven.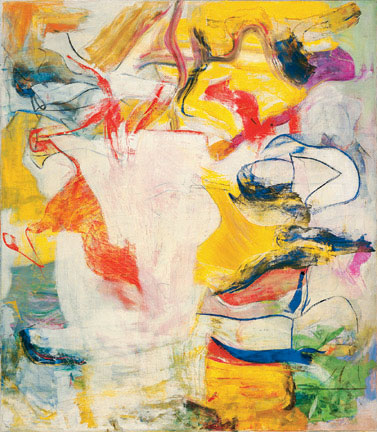 c. The Willem de Kooning Foundation / Artists Rights Society (ARS), New York.
At D'Amelio Terras, an untitled series of C prints of a man in a desk chair by Matt Keegan is striking, reminding me of the clever cutout portraits that were in vogue when my children were young (and that had themselves replaced the 3D concept so popular when I was growing up). Keegan deconstructs a chair but the X-acto-ness of his narrative cuts makes it tumbling down a rabbit hole of an entire life.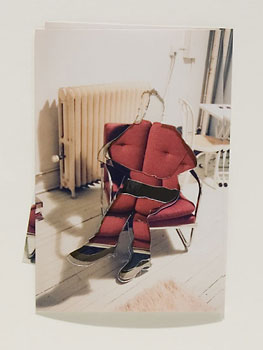 Mircea Cantor's 13 ft diameter construction of plexiglass and soda cans is a deft riff on a Moorish floral stained glass window that would be right at home in a contemporary Alhambra. Collier Schorr's visual memoir of her father's photography project of a local German drag racer finds is typical of art student-itis, but I pored over the vitrine with the memorabilia anyway: who cares where it comes from? Candida Hofer's elegant, oversized portraits of Portuguese libraries, theaters and public spaces are of a piece with her other sublime work--like the Sugimoto theater portraits recently up at the de Young in San Francisco they are a look into another, sumptuous but slightly precious world. Julie Heffernan has a lovely show at PPOW. I had seen her work at Art Basel a few years ago just when John Currin's solo show had gone up at the Whitney. Here the suite of ladies spewing forth floral and animal imagery could make you think of school of Currin, and then not.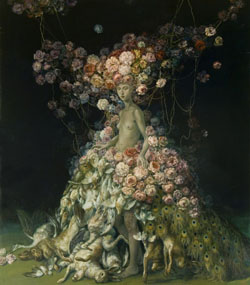 Her women are like courtesans, boldly confronting the viewer, daring them to, well, come out and play. And I liked Jules de Balincourt work at Zach Feuer, a gallery I recommend for being on my wavelength most of the time.
My final stop of the day was at the Elizabeth Dee gallery for a new installation by Ryan Trecartin, one of the hip, hot young'ns who made waves at the Whitney Biennial last year. Ok, finally, the Emperor, who had been on his best behavior all this time, started strutting his stuff, whispering in my ear, taunting me with his total nakedness! Trecartin's film, projected in an adjacent gallery space had a full house. It lasts almost two hours and I caught but a few minutes of children dancing for the camera and then girls, guys, and mystery sexes gone wild, jumping on the bed (this too reminded me of ten pm at my house when the kids were supposed to be asleep). Something though, was drawing me back inexorably into the installation space where the film was also playing on a wall mounted monitor...and then I knew: it was at the foot of an actual bed on which I wanted to lay right down and go to sleep.
REAL LIFE. REAL NEWS. REAL VOICES.
Help us tell more of the stories that matter from voices that too often remain unheard.