The Dutch painting exhibition The Age of Rembrandt on view at the Metropolitan Museum of Art is really a little bit of a hat trick: the paintings actually reside there full time. The Met has put them all up in a new configuration, the better to overwhelm you with the breadth and depth of the holdings. Despite the vast, let it all hang out agenda, there are ways of taking it in that make it more thoughtful. The most interesting grace note to the re-hanging is the wall labels which divide the paintings by era of acquisition and make slightly less murky the politics behind their ascension to the Met collection. There is little truth in advertising when it comes to Old Masters, and over the years, even the Met curators and directors have been taken in by clever fakes; quite a few purchased as Rembrandts turned out to be something else entirely.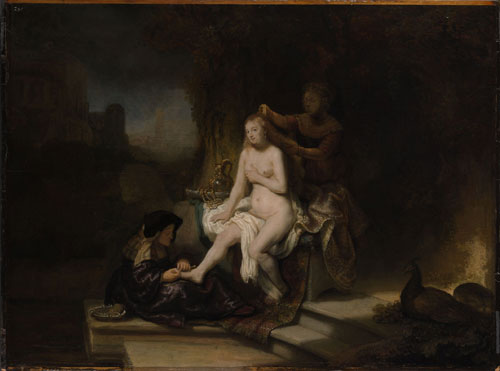 The Toilet of Bathsheba , 1643 Rembrandt (Rembrandt Harmensz. van Rijn) (Dutch, 1606-1669) Oil on wood; 22 1/2 x 30 in. (57.2 x 76.2 cm) The Metropolitan Museum of Art, Bequest of Benjamin Altman, 1913 (14.40.651) Old favorites pop up in every gallery of the installation: Nicholas Maes' dual portraits of an Admiral and his fiancé both of them gazing at you sidelong with a come-hither glance that lets you know they are ready for less chaste pursuits, thank you very much, as soon as we will give them the space and look away; Rembrandt's Toilet of Bathsheba which for my money outdoes the grander, more formal portraits as it is a luscious example of a smaller, voyeuristic genre that eventually lands in the famous courtesan paintings, Goya's Maja and Manet's Olympia; also, Rembrandt's Flora, which has all the flavor of a much more modern Matisse and is an unusual example of a painting without those layers of veneer which so often date the Rembrandts; Vermeer's Study of a Young Woman, the twin to the famous Girl with the Pearl Earring, a chaste and glowing painting so imbued now with the hint of carnality that one almost does want to flip the painting over to save her from herself.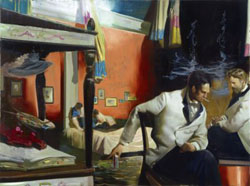 Neo Rauch, Der nächste Zug [The Next Move/The Next Draw], 2007 Oil on canvas, 59 1/8 x 78 ¾ (150 x 200 cm) Courtesy Galerie EIGEN + ART Leipzig/Berlin & David Zwirner, New York © 2007 Neo Rauch / Artists Rights Society (ARS), New York / VG Bild-Kunst, Bonn Photo: Uwe Walter
In the small gallery in the rear of the contemporary galleries (e.g. the southwest corner of the museum) where the museum invites guest artists to make work for the space itself, Neo Rauch has done a compelling job of responding to the low-ceilinged somewhat claustrophobic interior. Taking as his mantra the word para, Rauch serves up a dozen paintings that seem at once allegorical and theatrical -- though he demurs at being compared to the surrealists, there is a big whiff of Paul Delvaux and Balthus here (and maybe a touch of the Story of O). Rauch's images in both somber and fluorescent tones of hunting gentleman in their weskits, gamblers in their smoking jackets, and a blind man and woman at the forest's edge tell of the hidden lives of the aristocracy, gamblers and carnys. The images touch on fascism and feel frighteningly Aryan at times and though Rauch wants to call up associations to paranormal, parachute and paradise, inevitably, they come across as Weimar and mittleuropa. Did I say how much I liked them? It is hard not to appear decorative on commission like this and Rauch manages to both arrest and confound.
The Met has new contemporary photography galleries also, though those felt very encyclopedic and hurried up and not nearly as rich. Those of you who go to the Met and see the same old things over and over again (which, btw, are very worth re-seeing hundreds of times) should venture forth into the new-ish and re-hung installations: learn how to pop into the Met for a half hour instead of the entire day: the museum is vast and can be exhausting and is best taken as YOU like it, in smaller, yet powerful doses.
REAL LIFE. REAL NEWS. REAL VOICES.
Help us tell more of the stories that matter from voices that too often remain unheard.