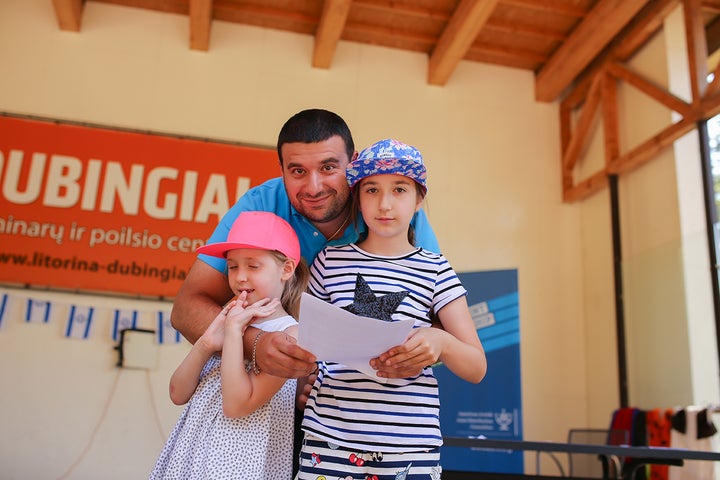 I was just 9-years-old in Kaunas, Lithuania, when the Soviet regime collapsed. Too young to completely understand the situation, I was still aware that changes were taking place and opportunities – from access to Western culture to new personal liberties – were at our fingertips.

Among them was a chance to be Jewish and learn, for the first time, about my Jewish heritage and the meaning of community. Such prospects were especially poignant in Lithuania, once a bustling center of Jewish civilization, with the capital Vilnius known as the "Jerusalem of the North," before the horrors of the Holocaust and the subsequent Communist campaign to decimate Jewish life.

It was in this context that I first attended a Jewish summer camp, previously an unknown quantity. Initiated by the American Jewish Joint Distribution Committee (JDC) for Jewish children living in the Baltic states, the camp opened up a whole new world to me, a Jewish experience like nothing I'd encountered before.

I was hooked and became a repeat camp-goer for the better part of a decade. First it was summer camps in my home community, then regional camps in Latvia, Estonia, or Lithuania, and later the JDC-Lauder International Jewish Summer Camp in rural Szarvas, Hungary with thousands of Jewish youth from Europe and around the globe.

I made lifelong friendships at these camps, spending long, hot summer days swimming and playing soccer, treasure hunting, and Israeli folk dancing. Infused with Hebrew words and Jewish ideas that were still new to us, even Friday nights took on a whole new meaning. The pageantry of Kabbalat Shabbat, the ceremony welcoming the Jewish Sabbath, and its creation of a holy space for community and togetherness, stood out in my memory. New and old friends, dressed finely, lit candles, made the blessing over the wine, enjoyed the festive meal, and sang joyously into the night.

These camps connected us to an unknown Jewish past while grooming us to build a Jewish future, but on our own terms. And that future wasn't far off for me personally: as a 19 year-old at Szarvas I met Margarita, at first a wonderful friend, who today is my wife. And while the responsibilities of adult life eventually drew us away from camp life, the memories and impact never left, especially when thinking about our beautiful little girls, Milana and Briana, six and nine years-old respectively.

And I wasn't the only one feeling the nostalgia.

In 2013 with JDC's support, camp alumni in the Baltics made a decision to revive the summer camp tradition and launch a summer camp for families, Olameinu Mishpacha. Those who had never attended Jewish camp could now come with their families, and those of us who had grown up in them could now share it with our families.

So when the director invited me to lead sport activities at the camp, I eagerly agreed. How could I pass up the chance to go back to summer camp, this time with the family I built, and revisit the start of my Jewish journey?

For the last two years, Margarita and I have attended Olameinu Mishpacha with our daughters. Reunited with our big Jewish family, I proudly watch my children fall in love with Jewish traditions and culture, making new friends just like we did so many years ago. Whether sports tournaments, chocolate making classes, or attending parenting workshops while our daughters paint Judaica and learn new dances, we're discovering a new realm of Jewish life outside of the walls of our home and community.

As we gather, my friends and I get sentimental about our early years at Jewish camp, when everything was a wonderland of new and inspiring experiences. We question if we enjoyed it more than our kids do today, noting that "even the sugar was sweeter."

But when I see the joy on my daughters' faces as they giggle with their friends, I know they love this place just as much as we did. They are creating their own memories, their own identities, and will pass them on to their friends, families, and community.

Yes, the world has changed tremendously since those initial post-Soviet days when I discovered the "Jewish me." But despite those changes, and storms brewing in Europe today, our little oasis fosters an extended family, Jewish opportunity for all who attend, and hope for the future.

For that, I'll work everyday to ensure that the sugar will be just as sweet.

Daniel Tsomik, a department manager at SGS Lithuania Consumer & Retail, is a Jewish community volunteer in the Baltics.
Popular in the Community