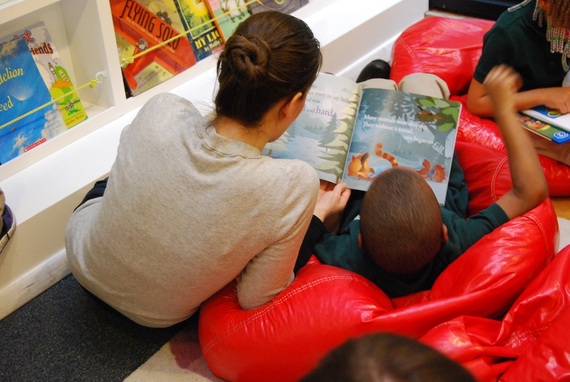 School is starting again and that means so many things. Some children are excited about moving up a grade while some may not be so excited about schoolwork again; new supplies are carried in new backpacks and brand new clothes are worn for the first time; friends are re-united while playdates and after school activities resume. Teachers are offering advice and watching out for bullies; moms are hiding tears as they wave to their kindergartners getting on the school bus for the first time.
Yes, it's back to school time. And for some children, "back to school time" means more caring eyes on them now.
Too many children go through their day without enough to eat, in soiled clothes they've worn for days, without showers or baths on a regular basis. Bruises are covered and they are sworn to secrecy, frightened about what may happen if someone finds out about their home life.
Thankfully, it's teachers who notice that something is not quite right at home for a child in class. They are keen to spot issues that may go unnoticed while school is out such as abandonment, abuse, neglect, and malnutrition. Added to these worries is the stress these children conceal which leads to lack of sleep - and everything spirals down at an alarming rate.
A child falling asleep in class may be an early clue that home is not a safe and secure environment. Medical professionals are bringing more and more attention to this critical area:
"Many children, however, are not getting the sleep their bodies and minds require. Suboptimal sleeping conditions, stress, early school start times, poor sleep habits, lack of a sleep schedule, electronics and an overall lack of education about the importance of sleep contribute to this critical and widespread problem. Research has demonstrated a distinct vulnerability to the effects of poor sleep quality on all children, especially those in distress and facing challenges such as poverty, homelessness, and foster care, among others." (Terry Cralle, RN, Certified Clinical Sleep Educator, Certified Professional in Healthcare Quality and W. David Brown, PhD, Diplomate, American Academy of Sleep Medicine / Certified Behavioral Sleep Medicine / Assistant Professor in Psychiatry, UT Southwestern Medical School /Sleep Psychologist, Children's Medical Center Dallas)
In June Eleanor Goldberg, the Editor of HuffPost Impact brought attention to the issue of teachers' responsibility:
"It's easy to be a bystander," Teresa Huizar, NCA's executive director, told The Huffington Post. "Children have to show a lot of courage [in reporting abuse] and we feel it's important for adults to show the same courage. We can't help victims become survivors if we don't know that they're victims."
Teachers are already the most likely to report abuse among the demographic that is legally bound to do so," Huizar said.
It's back to school for kids. And thankfully that means teachers are back on the lookout for children in distress.
REAL LIFE. REAL NEWS. REAL VOICES.
Help us tell more of the stories that matter from voices that too often remain unheard.