It's back-to-school season, and here in Maryland our schools have already begun welcoming students back for the new academic year. Initial estimates show there's a good chance we'll reach a new record enrollment this year with more than 860,000 students filling our classrooms -- and we're ready for them.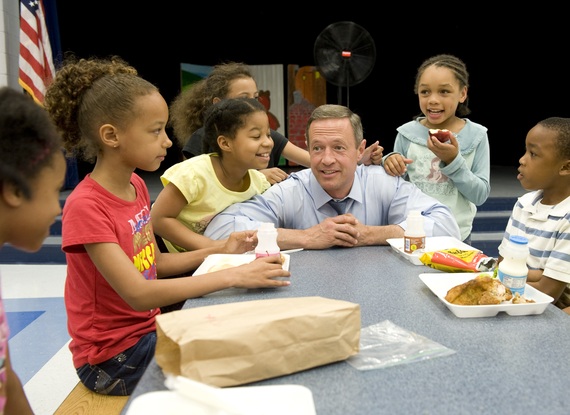 In Maryland, the O'Malley-Brown administration has an eight-year track record of making smart investments in our schools and in our children. While 35 states have retreated on education funding during the recession, we are one of only 13 states to increase funding per student, with a record $6.05 billion in FY15 funding. In fact, we've had the fourth highest increase in per student funding between FY08 and FY14. Working together with students, parents, teachers, legislators and school officials across our great state, we've built a top-ranked public school system -- one that gives our children the knowledge and skills they'll need to compete in our 21st-century global economy.
And we're always innovating. This fall's graduating seniors will be the first class to complete Maryland's nationally recognized environmental literacy education requirement. At the same time, many of our schools are adding new STEM-oriented programs like computer science and natural resources. We're also making new investments in quality Pre-K programs to make sure more our youngest learners will be ready for the challenges ahead. We've also invested in innovative solutions in our public schools -- the Digital Learning Innovation Fund, the Maryland Longitudinal Data System and the Early College Innovation Fund.
But despite our successes, there's always more work to be done, and more ways to improve.
This school year marks the second full-year implementation of Maryland's rigorous College and Career-Ready Standards. More than 4,000 teachers and administrators took part in professional development to work with the standards this summer, the fourth consecutive year we've offered it. These standards are designed to ensure that all of our students will be ready to compete when it's time to step out of the classroom and into a career or college. This spring, students will be tested with the first administration of PARCC -- an assessment test aligned to our standards. As we transition, we will continue to support our teachers throughout this process.
But perhaps the most critical element in building and maintaining a top-tier school system is having good teachers, principals and administrators to lead the way.
This summer we held the first Governor's Promising Principals Academy, where 48 of Maryland's finest educators -- men and women who aspire to become principals -- took part in intensive professional development. Additionally, our teachers and principals are working together to strengthen educator evaluation. All of our school systems are now using a new evaluation system, and in an unprecedented show of cooperation this summer, the State's teachers, principals, board members, and local superintendents all joined together with the MSEA and MSDE in a pledge to further refine the system.
All of these efforts are aimed at a single target: improving student success from day one, through graduation and beyond.
Maryland schools succeed because we have never stopped investing in our students and doing the things that work.